PAGE UNDER CONSTRUCTION
INTRODUCTION TO SKINNER FAMILY TREE
JOHN SKINNER
Birth about 1736 • Sepulchre Holborn Parish, London, England
Residence 1759-1785 • Rose Inn Yard, 80 West Smithfield, London. John Fisher & John Skinner, tobacconists tobacco trades, Universal Pocket Directory and Kent's Directory. John Fisher listed 1751-1775 at Smithfield in Kents.
Skinner.Willson Marriage 1768 Feb 1768 • Saint Clement Danes, Westminster, London, England. John Skinner of the Parish of St Sepulchre, Elizabeth Willson of St Clement Danes. Bachelor & spinster. Married by license.
ELIZABETH WILLSON (1737–1807)
Birth of Daughter Mary Ann Skinner (1769–) England
Birth of Son Daniel Skinner (1770–1771) May 1770 • St Clement Danes Parish, Westminster, England
Death of Son Daniel Skinner (1770–1771) Jun 1771 • St Clement Danes Parish, Westminster, England
Birth of Son William Henry Skinner (1772–1812) St Clement Danes Parish, Westminster, England
Birth of Daughter REBECCA SKINNER (1773–1856) Westminster, London, England
Birth of Son HENRY SKINNER (1775–1871) Apr 1775 • St Clement Danes, Strand, Westminster, London, Middlesex, England
Birth of Daughter Jane Skinner (1776–1778) St Clement Danes Parish, Westminster, England
John Wilson Apprentice to John Skinner 1776, Apprentice Indenture - 28 Sep 1776, London. Took on John Wilson, Son of John, The Strand, Middlesex, tobacconist (deceased).
Birth of Daughter Charlotte Skinner (1778–) St Clement Danes Parish, Westminster, England
Death of Daughter Jane Skinner (1776–1778) Jun 1778, St Clement Danes Parish, Westminster, England
Richard Willson Apprentice to John Skinner, Apprentice Indenture, 2 Dec 1779 • London, Middlesex, England. Took on Richard Willson, son of John, St Clement Danes, tobacconist. In the Kent's Directory of 1803 Richard is listed at 80 & 81 Smithfield as a tobacco and snuff manufacturer.
Birth of Daughter Sarah Skinner (1781–1783) Jul 1781, St Clement Danes Parish, Westminster, England
Death of Daughter Sarah Skinner (1781–1783)
Residence 1783 • Westminster, London, England. 240 Strand. Records of the Sun Fire Office (Original data: London Metropolitan Archives), John Skinner, 1783, policy 469382, MS11936/306.
Residence 1783 • Smithfield and the Strand, London. First year at both Rose Inn Yard, Smithfield, and on the Strand John Skinner tobacconist 1785. Occupation - Tobacconist 1784 & 1785 - The Strand, Middlesex, England. Paid Fire Insurance on Rose Inn Yard, Smithfield and 243 The Strand
John Skinner 1786 Court appearance - Jan 1786, Temple Bar, regarding neighbor nuisance.
Residence 1789-1791, 80 West Smithfield & 240 & 247 Strand, London. Tobacconist tobacco trades. Listed in Wakefield's Merchant and Tradesman's General Directory for London and Lowndes's London Directory, and Bailey's London Directory; or, Merchants & Traders Useful Companion, for the year 1790.
Apprentice Indenture, 20 Oct 1792. John Skinner took on John Calvert Hooper, son of John Hooper of 28 Fetter Lane, who wed his daughter Rebecca Skinner.
Residence 1794 @ 243 Strand, London, England. Tobacconist. Kent's Directory 1794. In 1798 William Henry Skinner's name on the Tax Rates book for this location.
William Henry Skinner - Land Tax for 1798 on residence, The Strand, London.
Residence 1803-1811 at St Clement Danes and St Mary-le-Strand, England. Richard Willson, tobacconist and snuff manufacturer, is now listed at the 80-81 Smithfield location.
Death of Wife ELIZABETH WILLSON (1737–1807), Dec 1807 at St Clement Danes Parish, Westminster, England.
===============================================================
HENRY SKINNER
Birth Apr 1775 • St Clement Danes, Strand, Westminster, London, Middlesex, England.
Baptism 20 Apr 1775 • Saint Clement Danes, Westminster,London,England.
Birth of Sister Jane Skinner (1776–1778) St Clement Danes Parish, Westminster, England.
Birth of Sister Charlotte Skinner (1778–) St Clement Danes Parish, Westminster, England.
Death of Sister Jane Skinner (1776–1778) Jun 1778 • St Clement Danes Parish, Westminster, England.
Birth of Sister Sarah Skinner (1781–1783) Jul 1781, at St Clement Danes Parish, Westminster, England.
Death of Sister Sarah Skinner (1781–1783) Mar 1783.
Partrnership - 05 Jan 1797, at The Strand, Westminster, Middlesex, England. In a partnership (Tobacco business) with his brother William until 1812 at William's death.
Henry & Henry John Stansfield Skinner, Partrnership of 5 Jan 1797 at 243 Strand, Westminster, Middlesex, England In a partnership (Tobacco business) with his brother William until 1812 at William's death.
Hooper @ Skinner Marriage - 07 Nov 1798 at Saint Clement Danes, Westminster, London. In the presence of John Hooper, Elizabeth Gibb, Rebecca Skinner, the marriage of MARY HOOPER to HENRY SKINNER.
Residence 1798 at St Clement Danes and St Mary-le-Strand, England.
Birth of Son William David Skinner (1801–1874) Apr 1801 • Reading, Berkshire, England.
Birth of Son HENRY JOHN SKINNER (1802–1858) St Pancras, Middlesex, England.
Residence 1803 at 243 Strand, London, England, per W & H Skinner, tobacconists. Kent's Directory for 1803,
Death of Mother ELIZABETH WILLSON (1737–1807) Dec 1807 at St Clement Danes Parish, Westminster, England.
Residence 17 Aug 1809 at Westminster, London, England. Brick dwelling house at 3 St Martin's Court - insured.
Birth of Son John Henry Stansfield Skinner (1811–1870) at The Strand, Westminster, Middlesex, England.
Occupation 6 Nov 1811 at No. 3 St. Martin's Court, Westminster - Tobacconist.
Death of Father JOHN SKINNER (1736–1811).
Birth of Daughter Mary Skinner (1812–).
Death of Brother William Henry Skinner (1772–1812) May 1812 at St Clement Danes Parish, Westminster, England.
Residence 1812 at St Clement Danes and St Mary-le-Strand, England.
Birth of Son Charles John Stansfield Skinner (1813–1854) at St Clement Danes, Middlesex, England.
Residence 1814 at St Clement Danes and St Mary-le-Strand, England. Nathan Pigot lessor. Henry's father, John Skinner, was the previous tenant.
Birth of Son Frederick Henry Skinner (1816–1817).
Residence 1816 at St Clement Danes and St Mary-le-Strand, England.
Death of Son Frederick Henry Skinner (1816–1817) Mar 1817 at The Strand, Westminster, Middlesex, England.
Residence 31 Aug 1817 at 3 St Martin's Court, London, England - Tobacconist. Kent's Directory for 1817.
Residence 1819 at St Clement Danes and St Mary-le-Strand, England.
Birth of Daughter Ann Skinner (1820–1880) at Islington, Middlesex, England/Pentonville, London, England.
Residence 1820 at St Clement Danes and St Mary-le-Strand, England.
Residence 1821 at Holborn Bridge Shop.
Residence 1823 at 3 St Martins Ct & 67 Holborn Hill, London. Tobacconist. Kent's Directory for 1823. W Skinner at 243 Strand also listed. Error? Date doesn't match with brother William's death.
Residence 1827 at St Clement Danes and St Mary-le-Strand, England.
Residence 1831 at St Clement Danes and St Mary-le-Strand, England.
Partnership Dissolved Sep 1838 • London per "Henry Skinner, John Henry Skinner and Charles John Skinner, tobacconists of 243 Strand and 67 Holborn Bridge (so far as regards Charles John Skinner).
Residence 1839 - 1843 at 243 Strand, London, England. Henry Skinner & Son, tobacconists listed in the 1843 PO Directory.
8 Feb 1840 - Partnership dissolved : Henry Skinner and Henry John Skinner, tobacconists. The Strand and Holborn Bridge.
Residence 1841 • 20 Park Place West, St Mary, Islington West, Marylebone, Middlesex, England.
Residence 1843-1851 • 243 Strand, London, England Henry Skinner & Son, Tobacconists in the 1851 PO Directory. Son, John Henry, a Henry Skinner at 77 Bunhill Row, Thomas Skinner at Old Kent Rd and Wm David Skinner, Walworth Ave also listed. Grandson Richard Russell Skinner at 221 Strand 1872-1882 1 Source 1843 68 Residence 30 Mar 1851 • St Marylebone, Middlesex, England Relation to Head of House: Head. Fund holder. 26 Beaufoy Terrace, Carleton Villas, Maida Vale. Daughter Anne (Beech) and family also listed 1 Source 1851 75 Death of Son Charles John Stansfield Skinner(1813–1854) Apr 1854 • Islington Reg.District, Middlesex 1854 79 Death of Sister REBECCA SKINNER(1773–1856) 08 Feb 1856 • St Mary's, Reading, England 1856 80 Death of Son HENRY JOHN SKINNER(1802–1858) 13 May 1858 • Burrows, Hendon, Middlesex, United Kingdom 1858 83 Residence 7 Apr 1861 • Paddington, Middlesex, England Relation to Head of House: Head, widower. 62 Queen Rd. Fund holder. Daughter Anne and family also listed 1 Source 1861 86 Death of Son John Henry Stansfield Skinner(1811–1870) 8 Jan 1870 • Hertford, Hertfordshire, England 1870 94 Residence 2 Apr 1871 • Ladbroke Rd, Kensington, London, England Retired Tobacconist. Relation to Head of House: Head, widower. Ladbroke Rd. Daughter Anne and spouse Wm Beech and family also listed 1 Source 1871 96 Henry Skinner death notice Death 8 Nov 1871 • Kensington, London, United Kingdom Age: 96. Ladbroke Rd, Horbury House, Notting Hill, London. Formerly of Temple-bar 2 Sources 1 Media 1871 96 Burial 14 Nov 1871 • All Souls, Kensal Green, England
========================================
REBECCA SKINNER
1773 (AGE) Baptism 13 Jul 1773 • Westminister, London, England St Clement Danes 1773 0 Birth of Brother HENRY SKINNER(1775–1871) Apr 1775 • St Clement Danes, Strand, Westminster, London, Middlesex, England 1775 2 Birth of Sister Jane Skinner(1776–1778) 1776 • St Clement Danes Parish, Westminster, England 1776 2 Birth of Sister Charlotte Skinner(1778–) about 1778 • St Clement Danes Parish, Westminster, England 1778 4 Death of Sister Jane Skinner(1776–1778) Jun 1778 • St Clement Danes Parish, Westminster, England 1778 5 Birth of Sister Sarah Skinner(1781–1783) Jul 1781 • St Clement Danes Parish, Westminster, England 1781 8 Death of Sister Sarah Skinner(1781–1783) Mar 1783 1783 10 Civil 30 Nov 1798 • Middlesex, England Age: 21 2 Sources 1798 25 Residence Nov 1798 • Middlesex 1 Source 1798 25 Hooper.Skinner marriage1 798 Marriage 05 Dec 1798 • St Clement Danes, Westminister, London, England John Hooper of Parish of St Sepulchre when wed. John Skinner, Eliza Gibbs witnesses to marriage. JOHN CALVERT HOOPER JOHN CALVERT HOOPER (1779–1811) 2 Sources 1 Media 1798 25 Birth of Daughter Elionara "Ellen" Hooper(1799–1878) 01 Aug 1799 • Ipswich, Suffolk, England 1799 26 Birth of Son John Hooper(1800–1819) about 1800 1800 26 Birth of Daughter MARY ANN HOOPER(1802–1893) 02 Feb 1802 • Reading, Berks Co., England 1802 29 Birth of Daughter Charlotte Anne Hooper(1804–1887) 04 May 1804 • Reading, Berkshire, England 1804 31 Birth of Son William Hooper(1805–1844) 23 Sep 1805 • Reading, Berkshire, England 1805 32 Birth of Daughter Elizabeth "Eliza" Hooper(1807–1850) abt 1807 • Reading, Berkshire, England 1807 33 Death of Mother ELIZABETH WILLSON(1737–1807) Dec 1807 • St Clement Danes Parish, Westminster, England 1807 34 Birth of Son Henry John Hooper "our Henry"(1809–1848) 28 Mar 1809 • Reading, Berkshire, England 1809 36 Death of Husband JOHN CALVERT HOOPER(1779–1811) 15 Apr 1811 • Reading, Berkshire, England 1811 38 Death of Father JOHN SKINNER(1736–1811) 1811-1815 1811 38 Death of Brother William Henry? Skinner(1772–1812) May 1812 • St Clement Danes Parish, Westminster, England 1812 39 Death of Son John Hooper(1800–1819) 14 Sep 1819 • Reading, Berkshire, England 1819 46 Residence 1822 • Reading, Berkshire, England of London Street, as per daughter's wedding notice "Oxford Journal" 16 Feb 1822 1822 49 Residence 1822 • Reading, Berkshire, England of London Street, as per daughter's wedding notice "Oxford Journal" 16 Feb 1822 1822 49 Residence 1841 • St Mary, Berkshire, England Age: 65. Eliza Noyes b.1829 also listed 1 Source 1841 68 Death of Son William Hooper(1805–1844) 20 Feb 1844 • Reading, Berkshire, England 1844 71 News article re theft 1846 Residence 7 Mar 1846 • Reading, Berks Co., England Kings St. Charlotte Noyes also resided there. 1 Media 1846 73 Death of Son Henry John Hooper "our Henry"(1809–1848) 24 Dec 1848 • Hanwell Asylum, Hanwell, Norwood, Middlesex 1848 75 Death of Daughter Elizabeth "Eliza" Hooper(1807–1850) 16 Nov 1850 • Reading, Berkshire, England 1850 77 Residence 1851 • Reading St Mary, Berkshire, England Age: 78; Relation to Head of House: Head. Charlotte Noyes b.1806, Eliza Noyes b.1829 and Charlotte Philbrick b.1837 (two granddaughters), Emma White b.1840 and Selina Jary b.1840 (nieces) also listed 1 Source 1851 78 Rebecca Skinner Death 1856 Death 08 Feb 1856 • St Mary's, Reading, England 18 Sydney Terrace, Reading 3 Sources 1 Media 1856 83 VIEW Burial 15 Feb 1856 • St Laurence Church, Reading Age 83 (b.1773) 1 Source
===================================================================
JOHN CALVERT HOOPER
HOOPER_JohnC_b1779_1779_Baptism Birth 18 Apr 1779 • London (Fetter Lane) 2 Sources 1 Media 1779 (AGE) John Hooper Will 1811_Page_4 Will 19 Sep 180? Proved 16 Nov 1811 1 Source 4 Media 180 Baptism 27 Jun 1779 • St Dunstan-in-the-West, London, England 1 Source 1779 0 Death of Father JOHN HOOPER of 28 Fetter Lane(1742–1792) Apr 1792 • Fetter Lane, City of London 1792 13 John Hooper Apprenticeship Apprenticeship 20 Oct 1792 Became apprenticed to John Skinner (b.1745), Tobacconist, after his father, John Hooper of Fetter Lane died. Record set London Apprenticeship Abstracts, 1442-1850 1 Media 1792 13 Civil 30 Nov 1798 • Surrey, England Age: 21 1 Source 1798 19 Marriage Bond 30 Nov 1798 • Surrey, England 1 Source 1798 19 Hooper.Skinner marriage1 798 Marriage 05 Dec 1798 • St Clement Danes, Westminister, London, England John Hooper of Parish of St Sepulchre when wed. John Skinner, Eliza Gibbs witnesses to marriage. REBECCA SKINNER REBECCA SKINNER (1773–1856) 1 Source 1 Media 1798 19 Birth of Daughter Elionara "Ellen" Hooper(1799–1878) 01 Aug 1799 • Ipswich, Suffolk, England 1799 20 Birth of Son John Hooper(1800–1819) about 1800 1800 20 Birth of Daughter MARY ANN HOOPER(1802–1893) 02 Feb 1802 • Reading, Berks Co., England 1802 22 Birth of Daughter Charlotte Anne Hooper(1804–1887) 04 May 1804 • Reading, Berkshire, England 1804 25 Birth of Son William Hooper(1805–1844) 23 Sep 1805 • Reading, Berkshire, England 1805 26 Birth of Daughter Elizabeth "Eliza" Hooper(1807–1850) abt 1807 • Reading, Berkshire, England 1807 27 Birth of Son Henry John Hooper "our Henry"(1809–1848) 28 Mar 1809 • Reading, Berkshire, England 1809 29 KingSt. Occupation 1810 • Moved Tobacco and Snuff Making business from King St. to London St. Tobacconist 1 Media 1810 31 Death of Mother ANN LAMBERT(–1810) aft 1810 1810 31 Death 15 Apr 1811 • Reading, Berkshire, England London St or Sydney Terrace, Reading 2 Sources 1811 31 John Hooper Burial Burial 22 Apr 1811 • St Lawrence Church, Reading, Berkshire, England Berkshire Burial Index 1 Source 1 Media 1811 Residence St Giles Reading, Berkshire, England 1 Source Occupation Owned large Tobacco&Snuff Factory in London St., Reading
===============================================
WILLIAM HENRY SKINNER
Birth 1772 • St Clement Danes Parish, Westminster, England 1772 (AGE) William Skinner Baptism 1772 Christening 20 Feb 1772 • St Clement Danes, Westminister, England 1 Media 1772 0 Birth of Sister REBECCA SKINNER(1773–1856) 1773 • Westminster, London, England 1773 1 Birth of Brother HENRY SKINNER(1775–1871) Apr 1775 • St Clement Danes, Strand, Westminster, London, Middlesex, England 1775 3 Birth of Sister Jane Skinner(1776–1778) 1776 • St Clement Danes Parish, Westminster, England 1776 4 Birth of Sister Charlotte Skinner(1778–) about 1778 • St Clement Danes Parish, Westminster, England 1778 6 Death of Sister Jane Skinner(1776–1778) Jun 1778 • St Clement Danes Parish, Westminster, England 1778 6 Birth of Sister Sarah Skinner(1781–1783) Jul 1781 • St Clement Danes Parish, Westminster, England 1781 9 Death of Sister Sarah Skinner(1781–1783) Mar 1783 1783 11 Marriage 12 Jun 1794 • St Clement Danes, Westminster, England Ann Hooper (1774–1818) 1 Source 1794 22 WmHSkinnerTaxRate1798 Residence 1797 & 1798 • St Clement Danes and St Mary-le-Strand, England Tobacconist business 1 Source 1 Media 1797 25 Residence 1801 • St Clement Danes and St Mary-le-Strand, England 1 Source 1801 29 Residence 1803 • 243 Strand, London, England W & H Skinner, tobacconists. Kent's Directory for 1803 1803 31 Death of Mother ELIZABETH WILLSON(1737–1807) Dec 1807 • St Clement Danes Parish, Westminster, England 1807 35 Residence 1811 • 243 Strand, London, England Tobacco and snuff manufacturer 1 Source 1811 39 Death of Father JOHN SKINNER(1736–1811) 1811-1815 1811 39 Death May 1812 • St Clement Danes Parish, Westminster, England His brother, Henry Skinner of 243 Strand, administered his estate in Jun 1812 1812 40 Burial 24 May 1812 • St Clement Danes, Westminister, London, England
===========================================================
JOHN HENRY STANSFIELD SKINNER
Birth 1811 • Strand, Westminster, Middlesex, England St Martins 4 Sources 1811 (AGE) Birth (Alternative) abt 1816 • Strand, Westminster, Middlesex, England 1 Source 1816 4 Birth of Sister Mary Skinner(1812–) abt 1812 1812 0 Birth of Brother Charles John Stansfield Skinner(1813–1854) 1813 • St Clement Danes, Middlesex, England 1813 2 Birth of Brother Frederick Henry Skinner(1816–1817) abt 1816 1816 4 Death of Brother Frederick Henry Skinner(1816–1817) Mar 1817 • Strand, Westminster, Middlesex, England 1817 6 Skinner offspring group 1818 baptism Baptism 12 Jan 1818 • Saint Clement Danes,Westminster,London,England Along with four other siblings and witnessed by their parents. 1 Source 1 Media 1818 7 Death of Mother MARY HOOPER(1776–1818) 8 Feb 1818 • The Strand, Middlesex, England 1818 7 Marriage 27 Feb 1836 • St. Clement Danes, Westminster, Middlesex, England Elizabeth of St Mary Colechurch, London (a minor, no father or mother living), Henry of St Clement Danes. Henry John Skinner and Charles John Skinner present. Elizabeth Thomasin Tupling Elizabeth Thomasin Tupling (1820–1880) 2 Sources 1836 25 Birth of Son John Henry Skinner(1836–1887) 01 Sep 1836 • Holborn, St Andrew, Middlesex, England 1836 25 Birth of Daughter Elizabeth Skinner(1838–1871) 15 Apr 1838 • Tottenham, Edmonton, Middlesex 1838 27 Partnership Dissolved Partnership Sep 1838 • London Dissolved: Henry Skinner, John Henry Skinner and Charles John Skinner, tobacconists of 243 Strand and 67 Holborn Bridge (so far as regards Charles John Skinner) 1 Media 1838 27 Birth of Daughter Mary Ellen Skinner(1839–1900) 19 Sep 1839 • Islingham, Middlesex, England 1839 28 Residence 1841 • Loughton, Essex, England 1 Source 1841 30 Birth of Daughter Ada Skinner(1842–1928) 26 Jun 1842 • Islington, Middlesex, England 1842 31 Residence 1843 • 67 Holborn, London, England 1 Source 1843 32 Birth of Daughter Julia Augusta Skinner(1844–1869) 19 May 1844 • Spar Fields, Clerkenwell,Middlesex, England 1844 33 Residence 1845 • 67 Holborn, London, England 1 Source 1845 34 Birth of Son Arthur Skinner(1846–1900) 18 Jun 1846 • Spar Fields, Middlesex, England 1846 35 1848 Holborn Fire Residence 5 May 1848 • 67 Holborn Hill, London Fire destroyed entire building . Insured by Phoenix, Sun & Globe. 2 Media 1848 37 Birth of Son Henry William Skinner(1848–1922) 16 Sep 1848 • Spar Fields, Middlesex, England 1848 37 Residence 1848 • 67 Holburn, London, England 1 Source 1848 37 Birth of Son William Archer Skinner(1850–1937) 13 Dec 1850 • Holborn, London England 1850 39 J H S Skinner Ad Residence 1850 • 92 & 93 Holborn Hill, London, England Trade Directories & news Articles 1 Source 1 Media 1850 39 JHS Skinner Residence 1851 • 93 Holborn Hill, St Andrew, Middlesex, England Relation to Head of House: Head. Tobacconist, employed 2 men & 2 boys 1 Source 1 Media 1851 40 Birth of Daughter Catherine "Kate" Skinner(1852–1953) 17 May 1852 • London, England 1852 41 Birth of Daughter Louisa "Louie" Skinner(1854–1928) 25 Mar 1854 • St Andrew Holborn, England 1854 43 Death of Brother Charles John Stansfield Skinner(1813–1854) Apr 1854 • Islington Reg.District, Middlesex 1854 43 Birth of Son Robert Skinner(1855–) 21 Oct 1855 • Holborn St Andrew, Middlesex, England 1855 44 Residence 1855 • St Clement Danes, England 1 Source 1855 44 Residence 1856 • 92 & 93 Holborn Hill, London, England 1 Source 1856 45 Birth of Daughter Bertha Skinner(1857–) 1857 • St Andrew Holborn, England 1857 46 Death of Brother HENRY JOHN SKINNER(1802–1858) 13 May 1858 • Burrows, Hendon, Middlesex, United Kingdom 1858 47 Birth of Son George Russell Skinner(1859–1924) 26 Jan 1859 • West London, London 1859 48 Residence 1861 • Wraysbury, Buckinghamshire, England Relation to Head of House: Husband 1 Source 1861 50 Death of Daughter Julia Augusta Skinner(1844–1869) Sep 1869 • Hertfordshire, United Kingdom 1869 58 John Henry Stansfield Skinner death Death 8 Jan 1870 • Hertford, Hertfordshire, England At Moat House. Formerly of Nos. 92 and 93 Holborn Hill. Tobacconist. Sworn by Richard Russell Skinner, nephew, tobacconist, of 221 Strand, Westminster. Effects under 8,000 pounds. 2 Sources 1 Media 1870 59 VIEW Occupation Tobacconist
========================================================
This web site is under construction and development, with many thanks for the primary input, by the 3 Australian born Great Grandchildren, of William Archer Skinner, born 1850 in Holborn, London, to John Henry Stansfield Skinner and Elizabeth Thomasine Tupling. Our great grandfather, William Archer Skinner, was Christened on the 3rd of April 1851, at St Andrews Holborn, as were most of his siblings.
Earliest known photo of William Archer Skinner - circa late 1860s in London
Pedigree view of John Henry Stansfield Skinner - 1811 to 1870 in Middlesex, London
All William Archer Skinners known Australian relations who knew him, or knew of him personally, have since passed away. Thankfully we have been able to piece together an accurate overview / timeline of his life, family, and interests, based mainly on documented records, some family recollections, and a number of precious photos held from within the Skinner, Bowen, Sydenham, and Angus families, whom were initially either based or born in the suburbs of Melbourne Victoria, or Ulvertsone Tasmania, Australia.
Skinner Family Crest
On a personal note, William Archer Skinner appears to have been well educated and quite literate, a family-orientated man of many skills and interests, and from a wealth of Australian newspaper cuttings from the early 1900's, he was heavily involved in local community groups & sporting clubs, when he and his family lived, and he worked as a Stationer, Postal Agent, and bookseller, in his own newsagency in Ulverstone, Tasmania.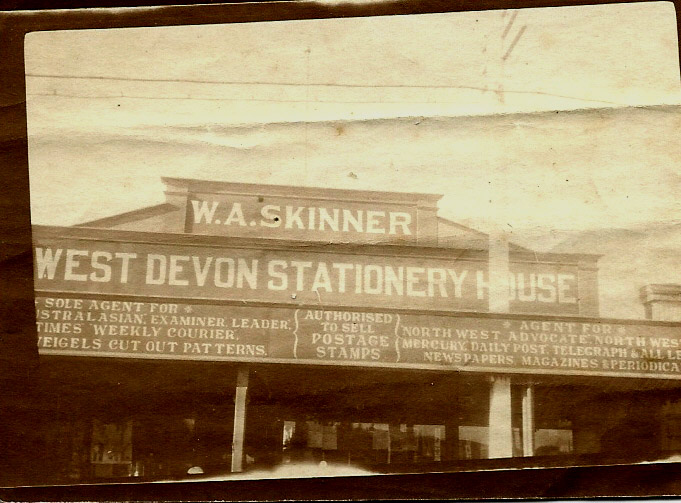 William Archer Skinner's newsagency, Reibey St Ulverstone, circa 1910.
Please enjoy this detailed and respectful tribute, to our dearly departed family members. Other generations will be added to this site shortly. For the most complete known study of the many branches of this particular Skinner family, whom were well renowned as tobacconists and snuff makers in London from the 1700s, and generally very well travelled, we recommend serious researchers review the outstanding Skinner record compilation, by our cousin January Zeh from Hawaii, per

Our Skinner family Tree at Ancestry.com
PARENTS AND OLDER FAMILY CONNECTIONS OF WILLIAM ARCHER SKINNER.
William Archer Skinner's parents were John Henry Stansfield Skinner, and Elizabeth Thomasine Tupling,
as outlined as follows.
John Henry Stansfield Skinner Circa late 1860s
Extensive research indicates William Archer's father, John Henry Stansfield Skinner, continued his family's traditional line of income and employment as tobacconists, dating back to at least the 1790s. According to London's Kent Directory of 1794, John Henry's father, Henry Skinner, ran his tobacconists business from his outlet at 243 The Stand, Temple Bar, in London.
Newspaper advert - Reading Mercury, 15 Sep 1800.
Both the Kent and Pigots Directories of this era, indicate John Henry Stansfield's father Henry Skinner, and his aunty Mary Ann Hooper's family were in the tobacco business together in the very early 1800s as shown above, and John Henry Stansfield Skinner was able to split his partnership with his father Henry Skinner, and then run his own business at 67 Holborn Bridge in 1846 as indicated below.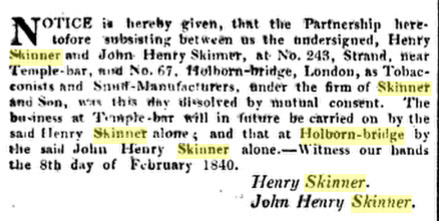 A formal notice of business changes in Feb 1846, between William Archer Skinner's father, John Henry (Stansfield) Skinner, and William Archers grandfather Henry Skinner, as shown here.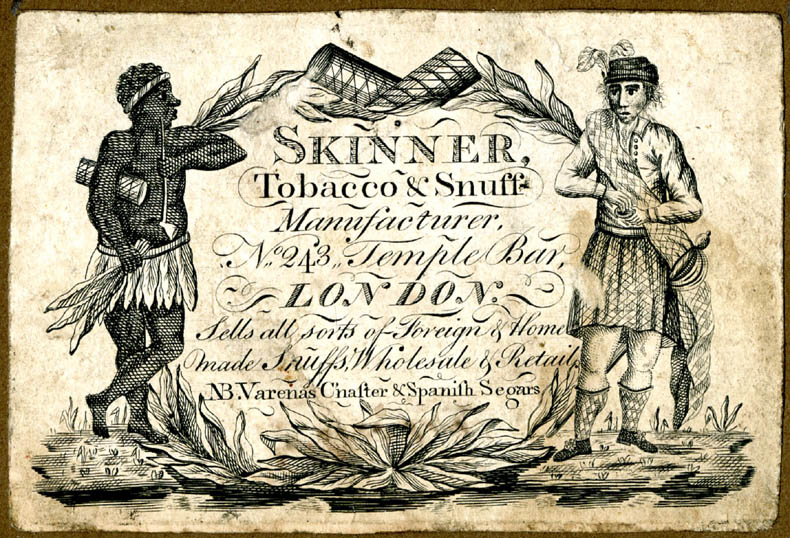 Early Skinner's Tobacco Trading card - Courtesy British Museum via cousin January Zeh, Hawaii.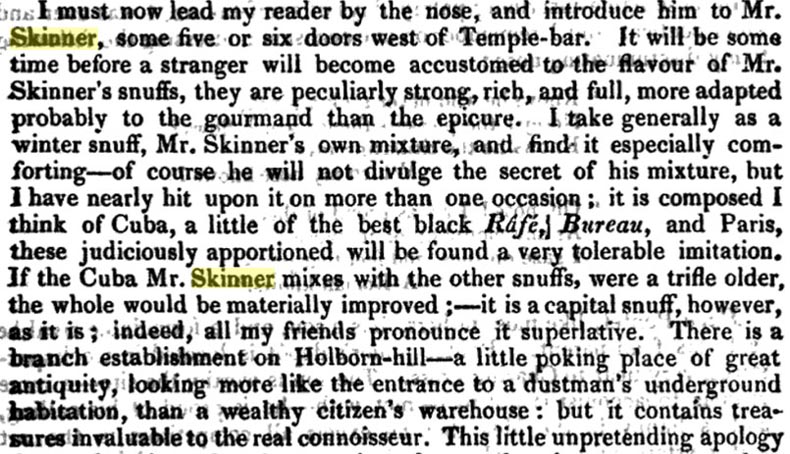 An interesting review of some of the Skinner family tobacco businesses in the early 1800s.
Courtesy New Monthly Magazine Volume 57 per Google books.
To quote from Google EBook - A pinch of snuff etc by By Benson Earle Hill
Some sound, good old snuff will be found at Skinner's, in St. Martin's Court; and the purchasers cannot fail to be pleased with the attention and politeness of the proprietor. There are two other tobacconists of the same name, one residing on Holborn-hill, and the other near Temple-bar, on the left hand side, going city-wards. We should almost be tempted to visit the former of these establishments, since we learn that the wishes of the customers are carried into effect by one of the most extraordinary characters in London.
To quote from Google EBook - Project Gutenberg's The Social History of Smoking, by G. L. Apperson
Mr. Holden MacMichael, in his papers on "The London Signs" says: "Mrs. Skinner, of the old-established tobacconist's opposite the Law Courts in the Strand, possessed, about the year 1890, two signs of the 'Black Boy,' appertaining, no doubt, to the old house of Messrs. Skinner's on Holborn Hill, of the front of which there is an illustration in the Archer Collection in the Print Department of the British Museum, where the black boy and tobacco-rolls are depicted outside the premises."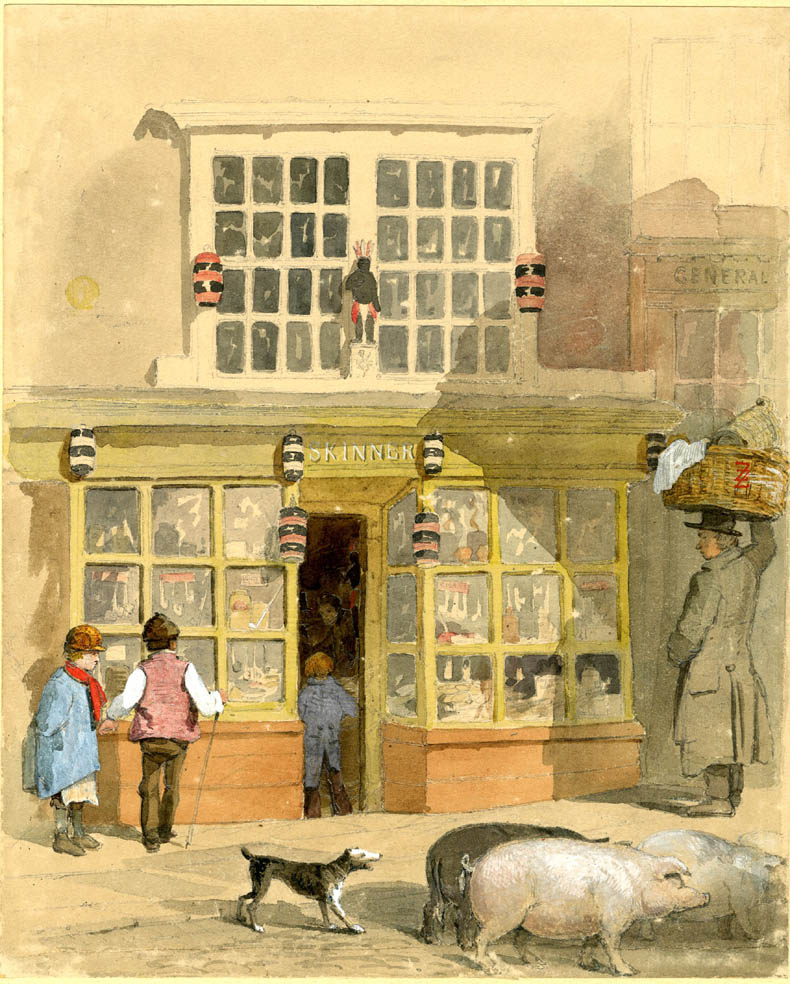 Painting of Skinners Tobacconists outlet probably Holborn via London, as described above
- Courtesy British Museum via cousin January Zeh, Hawaii.
Many within his family were renowned as tobacconists and snuff manufacturers, however John Henry Stansfield Skinner was the only family member known to be a cigar importer, which has also been confirmed by family recollection. In 1853, just after our William Archer Skinner was born, John Henry Stansfield Skinner ran his business at 91 Holborn Hill Rd, opposite the St Andrews church where he attended, and was also where most of his children were most likely Christened.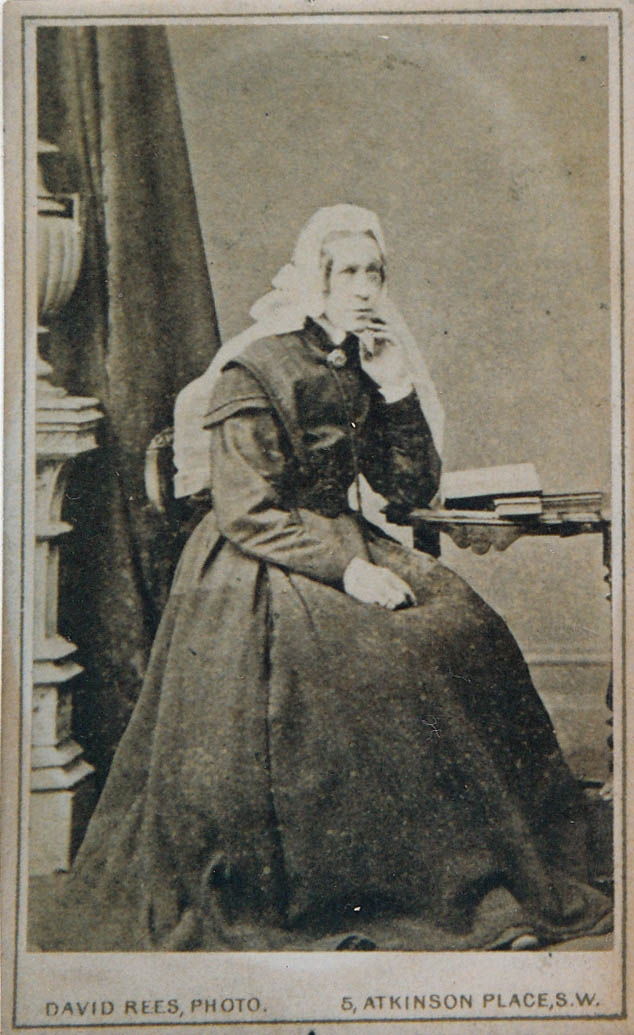 Elizabeth Thomasine Tupling - William Archer Skinner's mother. Circa late 1860s.
From 4 known family paintings of the Tupling family, we have surmised if the Tupling family were able to commission an artist to paint and frame such an array of portraits, between 1820 and 1850, then they must have also been quite wealthy. Pictured below is a painting of Elizabeth Thomasine Tupling's father Benjamin Tupling, believed to have been painted around 1820.
Painting of Benjamin Tupling of Lincolnshire - Circa 1820s.
Father of Elizabeth Thomasine Tupling.
The UK Poll of 1819 shows Benjamin Tupling was a jeweller residing at 191 Strand Temple Bar, London, about 20 down up from Henry Skinner Tobacco and snuff shop at 243 Strand.
Painting of Benjamin Tupling' wife Elizabeth Arthur (child) with her mother ?? Kirkby
TIMELINE OF WILLIAM ARCHER SKINNER AND HIS FAMILY
William Archer Skinner was born into what appears to be quite a wealthy family too, mainly due to long standing involement in the tobacco and snuff industry in the UK of this era. Like most of his well travelled family, Will seemed to be comfortable travelling the globe, firstly to go to Nebraska USA, to marry Minnie Raine, we believe was a childhood sweetheart, who probably also attended St Andrews church at Holborn, in the same Parish in which they were both Christened.
• Birth 13 Dec 1850 • Holborn, London England
• Baptism 3 Apr 1851 • St Andrew Holborn, England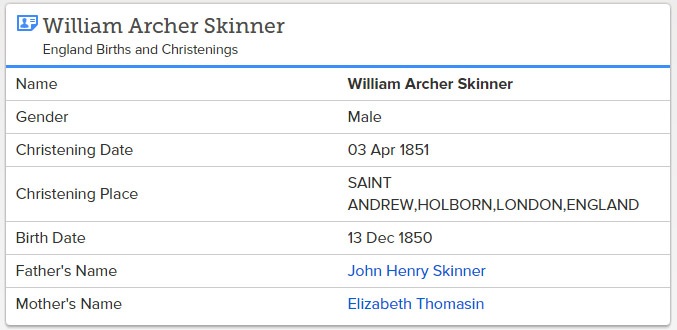 Christening record of William Archer Skinner in 1851 at St Andrews, Holborn UK.
Census records of William Archer Skinner in 1851 at St Andrews, Holborn UK.
At this point in time, William Archer Skinner was only 3 months old, and his father employed 2 men and 2 boys in hss tocacco / snuff business. Family recollection notes John Henry Stansfield Skinner also imported cigars.
• Birth of Sister Catherine Skinner (1852–1953) 17 May 1852 • London, Middlesex, England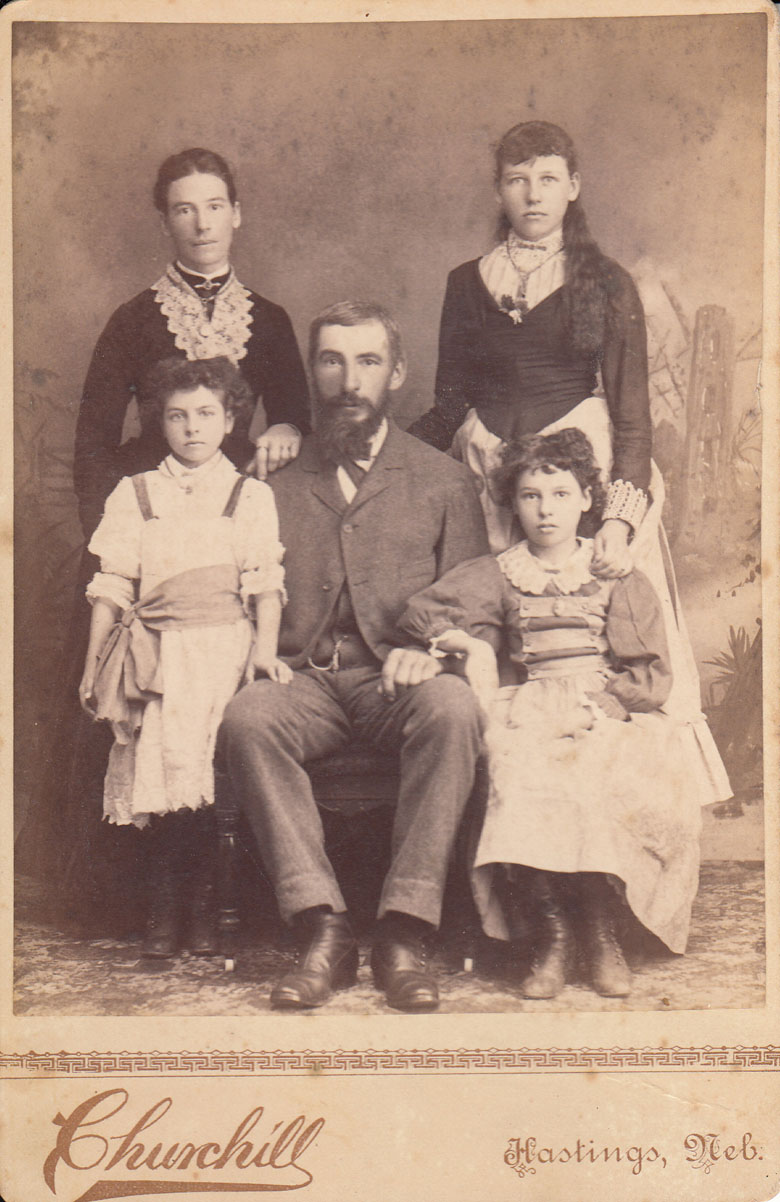 Family of Catherine Hodgson nee Skinner, in Nebraska, U.S.A. Circa 1890.
William Archer's sister Catherine Skinner ( Kate ) emigrated to Nebraska via Quebec with her mother and numerous siblings, on board the Nestorain in 1871. Initially she married Thomas Ira Atwood, and had daughters Mary Elizabeth (Birdie) Atwood and Sadie Atwood prior to 1873. Pictured proudly front and centre above is Catherine's second husband Edmund Paul Hodgson who also emigrated from the UK in 1871. We believe it is Kate's second daughter, Mary Elizabeth Attwood pictured on the right at front, and the younger Daisy Louise Hodgson standing at the left. A separate photo of Kate and Edmunds second daughter, Rascola Hodgson, was born in Nebraska in in 1896, is displayed below.
Rascola Hodgson aged 3, born in Nebraska USA in 1896.
• Birth of Sister Louisa Skinner (1854–1928) 25 Mar 1854 • Baptised St Andrew Holborn, England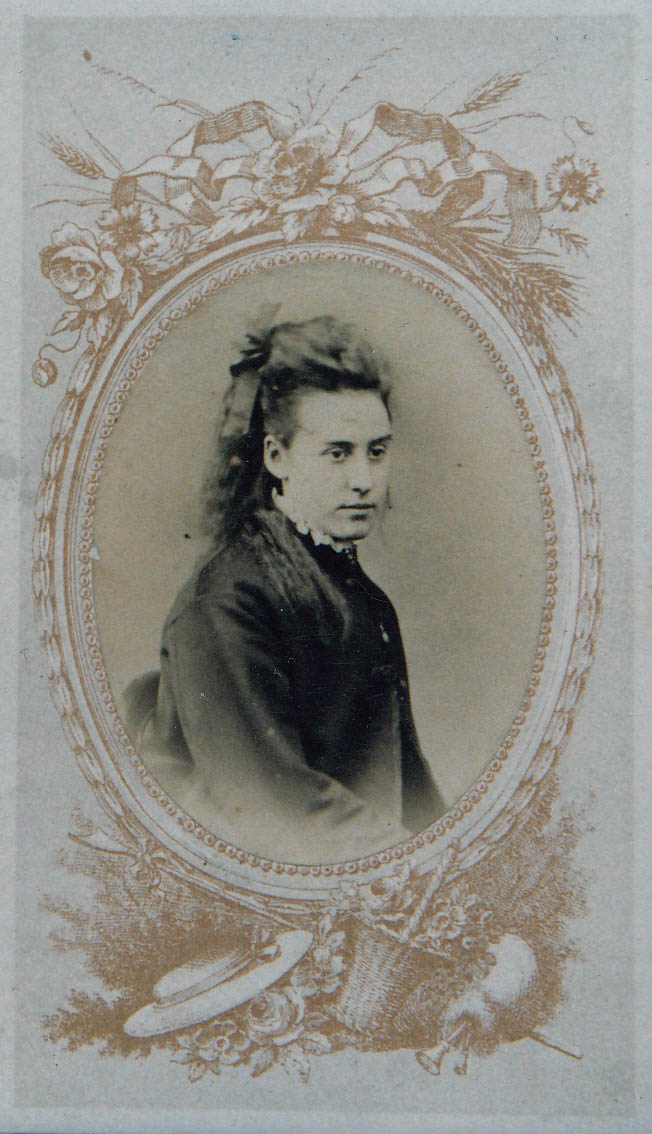 Louisa Skinner married Edward Francis Ralling, born 1849 in Lancashire UK. It is believed Louisa was Christened at St Andrews Holborn on 2nd Nov 1854, and she and Edward had no children. Louisa died in 1928, some 28 years after Edward passed away.
• Birth of Brother Robert Skinner (1855–??) 21 Oct 1855 • Holborn St Andrew, Middlesex, England

Original Christening record at St Andrews Holborn, of Robert Skinner born 1855 at Holborn Hill via London.
No other records for our Robert Skinner have been located to date. It is highly possible Robert may have passed away very young, that is before the rest of the Skinner family emigrated to Nebraska U.S.A. in 1871, after his father and sisters Julia Augusta Skinner, and Elizabeth Mason nee Skinner all passed away around 1869.
• Birth of Brother George Russell Skinner (1859–1924) 26 Jan 1859 • London, England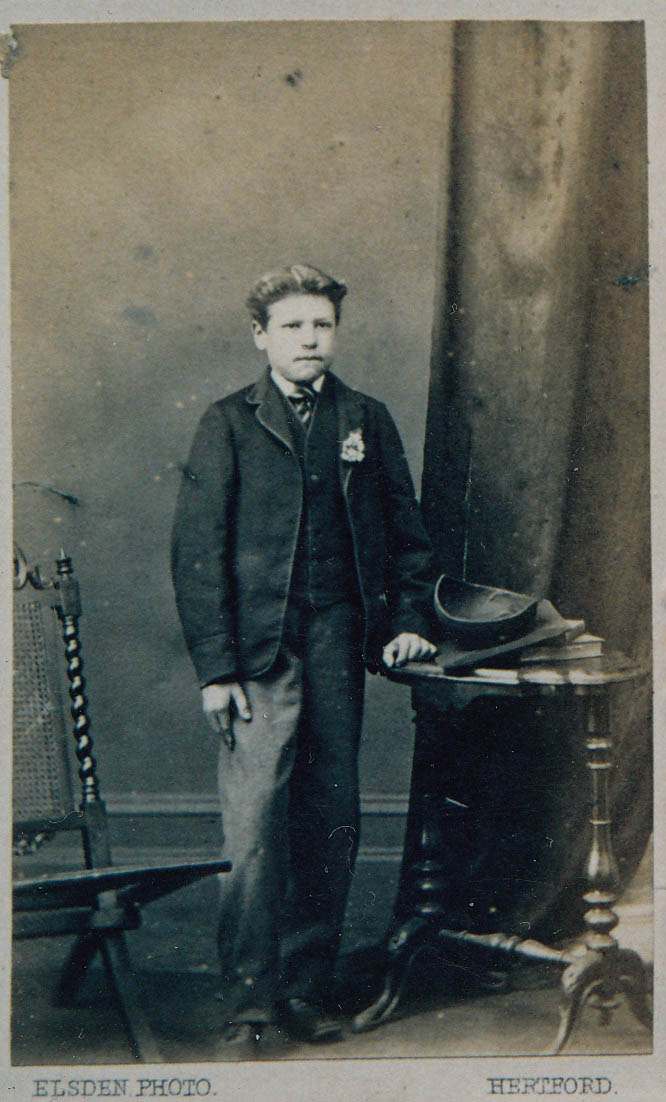 Portrait of George Russell Skinner aged approx aged 15 - Photo taken circa 1875.
Research indicates George Russell Skinner married Abbie J Green in Denver Colorado USA, on 4th Feb 1895, and they had no children. George Russell Skinner died on the 8th April 1924 in Denver, Colorado.
1895 USA Marriage record of George Russell Skinner and Abbey J. Green - records show they had no children.
• Residence 1861 • Wraysbury, Buckinghamshire, England.
Census of William Archer Skinner aged 10, along with his siblings. The family had obviously moved house from Holborn Hill, however William Archer's father was still employing 2 men in the tobacco business at 67 Holborn Bridge Rd.
• Death of Sister Julia Augusta Skinner (1844–1869) Sep 1869 • Hertfordshire, United Kingdom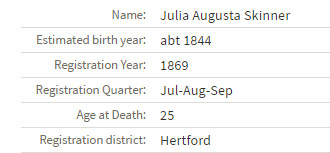 Little is known of Julia Augusta Skinner, apart from that she passed away as a spinster, aged 25 at Hertford.
• Death of Father John Henry Stansfield Skinner (1810–1870) 8 Jan 1870 • Hertfordshire, United Kingdom
Probate record of John Henry Stansfield Skinner.
Woodward Mason noted in John Henry Stansfield Skinner's Will, was the husband of his first daughter Elizabeth Skinner - Woodward was from Waterford in Ireland. John Henry Stansfield's nephew Richard Russell Skinner mentioned here, was the son of John Henry Stansfield Skinners brother William David Skinner from Reading in Berkshire, and his wife Ann Davis - an interesting choice of Executors of the Will. The sum of £8,000 of effects in England in 1870 represented a fortune most of that time, would dream of having!
• Death of Sister Elizabeth Skinner (1838–1870) 1870 • Waterford, Ireland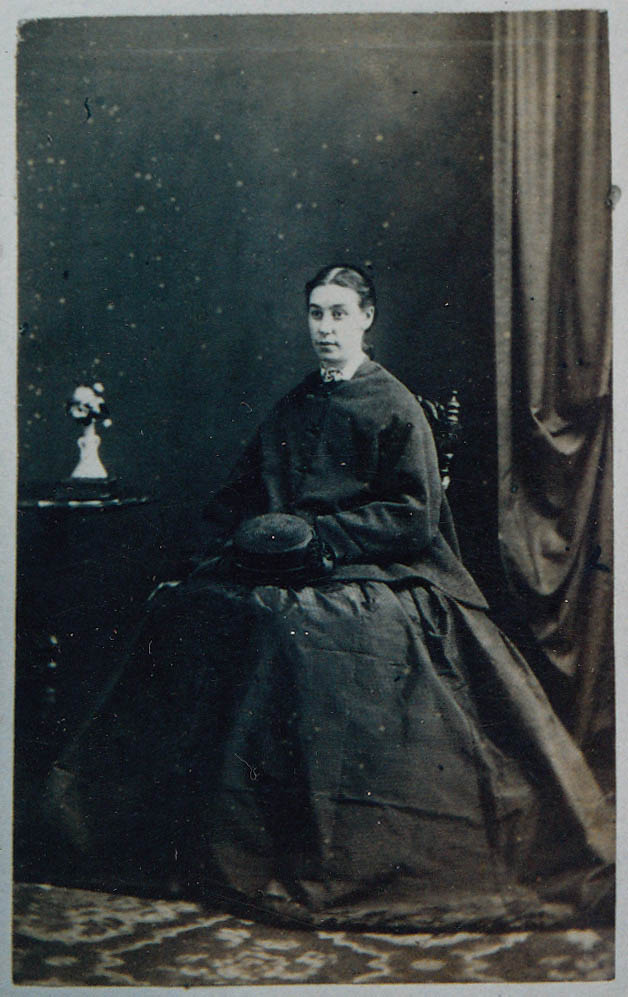 Elizabeth Mason nee Skinner, wife of Woodward Mason. Photo circa late 1860s.
William Archer Skinner's eldest sister Elizabeth, probably experienced an interesting time with her husband Woodward Mason, who was born in Waterford in Ireland in 1834. Records indicate Woodward Mason was a grocer and Quaker, originally from Tramore, Ireland, when he married his first wife Elizabeth Skinner in 1862 at St Margarets at Westminster in London. Elizabeth passed away in 1870, and not long afterwards, Woodward married Margaret Dobbyn, a widow, on 20th Oct 1873, in the Parish of Walton on the Hill in Lancaster.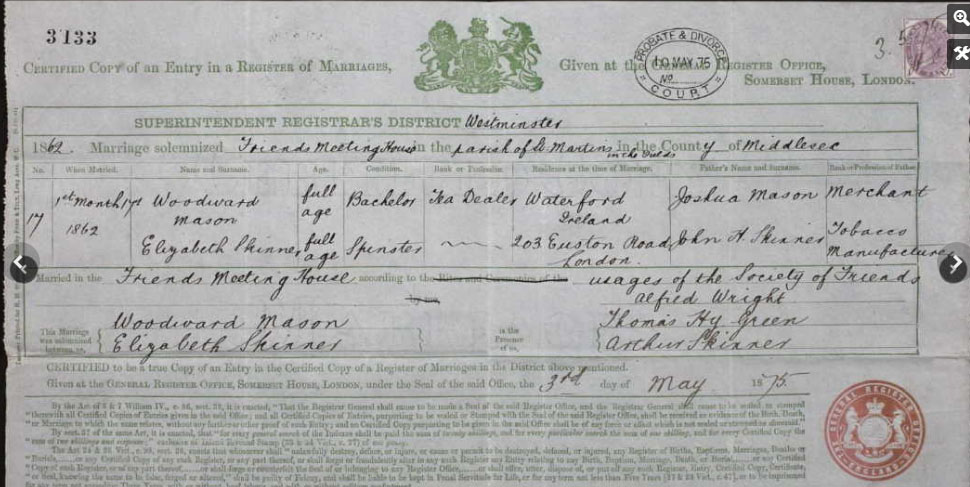 Marriage Certificate of Elizabeth Skinner and Woodward Mason in 1862 at St Martins in Middlesex, UK.
Not long after Elizabeth Skinner died, Woodward remarried Margaret Dobbyn in 1873. Some two years after this marriage, Margaret Dobbyn on the 10th of May 1875, successfully filed for divorce. Shortly after his divorce, Woodward Mason apparently established a relationship with his first wife's sister, Mary Ellen Skinner, and by 1881 the UK Census notes Woodward and Mary Ellen as married, with a son Sydney aged 5, and daughter Ada aged 4, both born in Tunbridge Wells, Kent. No marriage record has been found to date.
Census of 1881 of Woodward Mason, Mary Ellen nee Skinner, and children Sidney and Ada.
• Departure of Minnie Raine with Skinner family in 1871.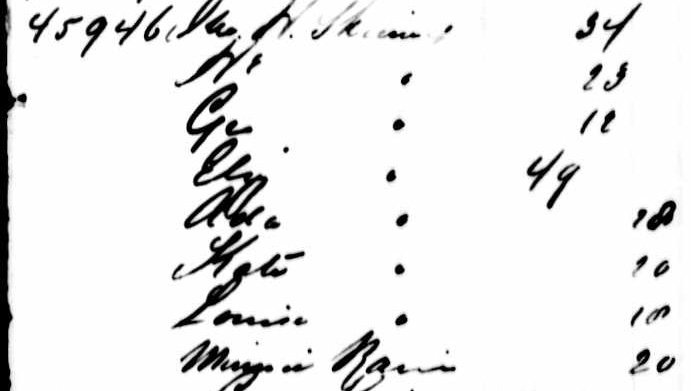 Research indicates Minnie Raine shown here, was actually Marian Elizabeth Raine, born Clerkenwell on 9 Mar 1851, the eldest daughter of John William Raine, a painter and decorator, and his wife Marian Cox. Minnie was Christened at St James Church in Clerkenwell on 1st June in 1851. It appears of some note both her two siblings, William John Raine and Alice Raine were baptised at St Andrews Holborn, to clarify "St Andrews" was the name of the local Parish (or district). There was a church by the same name of St Andrews, directly opposite John Henry Standfield Skinners tobacco business same church, the address being Holborn Bridge, Holborn Hill. It is possible William Archer Skinner was Christened at this church, and possibly attended, during this time frame.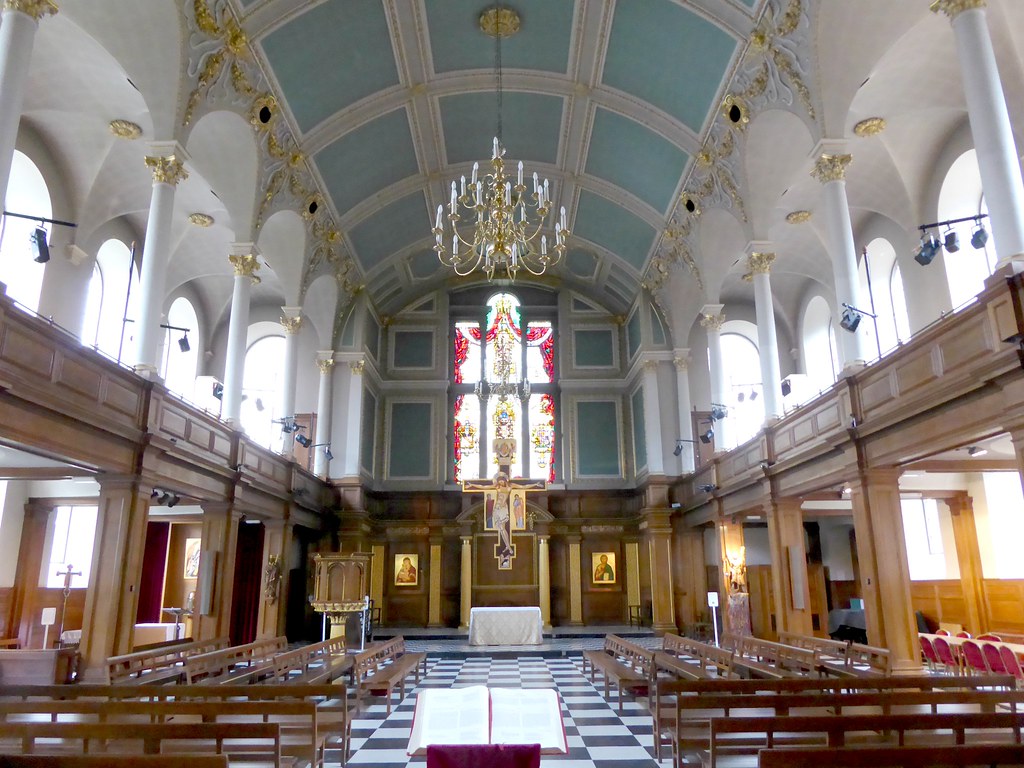 St Andrews of Holborn - photo courtesy wikipedia.org.
From this info it appears logical to assume that William Archer Skinner and Marian (Minnie) Raine probably went to the same church of St Andrews at Holborn as teenagers in the 1860s, and probably sang from the same hymn book at this time. It is very likely our William Archer Skinner may have stayed at Holborn around 1871-1872 to help settle the Will and Probate of his late father John Henry Stansfield Skinner, whilst his betrothed Minnie Raine travelled to the USA with other members of his family on the Nestorian.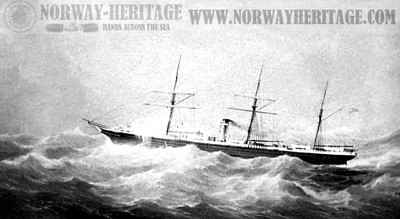 The Nestorian - Courtesy Heritage Ships
ACKNOWLEDGEMENTS.
SPECIAL THANKS FOR FAMILY CONTRIBUTIONS BY
Richards Harris - Ancestry account access.
Jill Harris - Great Grand daughter of Willima Archer Skinner.
Michael Bowen - Great Grand son of William Archjer Skinner.
Mixo Sydenham - Great Grand son of Williasm Archer Skinner.
January Zeh - 4th Skinnner cousin, Hawaii USA
Email here re Enqiries, Corrections, or input to this site