INTRODUCTION TO RUBY WINIFRED SKINNER
For her time, Ruby Skinner was quite a well travelled lady, having lived domestically in Victoria and Tasmania in Australia, before she enlisted to serve overseas in World War One as a nurse, in England, Egypt, and India. The earliest known photo of our Ruby Winfred Skinner, born in the inner suburb of Melbourne at Carlton in Victoria in 1888, is shown here.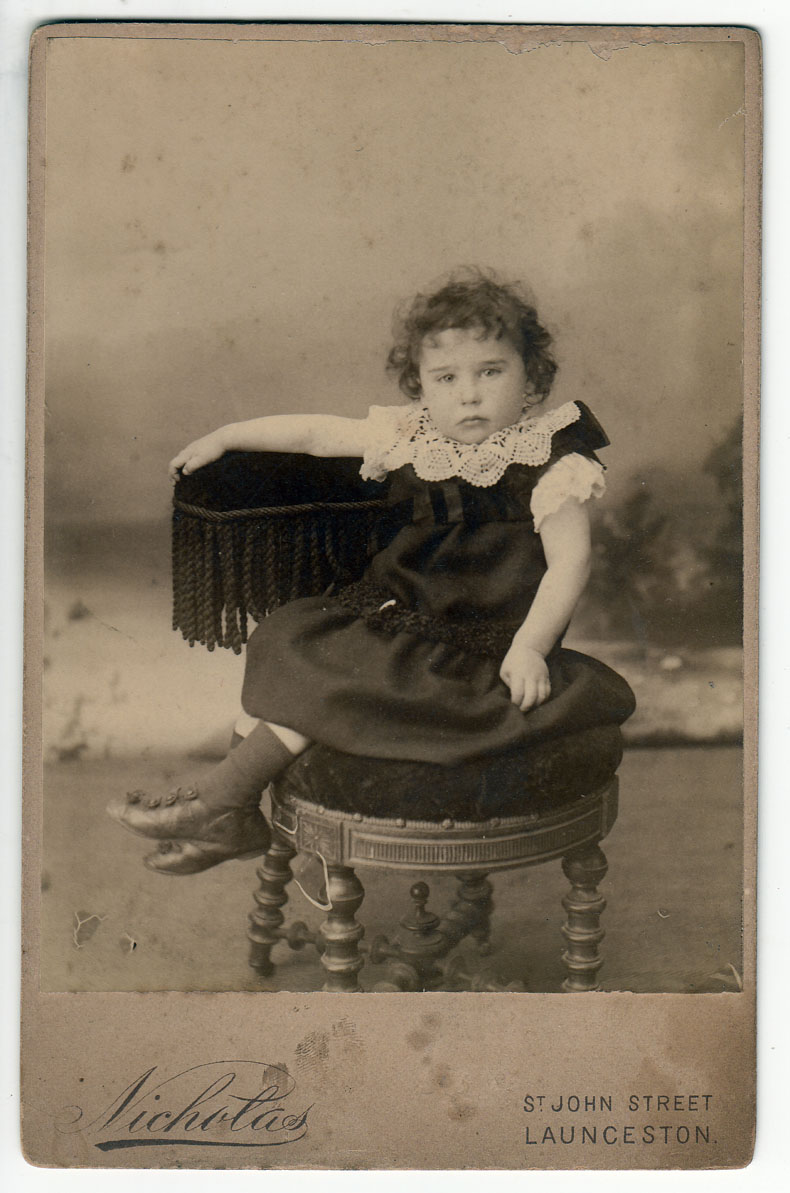 Ruby Skinner photographed about 1890 in a studio at Launceston, Tasmania.
PARENTS OF RUBY WINIFRED SKINNER.
Providing some basic background details of her parents and their whereabouts in the 1880s, seems a good place to commence this overview of Ruby Skinners life, travels, and family.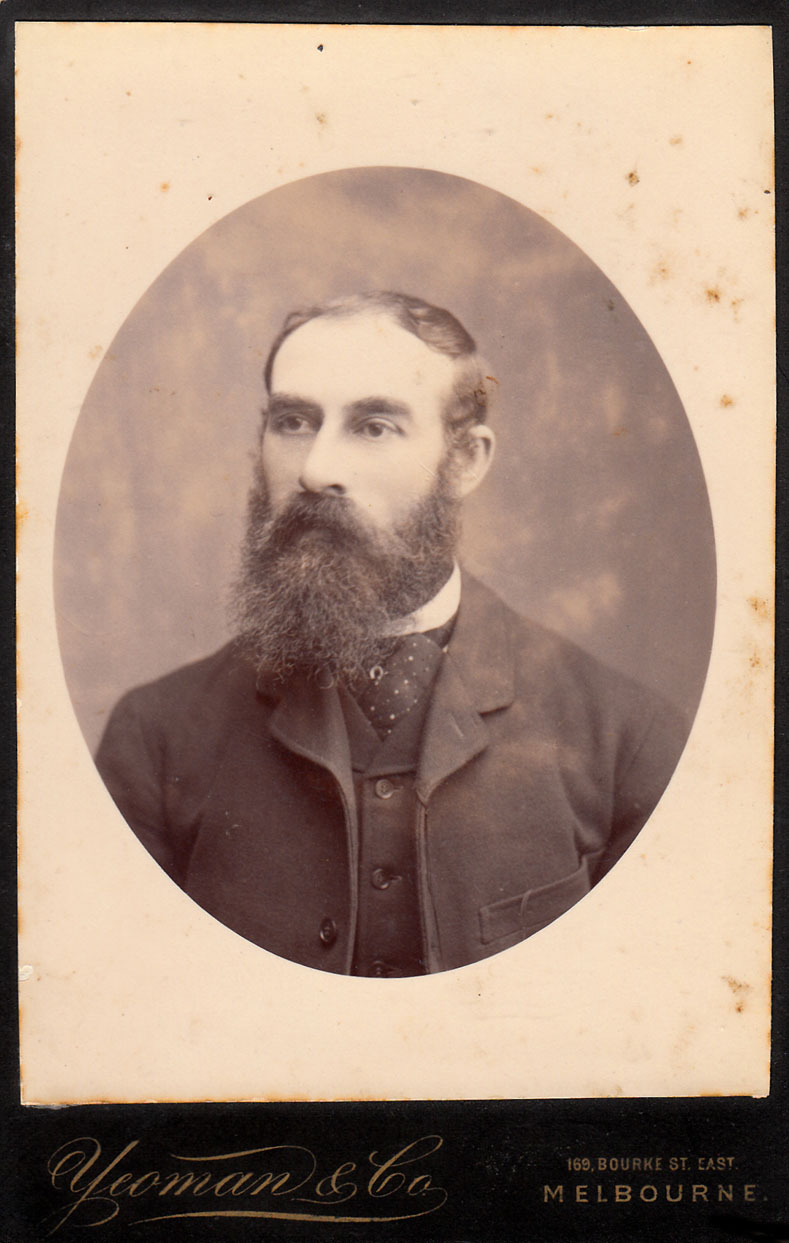 William Archer Skinner - circa 1880s in Melbourne, Victoria.
Briefly, Rubys father William Archer Skinner, or Will as he was known, came from a family of renowned tobacconists from London, as detailed on the Skinner Home Page of this web site. Will immigrated to Australia in 1876, and met his bride-to-be Elizabeth Jane Angus in Melbourne, where they married at her parent's house ( James Angus and Elizabeth Cameron ) at 223 Franklin St in West Melbourne on 6 Jan 1887.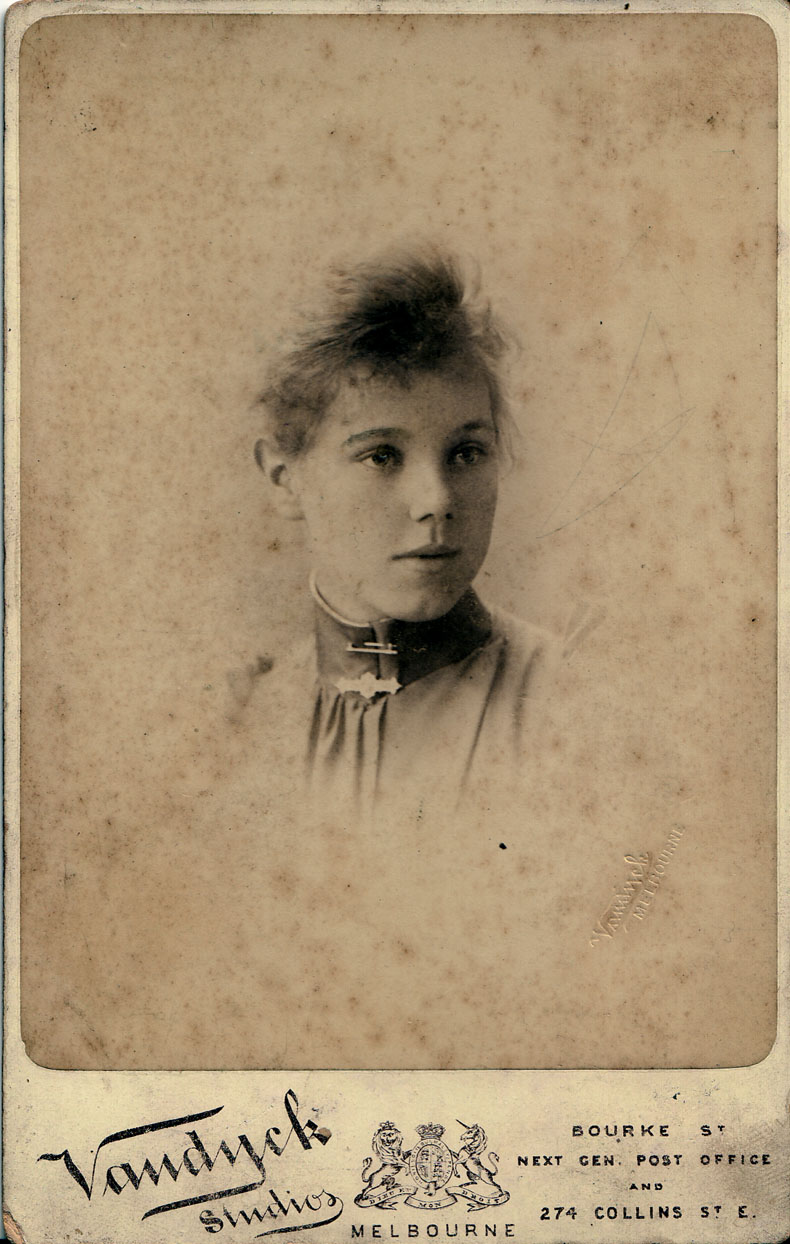 Elizabeth Jane Angus - circa 1880s in Melbourne, Victoria.

Marriage notice for Will Skinner and Elizabeth Jane Angus at West Melbourne in 1887. Courtesy Trove.
It is also well worth mentioning, when considering the wide array of numerous war photos held of Ruby Skinner, in her nursing uniform in England, Egypt, and India, we can logically reason Ruby inherited interest in photography, from her fathers professional interests arranging and selling postcards at the family newsagency in Ulverstone. From reviewing about 40 war time photos e.g. taken in Weymouth England, the Russian Gardens in Alexandria Egypt, and in the mountains of Punjab in India, in which Ruby is mainly featured, it is likely Ruby took her own camera overseas after she enlisted at Austins Ferry in 1915.
John Henry Stansfield Skinner, Rubys grandfather, tobacconist from Middlesex, Circa late 1860s. Photo courtesy the late Pamela M. S. Bell, nee Barringer, of Tunbridge Wells, UK.
It is known for sure that both of Rubys children Betty and John Sydenham, had their own cameras and were quite keen photographers. In a letter from Betty in London in 1955 to her mother Ruby and aunt Bertha, she mentioned she was getting much better with her camera. John set up a make-shift dark room in the laundry at his home in the 1970s, where he developed and enlarged many of his own photographic prints, and enhanced some of them with water colour paints. This apparently "inherited" Skinner interest in family photography goes back to the 1860's in London, as confirmed in these 2 photos of Rubys grandparents John Henry Stansfield Skinner, and Elizabeth Thomasine Tupling.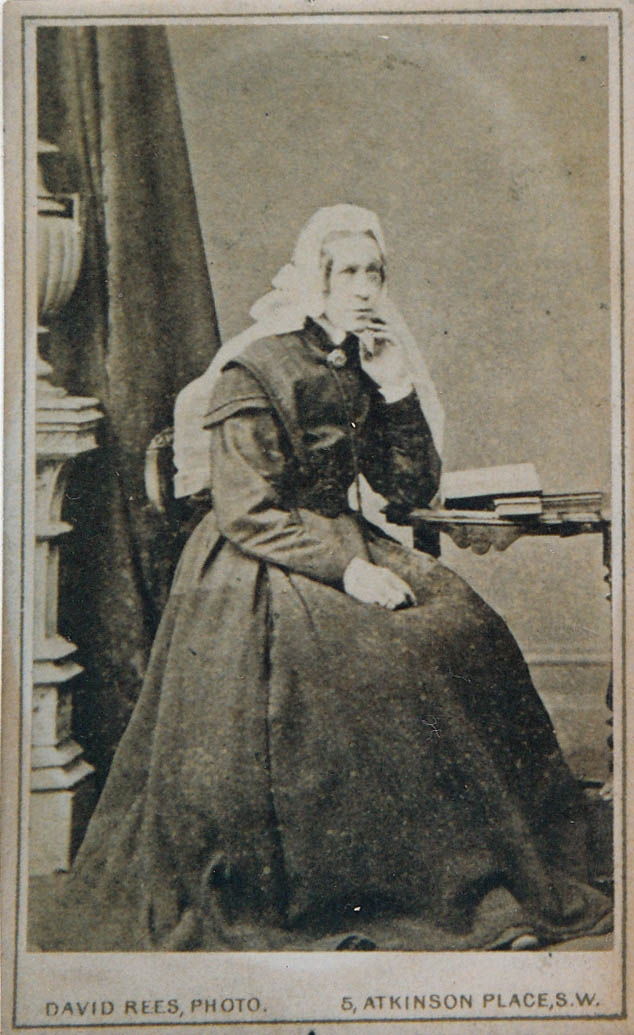 Photo of Elizabeth Thomasine Tupling, Rubys grandmother, taken circa late 1860s in London. Photo courtesy the late Pamela M. S. Bell, nee Barringer, of Tunbridge Wells, UK.
It is not known when Will Skinner actually became a land holder at Andersons Inlet, near Inverloch on the Victorian coast, however he did run a 320 acre farm there, and like his parents, was involved in the local community, as small and remote as it was back in these times.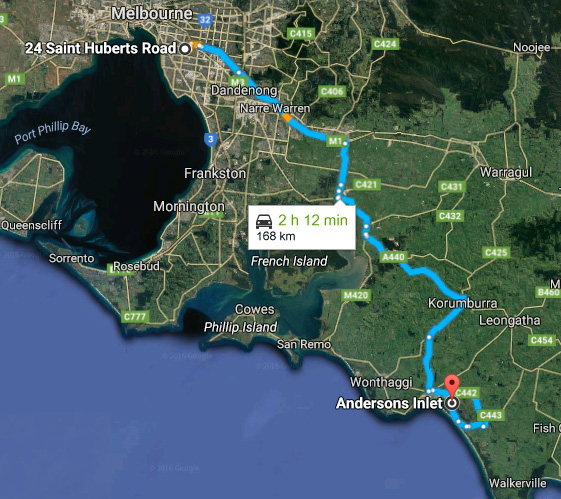 Map showing Andersons Inlet on the coast, and St Huberts Rd Carnegie where the Skinners retired to in 1921. Courtesy Google Maps.
According to the Bass Coast Shire History records, early selection of land at Andersons Inlet ( next to Inverloch township ) began under the Lands Act of 1869, whereby settlers basically survived via the means of "they cleared land largely by axe, and built wattle and daub huts". By the late 1880s, it seems progress and development was well underway for these fledgling townships, with plans for a local Athenaeum Will Skinner was involved in, as a joint Trustee.
William Archer Skinner nominated as a Land Trustee, Andersons Inlet 1888. Courtesy Victorian Government Gazette.
THE LIFE AND TIMES OF RUBY WINIFRED SKINNER
• Birth of Ruby Winifred Skinner in 1888 • Carlton near Melbourne, Victoria to William Archer Skinner and Elizabeth Jane Angus.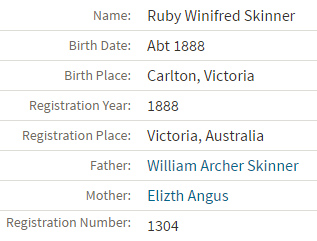 Birth of Ruby Winifred Skinner at Carlton near Melbourne in 1888.
Ruby Winifred was the first child of Will and Elizabeth Jane Skinner, who was born in the inner suburb of Carlton, only a few miles from the city of Melbourne. Nearly two years later, they had a son Archer Angus at Andersons Inlet in 1890, probably a home birth.
For reasons unknown, the Skinners decided to make major changes to their life style, they put the farm and house up for sale just before Archer was born, and moved to a small town called Ulverstone, on the North coast of Tasmania, where they ran the local newsagency business they called the "West Devon Stationery House".
Advert for the sale of the Skinner farm at Andersons Inlet near Inverloch in 1889. Courtesy Trove.
• Birth of Rubys brother Archer Angus Skinner ( Archie ) 1890 • Andersons Creek, Inverloch Victoria Australia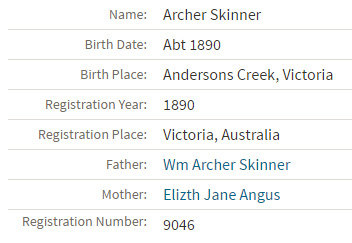 Registration of birth of Archer Angus Skinner. Courtesy Ancestry.com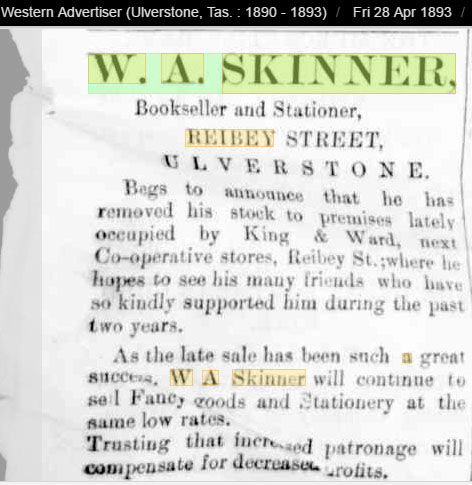 Advert advising that the Skinner family moved the newsagency premises at Ulverstone in 1893.
• Birth of Sister Bertha Agnes Skinner 4 Dec 1900 • Ulverstone, Tasmania

Birth Notice of Rubys younger sister Bertha Agnes Skinner in Dec 1900 at Ulverstone Tasmania. Courtesy The Australian Newspaper, via Trove on line.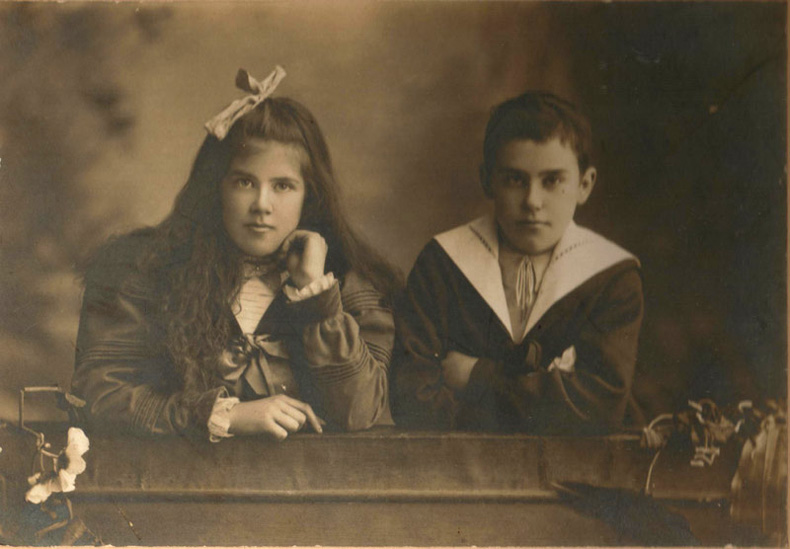 Photo circa 1902 taken in Tasmania of Ruby Winifred Skinner aged about 12, along with her younger brother Archer Angus Skinner at right, aged about 10.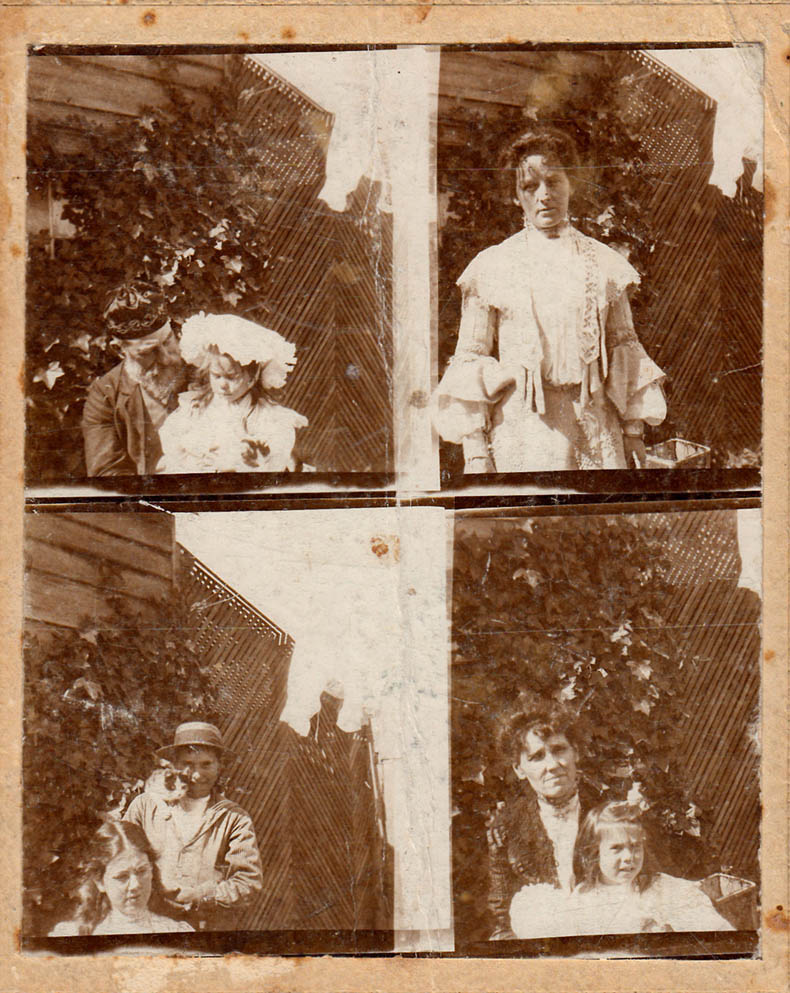 The above photo labelled on the reverse "Mrs Skinner - with Edith's love. 16 / 2 / 04"
With thanks to the great zoom function in Photoshop on a high resolution scan of the original photo, it has confirmed the 2 children in the bottom left panel are definitely Ruby Winifred Skinner, with her typical round glasses, aged 16, and her younger brother Archer Angus Skinner, aged 14, a renowned animal lover, with a cat on his shoulder. At the time this photo was taken in Feb 1904, Bertha Agnes Skinner was 3 years and 2 months old, which matches the image of the young girl in the bottom right photo, to a tee.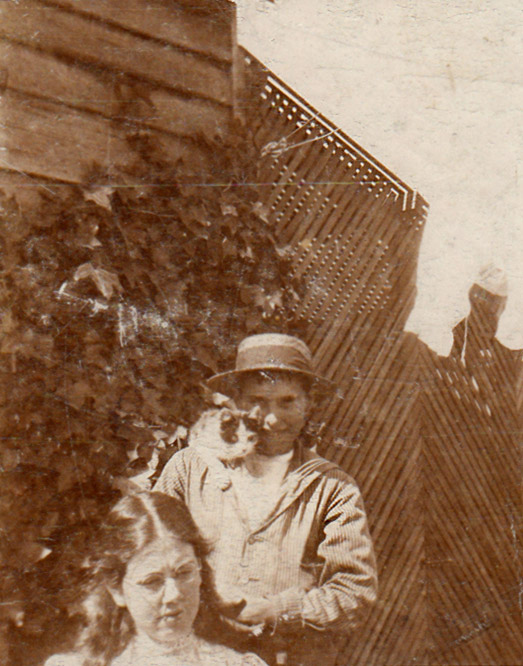 Inset of Ruby Skinner aged 16 taken in Feb 1904 in Melbourne, with her brother Archie, aged 14.
As far as the two adult ladies are concerned, presented here in the two right hand shots, from similar facial features they appear to be sisters, most likely Elizabeth Jane Angus and Edith Johnstone Angus, however to date, we have no means of proving this presumption. Also research indicates the elderly Gent wearing the interesting head gear, in the top left frame, is most likely Elizabeth and Ediths father James Angus ( but not yet confirmed ), with a young Bertha Skinner sitting on his knee, a few months before he passed away in May 1904, in West Melbourne. Edith and her husband Andrew Ness were living at Newport about 10 klms from West Melbourne, and they had already suffered the loss of Andrews father William Ness in 1894, some 10 years prior to when this photo was taken.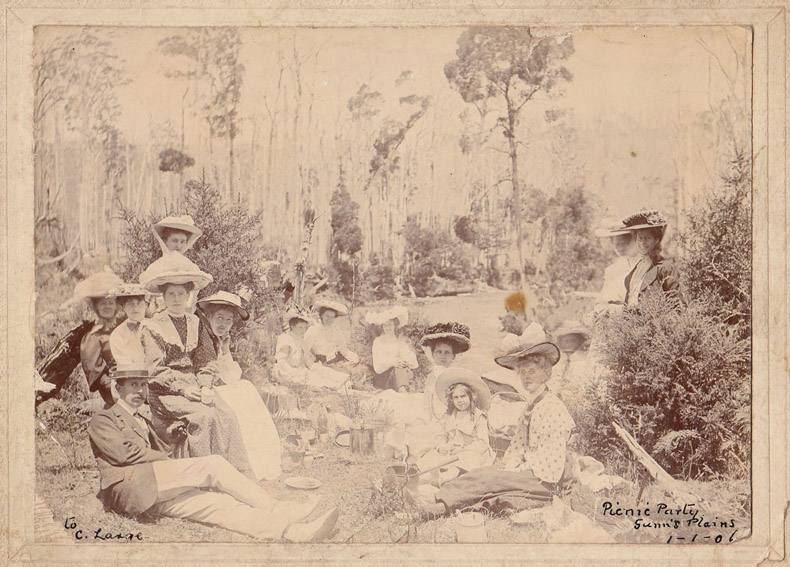 New Years day picnic 1906, at Gunns Plains near Ulverstone. Photo by C Lange.
Inset of 1906 New Years day picnic Gunns plains, 20 miles south west of Ulverstone - Ruby aged 16 at front.
Ruby and her siblings Archer and Bertha, lived and grew up in the business environment of the family newsagency in the main street of Ulverstone, which had a dwelling attached to the premises. At this point in time, Ulverstone would have been regarded as a quaint rural township undergoing very early stages of growth and development, with a very strong community base. Her father Will Skinner, was especially noted as a community minded local citizen, as detailed on his web page, William Archer Skinner.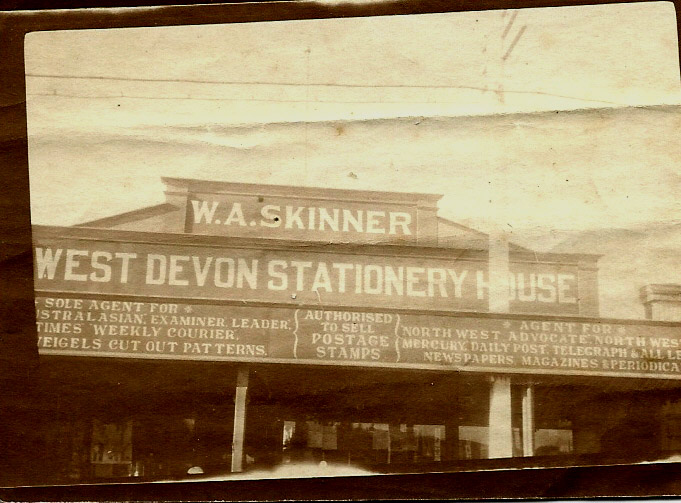 Family photo of the West Devon Stationery House, the Skinner newsagency, in Ulverstone Tasmania.
Family photo of Ruby Skinner taken in Hobart, aged about 21 circa 1909.
It appears Ruby had a personal vocational calling to become a Trained Nurse, which resulted in the need for her to move to Hobart, the capital city of Tasmania, to become qualified. Although the above photo is not dated or labelled, it was probably taken some time during her Training at Hobart, as she would have been 23 years of age when she actually passed her nursing examinations in 1911.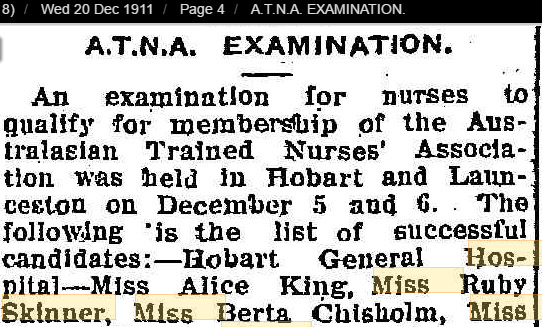 Ruby Skinner passing her nurses examination in Hobart town Tasmania in 1911.
Although she would have been most pleased at becoming a qualified nurse in 1911, little did our Ruby know that the onset of World War One in 1914, would dramatically change her life, in many ways. From her enlistment record of 1915 shown here, we can gather that Ruby lived in Hobart for this four year period, and worked in the Hobart Hospital as "Staff Nurse in charge for two years".
RUBY WINIFRED SKINNER IN WORLD WAR I.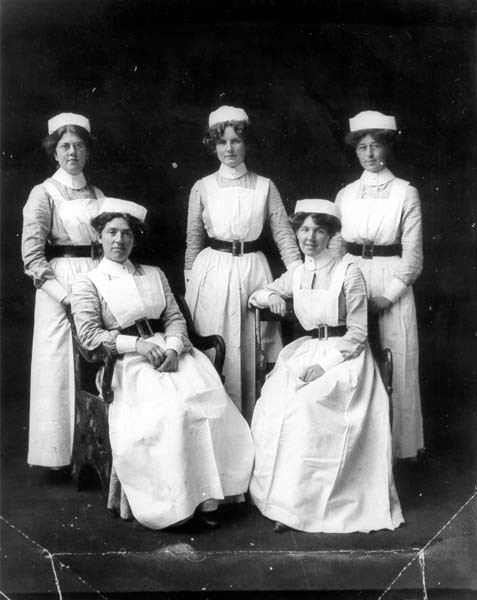 Nurse Ruby Skinner at rear left - next to nurses Elsie Gibson & Kate Foreman at rear, and Vida Chisholm and Alice King at front, in 1909. Courtesy LINC Tasmania via Trove on line.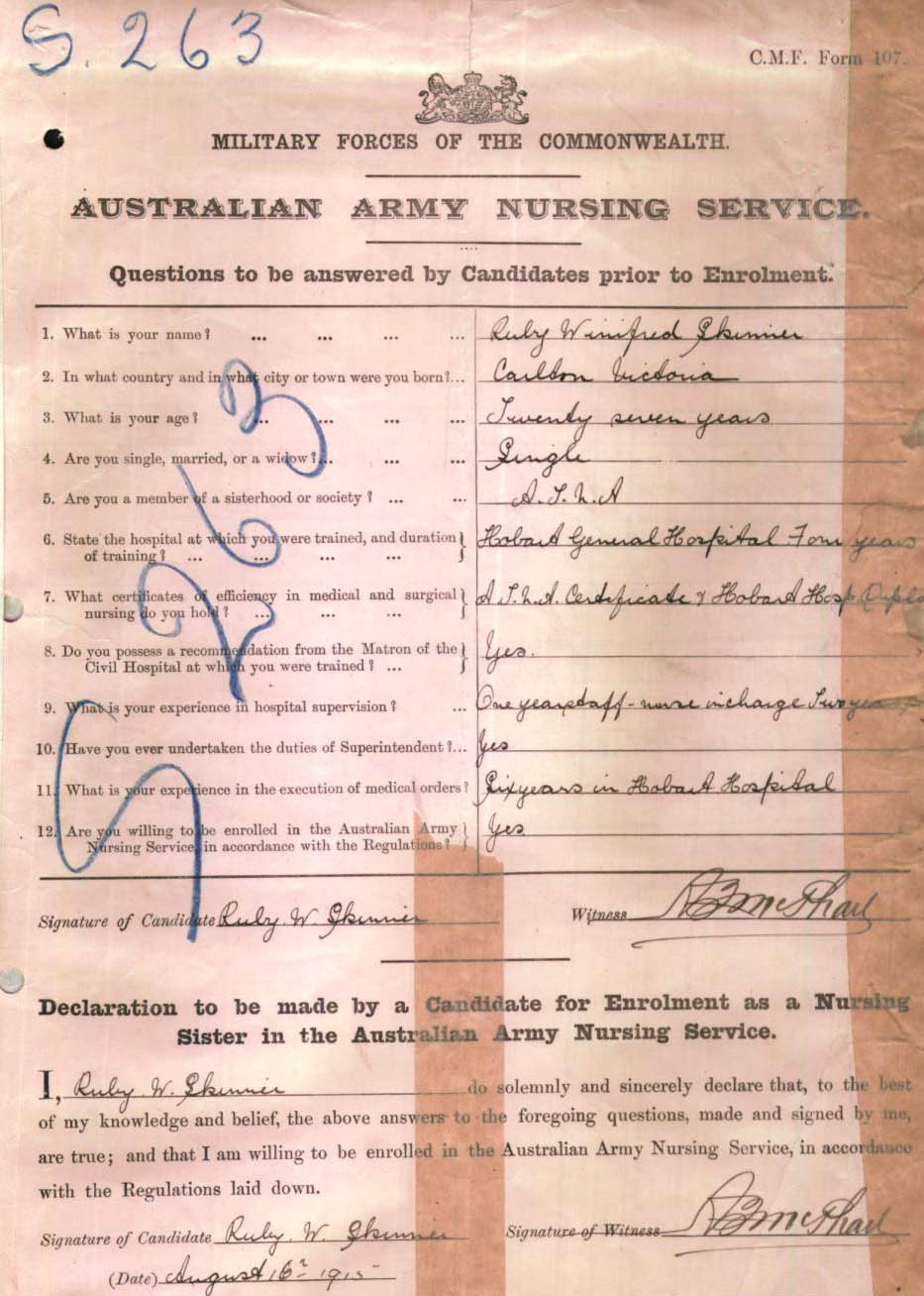 Enlistment of Ruby Winifred Skinner in 1915 at Austins Ferry on the Derwent River just north of Hobart - probably at the "A. A. Hospital".
A brief visit home to say family goodbyes, before embarking on the RMS Morea from Sydney.
Postcard of Ruby Skinner's embarkation vessel, the RMS Morea which left from Sydney to England, the card sent to her sister Bertha in Ulverstone Tasmania on 3 Sep 1915.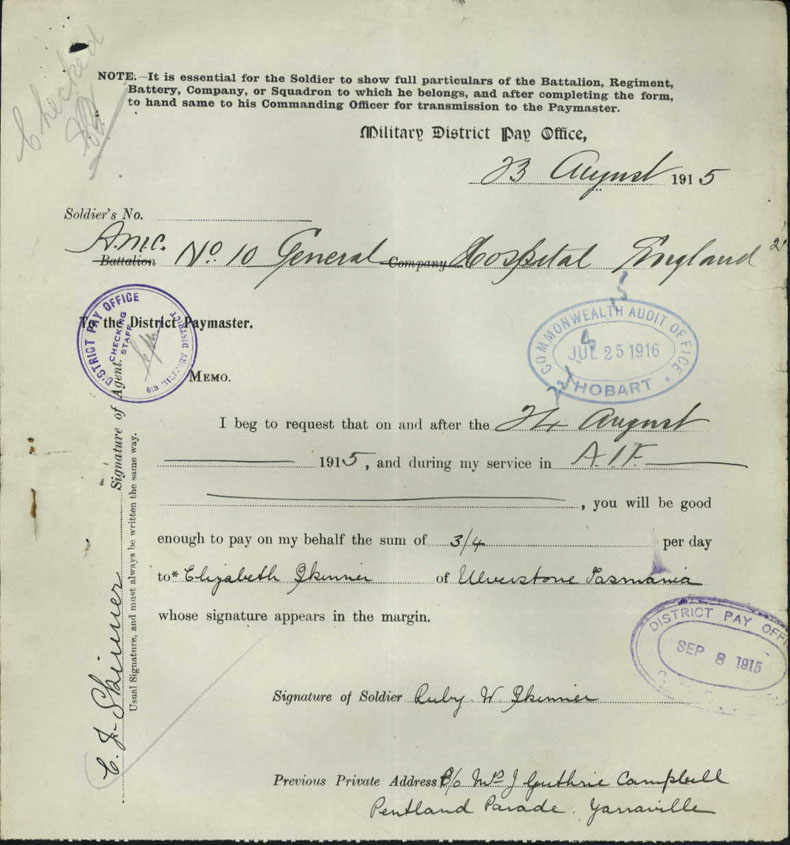 Pay Docket 24th Aug 1915.
As best as of what can be ascertained from official old World War One documents, this is the first Australia Infantry Force pay record for Ruby, as her official War Record states she embarked on the RMS Moreau, as a nurse on duty, on 24 Aug 1915. As shown here, Ruby Skinner had arranged to forward three quarters of her pay entitlement to her mother Elizabeth Jane Skinner nee Angus, which did create the need for correspondence of about 20 letters to the Military District Pay Master, found in a supplementary War Record file. To clarify the reference of "Previous Private Address", Mrs John Guthrie Campbell noted here, was her mothers sister Annie Angus who was residing at Yarraville near Melbourne, where it is presumed Ruby stayed briefly in 1915, before she was called up for War duty.
Postcard from Ruby Winfred Skinner to her sister Bertha Skinner at Ulverstone from the Helipolis Red Cross Hospital in Cairo in Egypt, in Oct 1915.
The two images, above and below here, have been scanned from a family postcard, which was sent from Ruby Winifred Skinner, whilst serving as a trained registered nurse at the Helipolis Red Cross Hospital in Cairo Egypt in 1915, to Bertha back in Ulverstone Tasmania.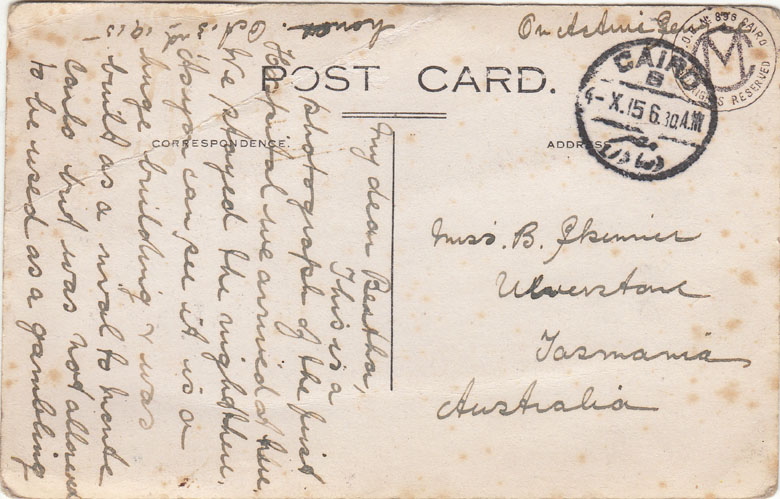 Reverse of handwritten postcard from Ruby Skinner in Cairo, to her sister Bertha Skinner at Ulverstone in Tasmania on the 3rd of Oct in 1915.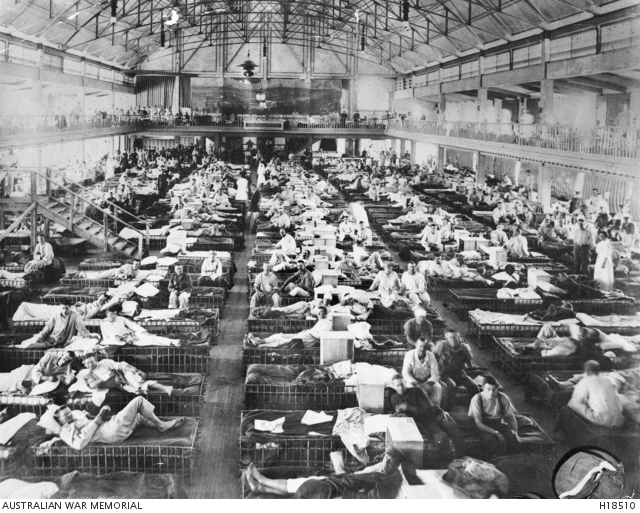 An every day view of Ruby Skinners war victims saw, at the Helipolis Hospital in Cairo, Egypt. Courtesy AWM via blogspot.slq.qld.gov.au
According to a letter written by a Corporal J. D. O'Hagan, Army Medical Corps, published in the Queensland newspaper in Brisbane on 10 Apr 1915 -
"It is a sight to see the tents stretching for miles along the sand, and quite a township has sprung up close to the camp. The Light Horse are encamped in another direction from Cairo, at Maadi." Referring to the Palace Hotel, where his corps is quartered, he writes: "It is said to be the most beautiful hotel in Egypt. We have been told that it cost £2,500,000 to build. The King of the Belgians, with an English and a Belgian syndicate, built the hotel about three years ago. It was to be run as a casino, and the idea was to rival Monte Carlo."
"The nurses and doctors occupy some of the rooms on the first, second, third, and top floors, and have the most perfect accommodation. We, of inferior ranks, have the servants' quarters on the basement, and are the envy of our less fortunate comrades in the other hospital, who are in tents pitched on sand in which you sink up to the ankles."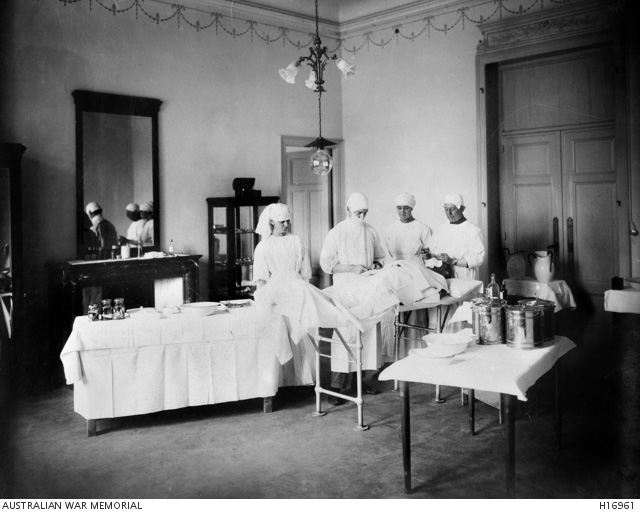 An operating room inside the Helipolis Hospital in 1915, about 4 miles from Cairo in Egypt. Courtesy AWM.
It appears to also be of some interest, to regard this reference to be the first known Skinner / Sydenham involvement with the Red Cross movement. Rubys brother Archer Skinner, a war veteran, and his wife Rita required a few years Rehab support at the Red Cross Janefield centre at Bundoorah near Melbourne in the early 1920s, and later in the 1940s, Rubys sister Bertha, also supported the Red Cross fund raising at Ulverstone in Tasmania.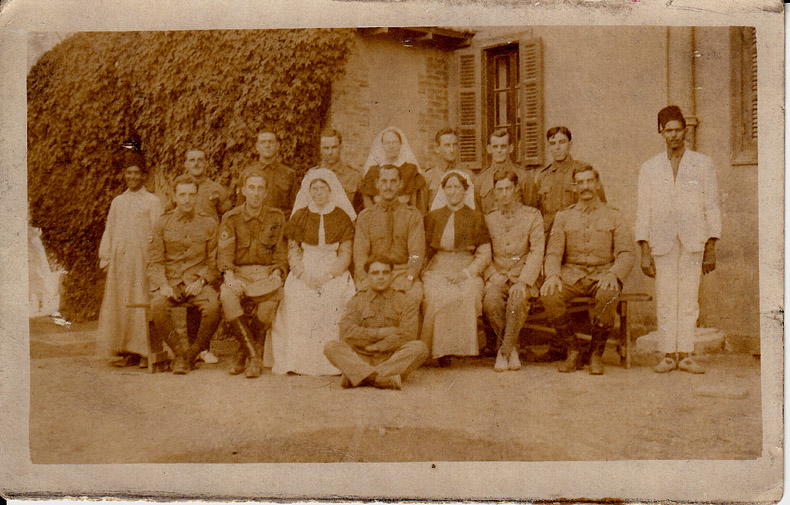 Postcard / photo of Ruby Skinner 3rd from left in the front row, with her fellow staff at the 2nd Australian General Hospital at Cairo in Egypt in 1915.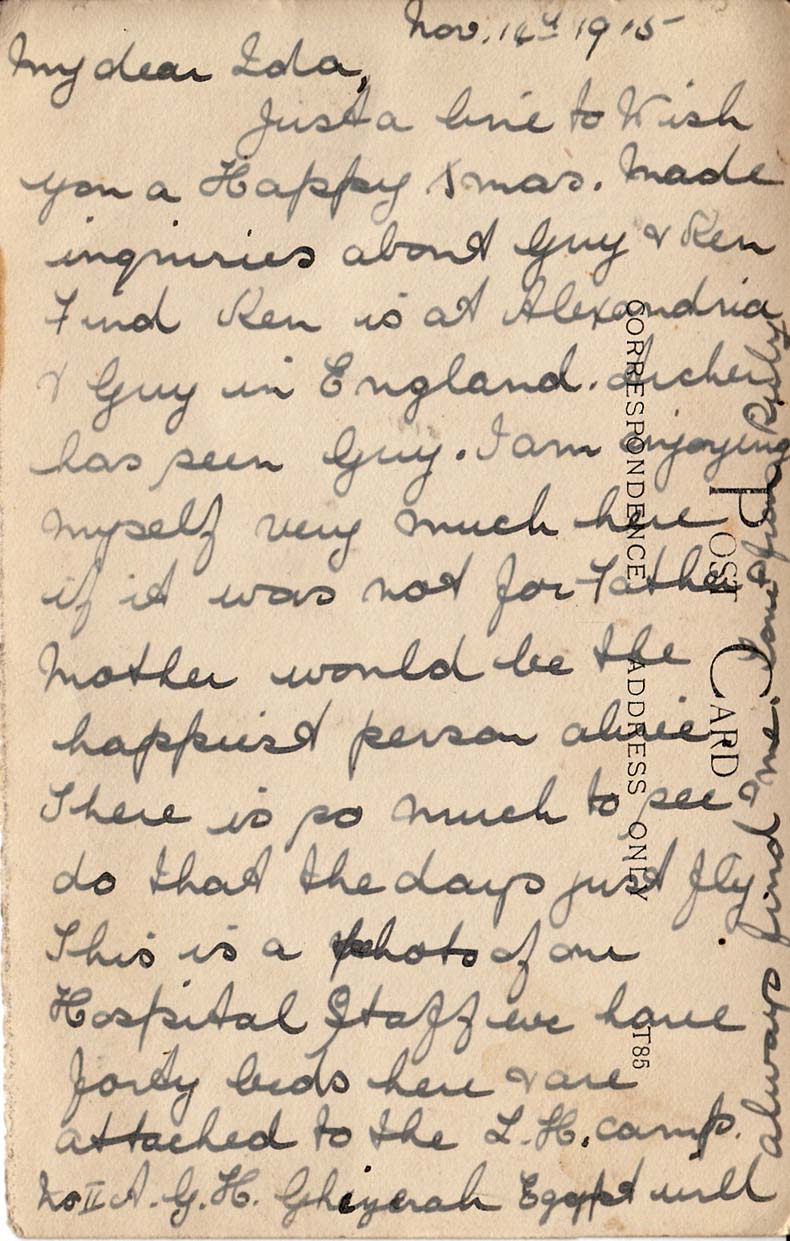 Reverse of above postcard.
Diligent research has recently confirmed a family link to Ida relation, as per the intended recipient of this postcard from Ruby in Egypt in 1915. We believe Ida was the wife of Ruby's first cousin, Leonard Aitchison Shand Angus. Her note that "Archer has seen Guy" refers to contact made by her brother Archer Angus Skinner. Research as to who "Guy" and "Ken" noted here, actually were, is still being undertaken.
One of many undated and unlabelled War Service photos of Ruby Skinner of around 1915.

Inset of WW1 plaque at St Helens Tasmania - a tribute to local nurses. Courtesy K. Daniels, Red Cross Ulverstone.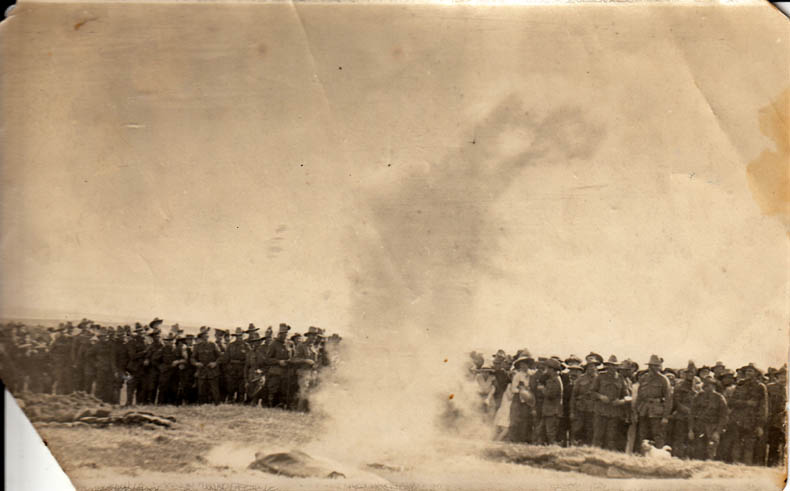 Postcard held by family labelled "Dummy bombs exploding - 20 / 5 / 16 - Monte Video, Weymouth."
This photo does correlate with Rubys service record of being at Weymouth in May of 1916.
A great photo of sister Ruby Skinner enjoying leave, labelled "Russian Gardens - Alexandria" Egypt 1916.
The above photo is one of two photos, both taken at the Russian Gardens at Alexandria in Egypt, and both are undated. However according to Ruby's war record, it shows she was serving at Alexandria in Egypt in Aug of 1916. The other photo not shown here, is what appears to be a late afternoon shot, showing a long shadow on the ground, of what looks like a mystery man in a uniform wearing a soldier's cap. It would appear the leather pouch she has over her shoulder shown here, was of good quality and of importance to Ruby, probably for a camera, as it seems she kept this pouch after the war, as going by the photo of her husband shown in a photo below, appears to have the same leather pouch over his shoulder.
A few points for our web site visitors to consider.
#1 Piecing together information about a deceased family of over a hundred years ago, can be especially difficult, as in the case of Rubys family history, whereby there is no-one still alive who personally knew her well enough to clarify or verify events, dates, and places, and
#2 When relying upon old war service records, it is difficulty to interpret many abbreviations, terms, and military jargon. The results can lead to activities and occurrences being overlooked in error. Cases have been found of our ANZAC soldiers known to be wounded, and yet this has not been verified on their actual record.
Extract from Ruby Skinners early service record from Sep 1915 to part of 1917. Courtesy naa.gov.au
A WAR-TIME ROMANCE WITH ALWYN FRANCIS SYDENHAM.
It is an unusual and very fortunate privilege, to be able to present such an array of images and documents, which pretty much match and confirm the official war records held at the National Archives of Australia for our nurse Ruby Skinner's service and movements. At this stage of our overview about Ruby, it seems a logical point to inform you, of another important person who entered Ruby's life during World War One, being that of her future husband-to-be, Lieutenant Alwyn Francis Sydenham, ( known as Syd ) from Colac in Victoria.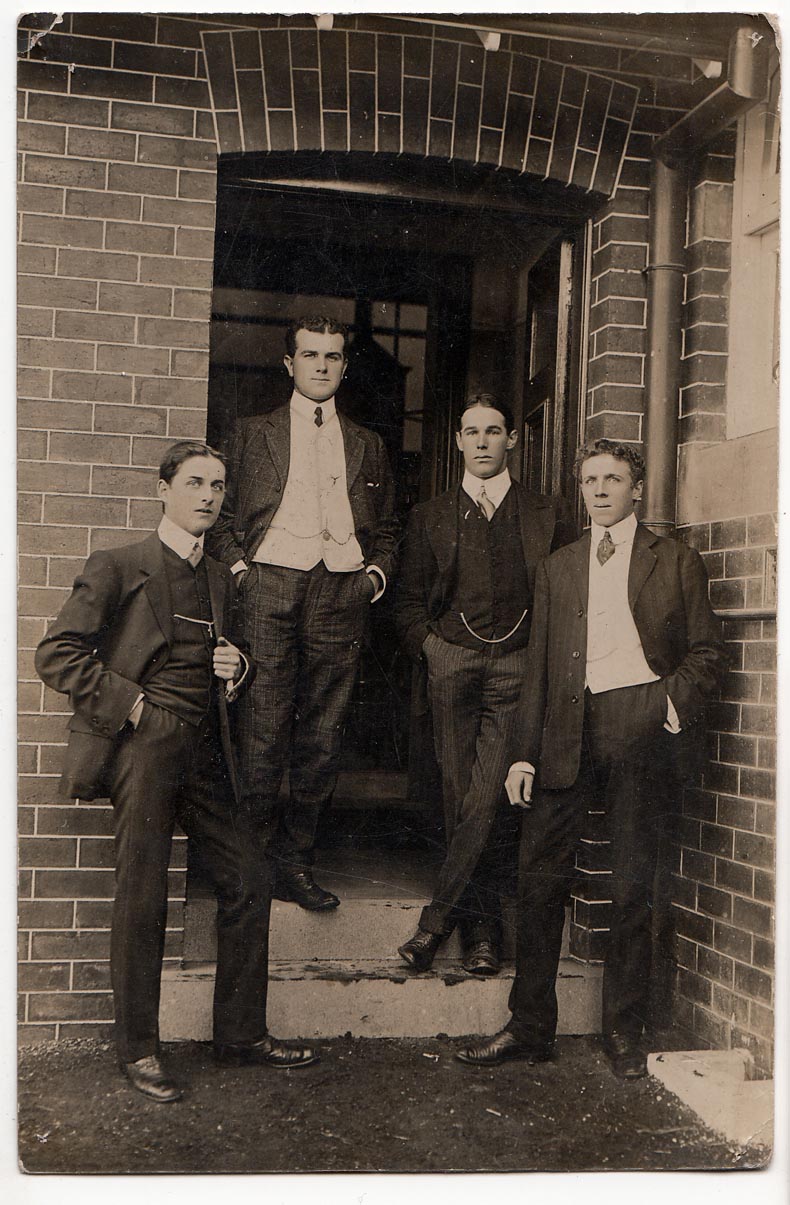 Earliest known photo of Alwyn Francis Sydenham, noted as aged 18 ( about 1909 ) apparently with some work mates.
NB. The above is a photo / postcard addressed to Mrs Sydenham at Colac ( ie. his mother Zoe L Hills ), so our initial presumption was its likely one of Alwyn's first jobs may have been working quite some distance away from his home town of Colac. A full size photo of this same shot, is also held by our Sydenham family.
A review of Alwyn's Enlistment record to the Australian Military Forces in 1915, enlightens us as to some additional personal background facts, previously not know to his surviving descendants. For example, the year before the above photo was taken, Alwyn passed an exam to become a 1st Lieutenant in the local Mounted Cadets, progressed to the Senior Cadets in 1910, and became "unattached" in 1913. It also mentions Alwyn studied at Dookie Agricultural College. At the time of enlistment, he was working as an "Interstate Traveller" in the Engineering section for Dalgety & Co, Real Estate and Stock agents, who played a major role in the Victorian wool industry via their operations at Geelong.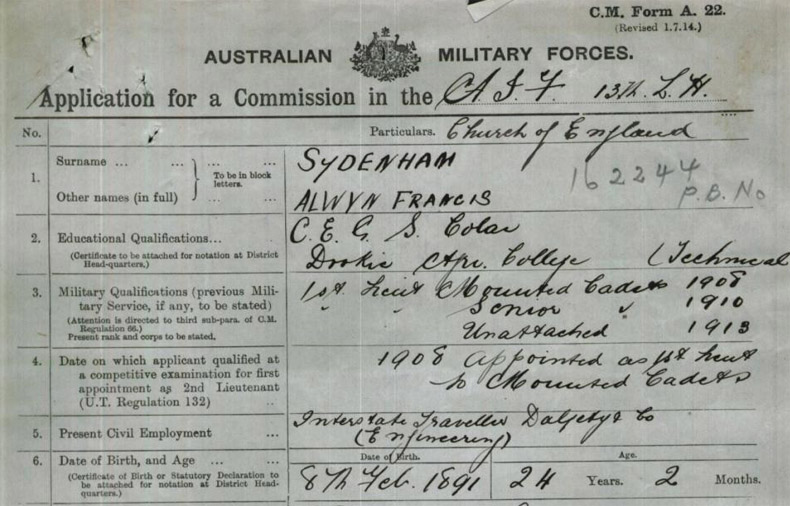 Inset of WW1 enlistment of Alwyn Francis Sydenham, to attach to a Light Horse regiment in 1915.
As both Ruby and Alwyn travelled extensively during World War One, due to many various postings in England, Egypt, Turkey, France, India, and Pakistan before they married in 1920 at Alvie in Victoria, records and images of their individual activities and whereabouts have been interspersed as close to chronological timeline order as possible.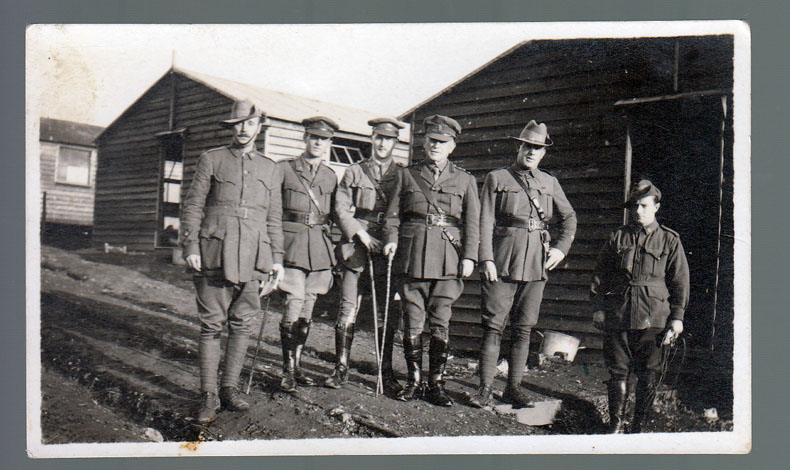 A photo of Syd taken circa 1917 with fellow officers, simply labelled by his late son John Francis Sydenham, "Captain Alwyn Francis Sydenham - 2nd left", the location was probably at Weymouth U.K..
Unfortunately, there are no known family recollections of where and when Ruby actually met Syd, however the three most likely possibilities were at Weymouth in England in 1916 - 1917, or maybe in or near Bombay in India or Lahore in Pakistan, where they both served in 1818-1819.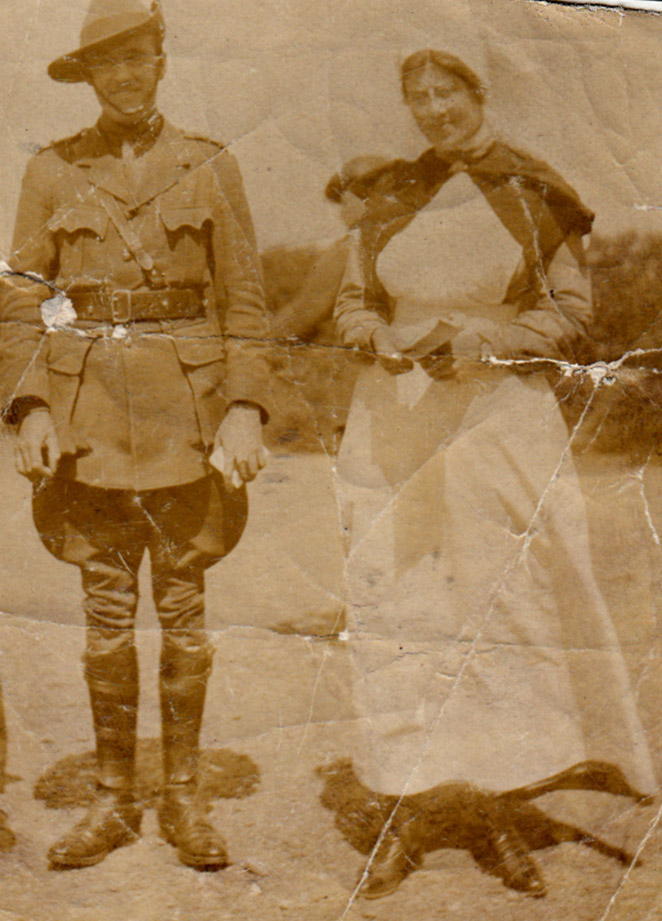 A tattered old photo of Ruby Skinner at Weymouth labelled "Monte Video, 12 May 1917."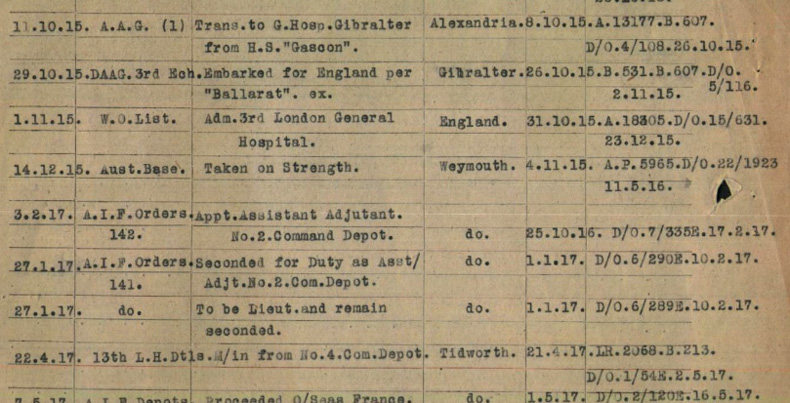 War Service extract for Alwyn Francis Sydenham, serving as at Weymouth from Dec 1915 to Apr 1917.
Research indicates Weymouth was a centre where a mixture of fresh ANZACs and wounded soldiers were retrained for current demands of duty. Tidworth, where Syd was for about a week in Apr 1917, was more of a Rehabilitation centre for seriously injured soldiers, and it is not clear why he was temporarily situated here.
An undated family photo of unknown location, however may have been taken by Ruby during a training exercise or parade in England.

Alwyn Sydenham's registration to the Portland Freemasons in Feb 1917, whilst residing at Weymouth, U.K..
In reference to the term "Adjutant" at Weymouth in Feb of 1917, the Oxford dictionary defines it as "Assistant (Military) Officer who assists superior officers by communicating orders, conducting correspondence etc.". In other words, Syd held an important Administration position at this time, which needed good supervisory control and extensive organizational skills.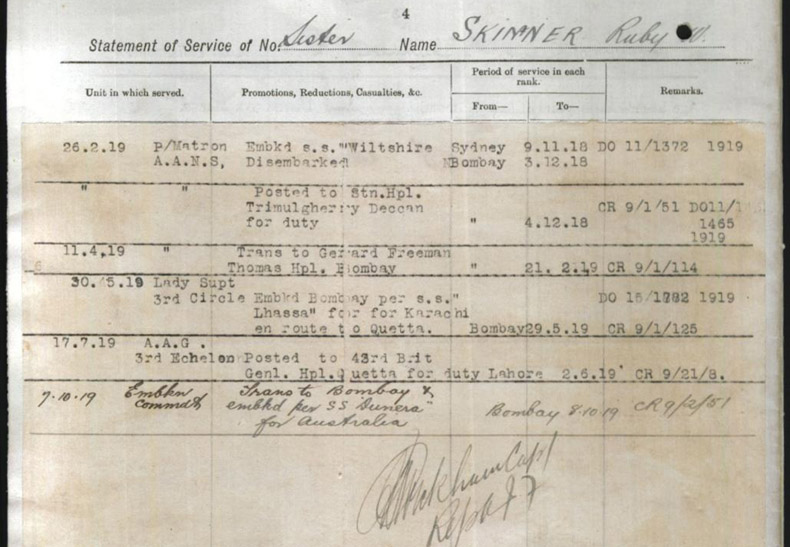 War Service Record above - Promotion of nurse Ruby Skinner to Matron, and postings to Bombay in India in 1919. Below is an image of the G. F. Thomas Hospital where Ruby served for 3 months in 1919.
NB. Quetta, Lahore, and Karachi shown on the above record are in Pakistan, where many other Australian soldiers and nurses were based, and served in what was known as the Afghanistan War.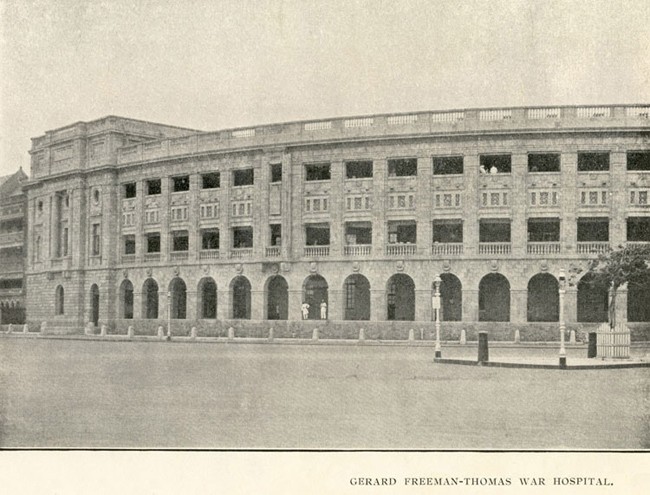 Gerard Freeman Thomas Hospital at Bombay. Courtesy familyatwar.co.uk
Newspaper cutting from Colac Herald confirming Alwyn Sydenham being commissioned to the Bengal Lancers in India in Jun 1918.
Indian Government Record of attachment of Alwyn Francis Sydenham to the 13th Light Horse regiment of the A.I.F.I.A., noted as "on probation" in Mar 1918. Courtesy Indian Government Gazette.
Bengal Lancers - Victorian Era. Courtesy Pinterest.com
As the history of 17th Calvary has been truncated on the above Government Gazette, this particular regiment our Alwyn Sydenham was attached to, had more recently known from 1901 as the Bengal Lancers, which confirms other records and recollections of his connection, and service in India.
Service commendation for Alwyn Sydenham in France in 1918, using a French made Hotchkiss 25mm anti aircraft machine gun. Courtesy Trove.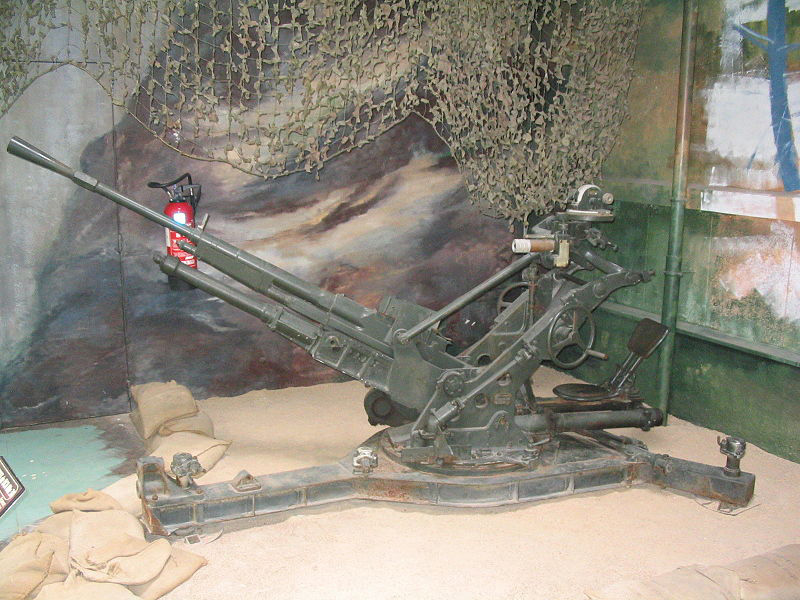 A restored Hotchkiss 25mm anti aircraft machine gun - a very serious weapon. Courtesy Wikipedia.
Although Syd had spent nearly 2 years early in his WW1 service, doing valuable troop training and Admin duties at Weymouth in England, he obviously did well in the trenches and on the battlefield too. In July 1918, he was awarded the Croix De Guerre medal under the auspices of the King of Belgium. This particular medal, as documented in Wikipedia was awarded for Bravery, and also for soldiers whom served and survived 3 years or more in the trenches. We may logically assume Alwyn's medal was awarded for Bravery, as his service record indicates he was wounded in France, was relegated to Administration duties at Weymouth, and does not appear to have spent a 3 year period in the trenches.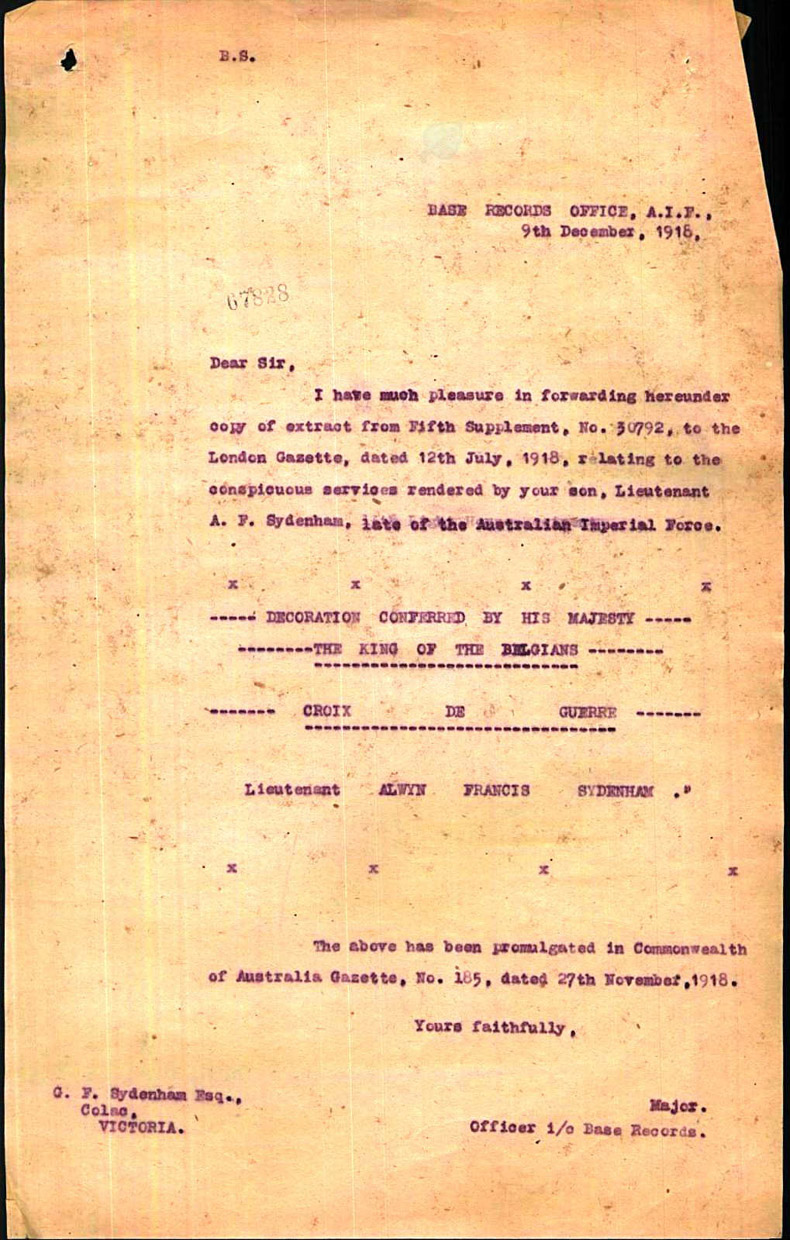 Letter to his father George back home at Colac Victoria, advising Alwyn Sydenham was awarded Croix De Guerre per King of the Belgiums, in Jul 1918. Courtesy recordsearch.naa.gov.au

Sample image of a Croix De Guerre medal. Courtesy Wikipedia.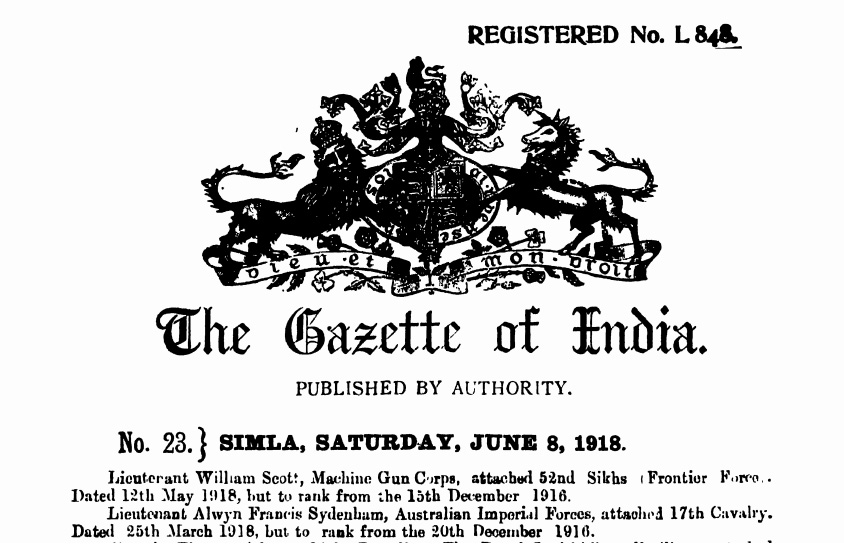 Official Indian Government Gazette advising Alwyn Sydenham's attachment to the 17th Calvary, Jun 1918.
Having extensively reviewed Syd's Australian / British Service Records, he spent much of his service between 1915 and early 1918 as a "2nd Lieutenant", a rank defined as being junior to a full Lieutenant. Therefore, going by the above Indian Gazette summary from Simla, one may assume the approval of his commission to join the Indian Army, and subsequentially the 17th Bengal Lancers, included a promotion the Lieutenant.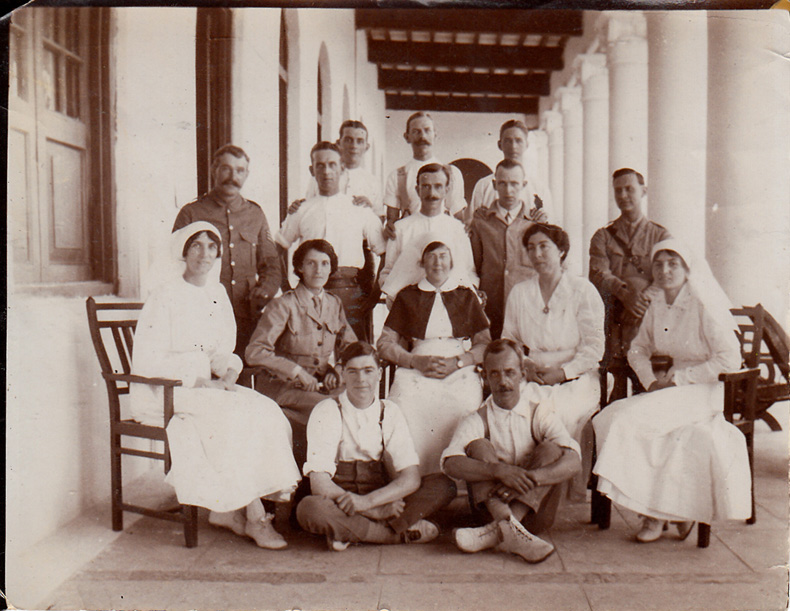 A great photo of Ruby with her nursing staff, labelled by her late son John Francis Sydenham, "Matron Ruby Skinner, centre with specs" c1919 most likely at Bombay in India or Lahore in Pakistan.
According to her Service Record extract shown above, Ruby spent a little over 4 months in 2 hospitals in Pakistan, at Quetta and Lahore, from June in 1919. Quoting Wikipedia, "Located in north western Balochistan near the Pakistan-Afghanistan border, Quetta is a trade and communication centre between the two countries. Quetta played an important role militarily for the Pakistani Armed Forces in the intermittent Afghanistan conflict."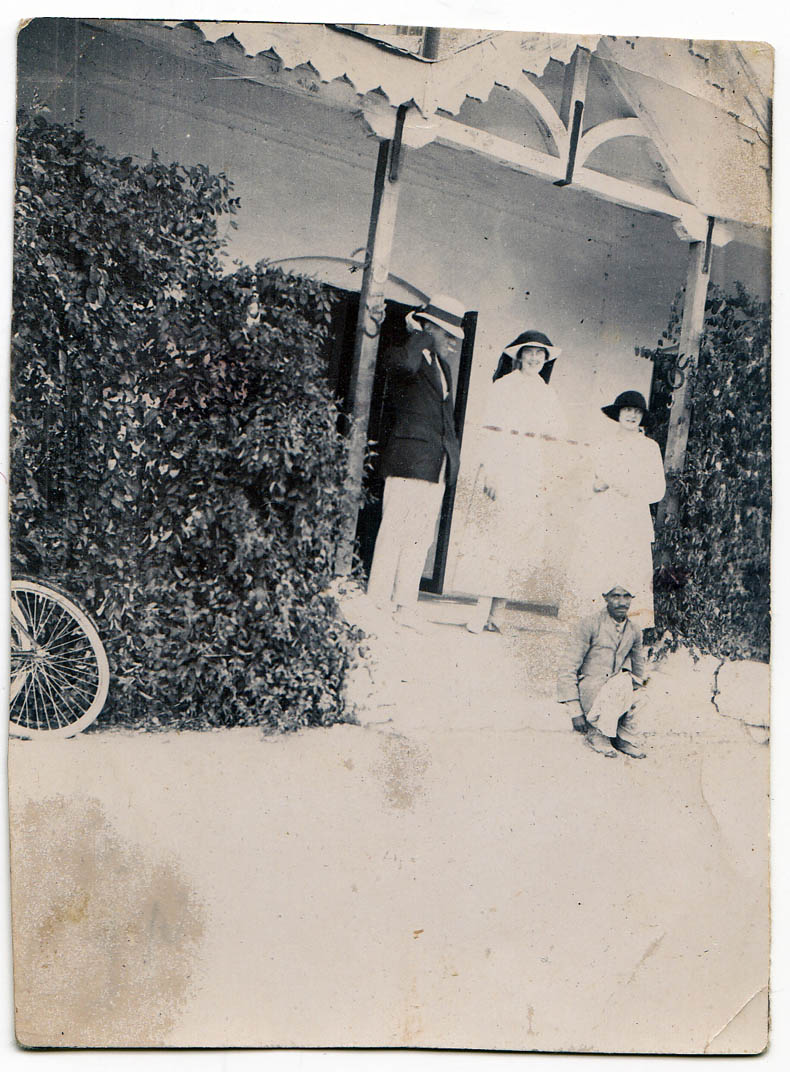 Ruby Skinner 2nd from left, on barracks steps, serving in the Afghanistan War, June 1919.
There is some conflicting information on the backs of the 2 prints held by family above, however it is definitely Ruby Skinner 2nf from left, with her spectacles on, and the other lady was known simply as "PC49". The gent standing with the hat, was either Mr Hirst or A. N. Irst, and the gent with the turban, may have been called "Nip Eshkin" or "Skipper". Further research of records has not found a definite reference about our family involvement in the Afghanistan War, however one print is labelled with those named, then "At the Afghanistan War. On our barrack steps. June 1919."
Going by the following official telegram, females serving in the Australian Military Forces, required permission to marry whilst on duty. The telegram is to Military Commdt HB7, at 5 Fitzroy Place, and reads
"From CG Melbne W 12937 Application made / Staff Nurse R Skinner Demobilize Melbne to be married (STOP) approved. Cuscaden"
Telegram of 1919 authorising Ruby Skinner to be married
OVERVIEW OF THE SYDENHAM FAMILY OF COLAC VICTORIA.
A basic history of the family of Ruby Winifred Skinners husband Alwyn Francis Sydenham, is as follows.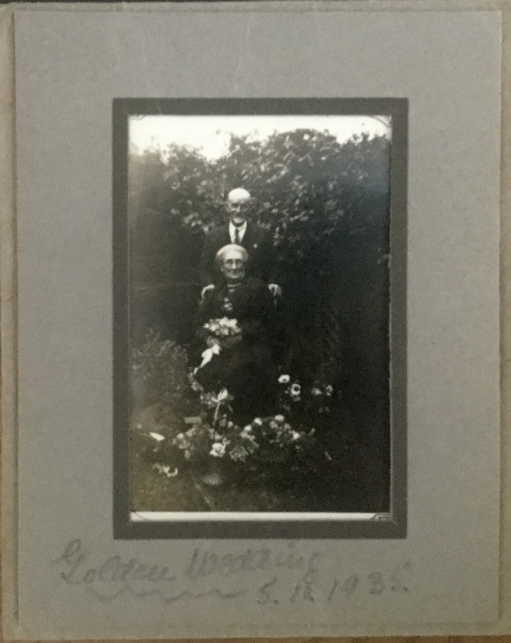 Parents of Alwyn Francis, being George and Zoe Sydenham on their 50th wedding anniversary in 1935, taken by their second daughter Muriel Sydenham, at the Sydenham family property named "Moana", situated at 64 Queen St Colac.
Alwyn Francis Sydenhams parents were George Francis Sydenham, born in 1851 at Moonambel at Victoria near the Ballarat goldfields, about 180 klms north of Colac, and Zoe Lillias Hills, born in 1862 at Colac. Georges father, was Alexander Nelson Sydenham born in 1833 at Devon U.K. and his mother was Harriet Mercer Hocking born in 1830 at Bedford in Devonshire U.K..
Family of Zoe Lillias Hills. Courtesy Ancestry.com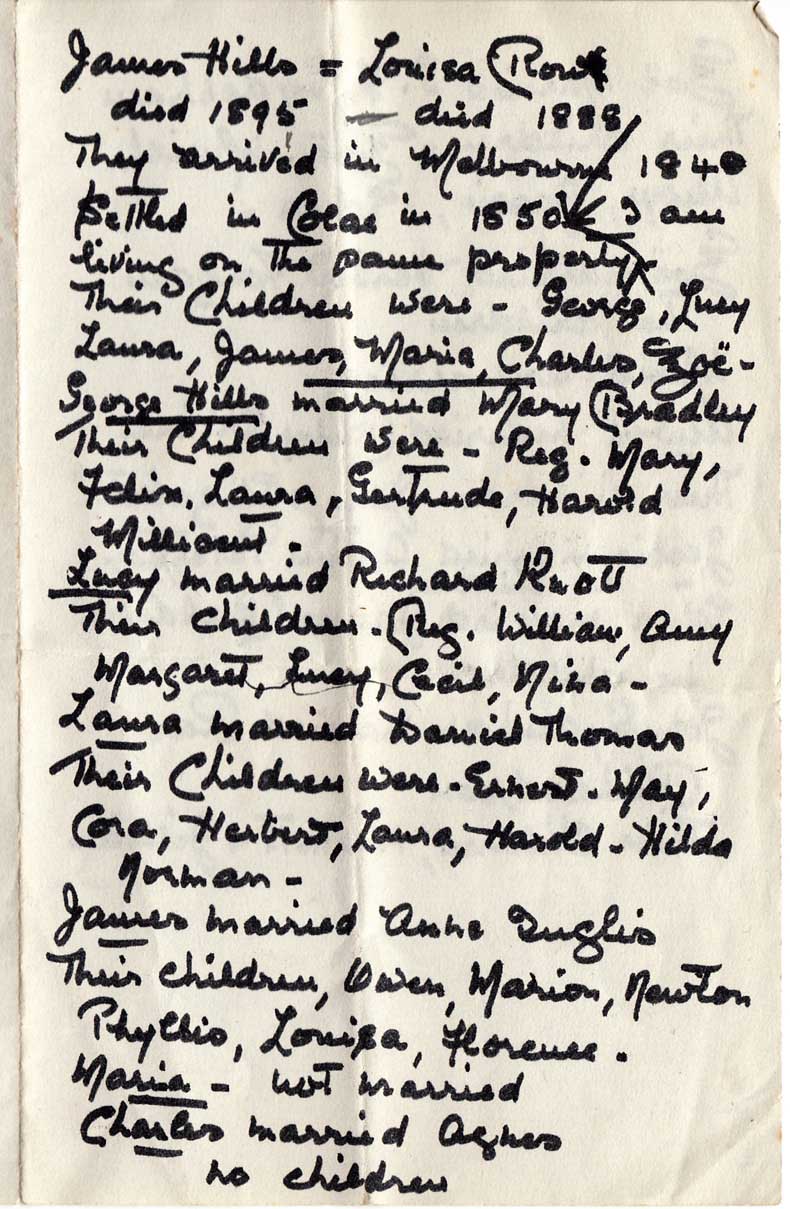 Zoe Irene Sydenham's hand written Family Tree notes regarding the Hills family of Colac.
Zoe Lillias Hills father was James Hills, born in 1817 at Gravesend U.K. and her mother was Louisa Rowe, born in 1820 at an unconfirmed location. Both these Sydenham & Hills families may be regarded as pioneering families of the Western District of Victoria. Extensive details of Zoe Lillias Hills family may be found via the
Hills family at Ancestry.com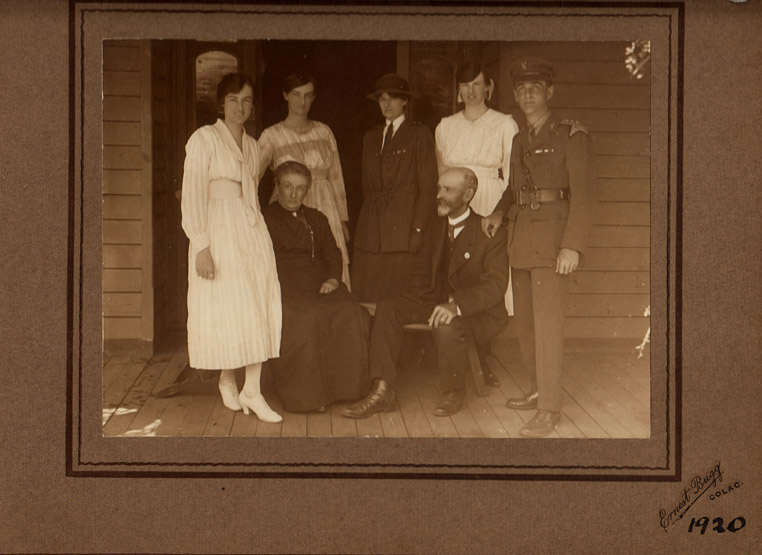 Photo of the Sydenham family at the homestead called Moana near Colac in 1920, at the time of the marriage of Alwyn Francis Sydenham to Ruby Winifred Skinner, at St Andrews Church at Alvie, via Colac.
Seated at front are Rubys mother-in-law Zoe Lillias Sydenham nee Hills, the 4th daughter of James Hills, born 1817 at Gravesend U.K., and Louisa Rowe born 1820, and her father-in-law, George Francis Sydenham ( born Moonambell Victoria ), 3rd son of Alexander Nelson Sydenham from Devon U.K., and Harriet Mercer Hocking born 1830 in Bedforshire U.K.. Ruby had 4 sister-in-laws, being from left and standing, Jessie Naomi Peterson nee Sydenham, Muriel Sydenham ( aunty Moo ), Zoe Irene Langdon nee Sydenham ( aunty Girlie ), and Edna Alexandra Baldwin nee Sydenham. At far right standing, is Rubys future husband of the same year of 1920, A.I.F Lieutenant Alwyn Francis Sydenham ( Syd ) who was on special leave from his commission to the Indian Army, to be married to Ruby Skinner.
Alwyns father, George Francis Sydenham, married Zoe Lillias Hills from Colac, on 5th Nov 1885, and the following George and Zoe ran a general store together in Colac. In 1890 George took the position of valuer and Rate Collector for the Colac Shire, and left 9 years later to become a senior partner of Baker and Sydenham and Co., ( Auctioneers ) with Thomas Baker ( Shire Councillor - pictured below ), with George Sydenham holding an Auctioneers Licence from 1899 - 1924.
One of many adverts for Land, animal and farming equipment sales by Baker and Sydenham & Co of Murray St Colac.
Courtesy Camperdown Chronicle 1902.
George Sydenham and Thomas Baker ran their Estate agency and Auction house from an office opposite the Colac Post Office in Murray St, between the Victoria Hotel and the Union Bank building from the late 1890s Till about 1905. Research indicates Georges brother Will Collyns Sydenham, also from Colac, took over these premises, where he ran a clothing and drapery business, named "Sydenham and Smith" under the auspice of Polwarth Stores.


Above are 2 sample advertisements by William Collyn Sydenham of Colac, brother of George.
COMMUNITY DEVELOPMENT AND CONTRIBUTIONS.
George Francis Sydenham was also known to be an active environmentalist, with quite innovative ideas for his time regarding regional development and forest conservation, and published a small reference book with Jack Loney, called "Notes on the Otway".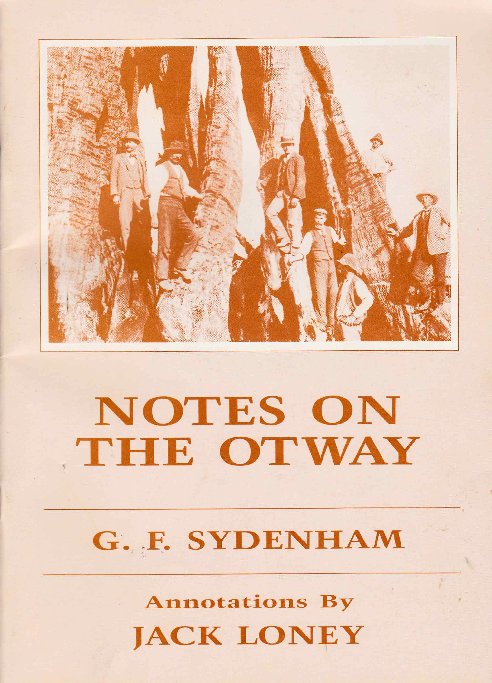 Cover of Notes on the Otway by George Francis Sydenham.
According to victoriancollections.net.au "George Sydenham was appointed as Colac Shire Valuer and rate collector in 1890 which threw him into direct contact with the Otway people at a time when the first selectors were suffering badly. He would have heard their frustrations and grievances in great detail.
Booklet Cover, as believed to be published by the Colac and District Historical Society.
When Secretary to the Colac Committee for the Railway Extension to Beech Forest he used his magic lantern slide shows from 1896 to support his case for a railway, by lauding the place and its potential, both for settlement and for timber production."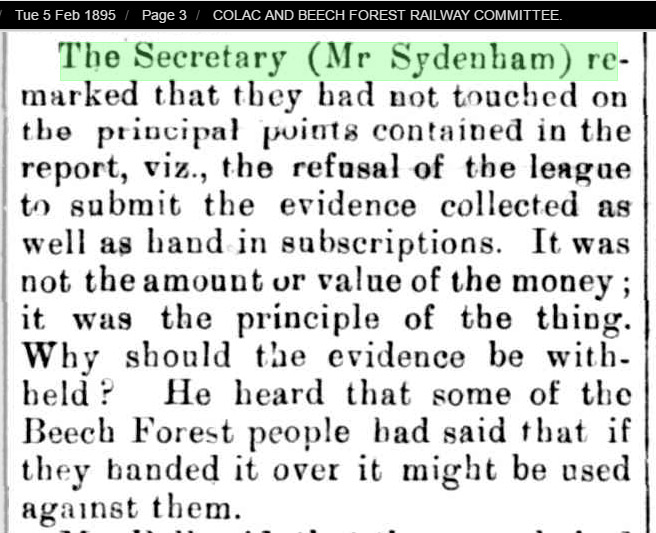 Two newspapers cuttings confirming personal input by George F Sydenham, regarding development of the Colac to Beech Forest railway.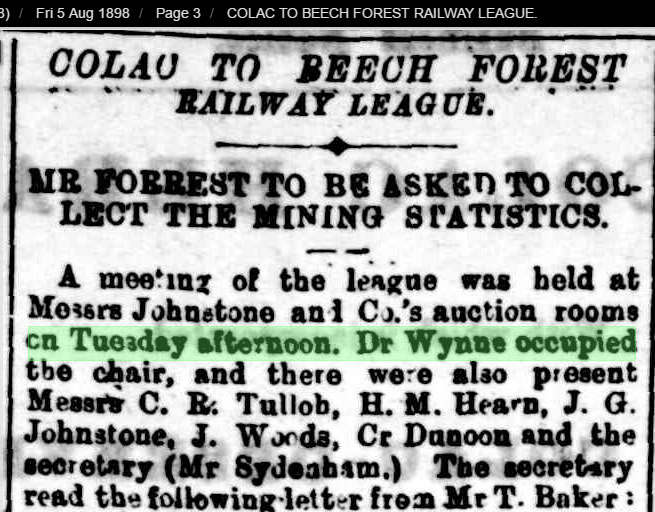 Notice of a typical meeting of the Railway League Committee in 1898.
Some additional information regarding some members of the Colac to Beech Forest Railway League committee,
courtesy www.parliament.vic.gov.au
Thomas Baker.
Born November 1840 (Ennis, County Clare) Died 29 December 1923 (Colac) Parents - Edward and Biddy, nee Fogarty. Occupation - Farmer Religion - Catholic.
Thomas Baker, Colac Shire Councillor, and Victorian Member of Parliament, George Francis Sydenhams business partner and fellow licenced auctioneer.
Career - Arrived Melbourne 1852 with parents, assisted immigrants; to Camperdown district as employees of J. G. Ware of Koort Koort Nong; after varied experience farming and land-dealing, to Colac 1882, farming and grazing; bought land on Coronook Estate and later had an interest in the Corunnum Estate; Colac shire councillor 1890-1918, president 1895-1896.
John Glass Johnstone.
Born 20 May 1857 (Geelong, Victoria) Died 02 October 1931 Colac Vic. Parents - John, saddler, and Margaret Nicol, both b. Scotland Marriage 8 June 1882 Jane (Jennie) Thomson Wilson; 1s. 4d. Occupation Auctioneer and stock and station agent. Religion - Presbyterian. Education - Geelong and Colac.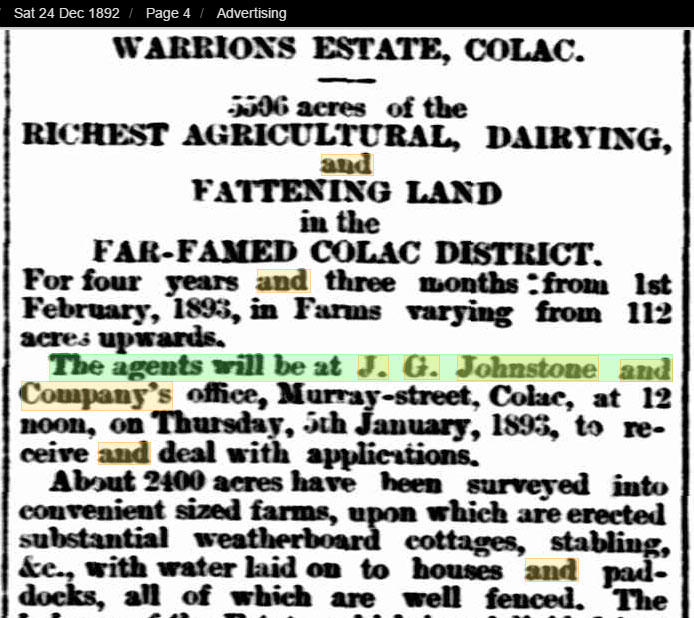 John Glass Johnstone and Company, conducting a very large subdivision by auction in 1893.
Career - Family moved to Colac 1867; apprenticed to father's saddlery business; purchased a tannery; established highly successful auctioneering and stock and station agency J. G. Johnstone and Company 1883, later Pty Ltd, from 1889 in partnership with brother T. W. Johnstone; commissioner Colac Water Trust and Sewerage Authority; secretary and chairman Colac Gas Company; president Colac Hospital; secretary Colac Dairying Company; member Colac Pastoral and Agricultural Society; supporter of local charities and sporting bodies; temperance advocate, Oddfellow; Freemason; active Presbyterian; Colac shire councillor 1901-1902 Party - Liberal Party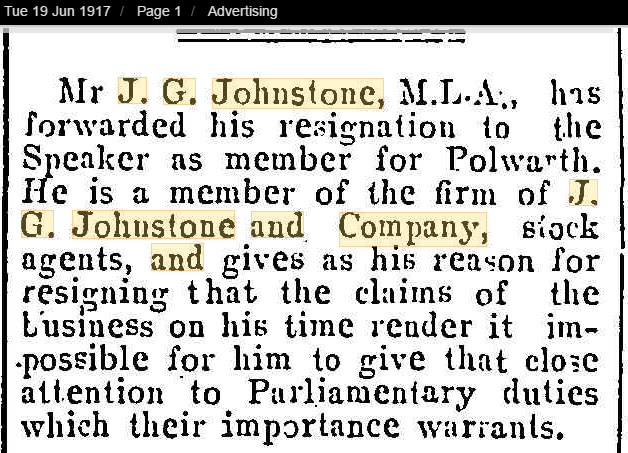 Resignation of John Glass Johnstone as MLA of Polwarth in 1917. Courtesy Trove / Colac Herald.
Charles Lamond Forrest.
Born16 September 1838 (Dundee) Died30 August 1912 (Colac) Parents - James and Ann, nee Lamond. Occupation - Farmer and grazier. Religion - Presbyterian.
Charles Lamond Forrest. Courtesy Ancestry.com
Career - Arrived Melbourne Dec 1852; to Fryer's Creek with his brother; store-keeping for short periods at Specimen Hill (Ballarat), Brown's diggings, as partner of Russell, Malcolm & Co., Stawell, and finally Carngham; went to Colac c1881 and took up farming at Warrowie and Yeo estates. Left bulk of his property to three trustees to use for philanthropic purposes; President Ripon shire 1871-1872, Colac shire 1883-1884.
Colin R Tullob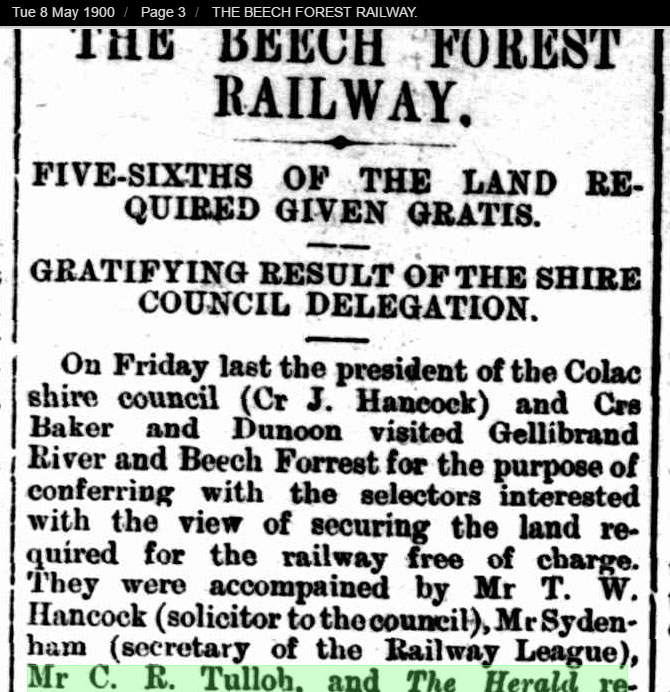 Colac Herald report of 1900, re Colin Tullob on an official Railway League visit to Gellibrand River.
Tullob and Co, were storekeepers and agents, and according to the Colac Herald, Colin was involved in the local Free Library, per "Presented by Cr Tullob From J. Sanson and other ratepayers of the Colac riding, asking that the approach to the old Free Library he made. The building was used for a class of instruction in painting. Received, and deferred for consideration till next meeting."
Donald Campbell Dunoon
According to Newtown West Heritage Review of May 2016, by David Rowe and Wendy Jacobs,
"Donald Campbell Dunoon was born at Colac in 1862, the son of Donald and Mary (nee Miller) Dunoon.  In 1892, he entered the architectural practice of Alexander Hamilton as an assistant.   In 1896, Dunoon married Miss Jessie Margaret Reddie, the same year he became a partner in Hamilton's architectural practice.  In the ensuing years, Dunoon combined his practice as an architect with civic duties, being a Councillor of the Colac Shire.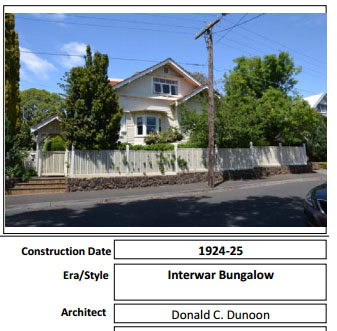 Retirement house of Donald Campbell Dunoon's design, built at Newtown near Geelong around 1924. Courtesy geelongaustralia.com.au
He was also secretary of the Newtown / Beeac Railway Trust. Dunoon was elected an associate of the Royal Victorian Institute of Architects in 1922.   He was a well?known architect in Colac, with one of his last designs being the Municipal Abattoirs at Colac before retiring to Nantes Street, Newtown.  He died there in 1952, aged 79."
Donald also served as the Colac Shire president in 1902 - Reference Mar 15 1916 Colac Herald.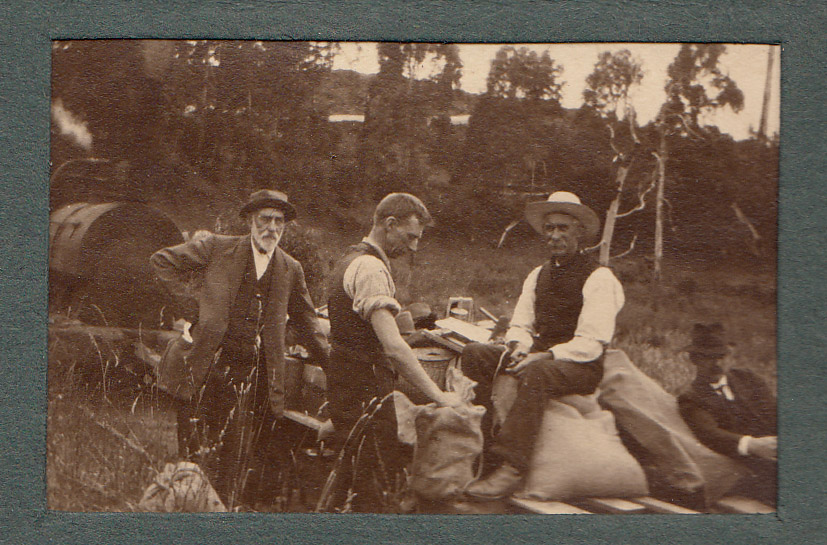 A mystery family photo of George Francis Sydenham at left, with ( we think ) standing next to a Mr O'Brien.
Well, the above photo is a small print, unlabelled, found in a small album, and was a total mystery subject wise, until it was recently discovered George was Treasurer of the Colac to Beech Forest Railway league, one of many such regional group in the late 1890s, who research and promoted the building of railway lines, that were vital for the growth and developed of most country districts.
For further info regarding the Colac to Beech Forest Railway League in 1898, which explains in detail the practical logistics and political viewpoints of the time, published in the Colac Herald, courtesy Trove on line.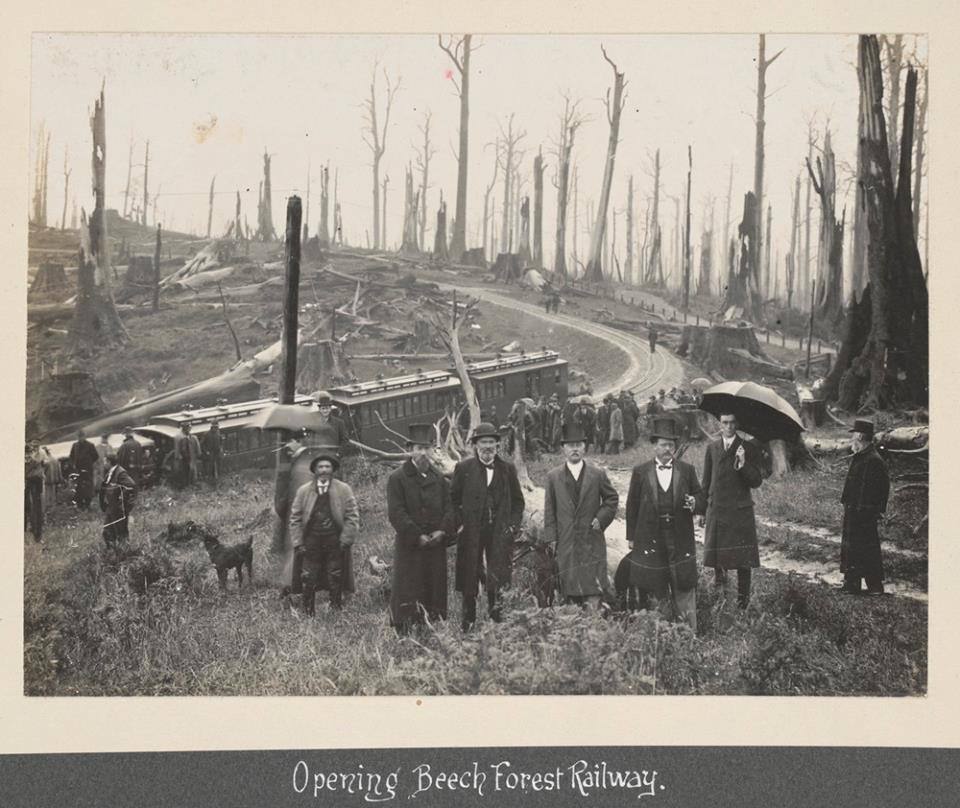 Opening of Beech Forest railway line. Courtesy Pinterest.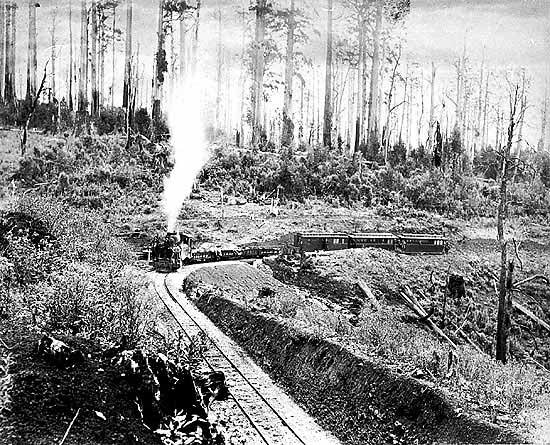 Beech Forest railway circa 1907. Courtesy Museum Victoria.
To finish off this section regarding George Francis Sydenham of Colac, amongst his involvement with his family of 7, regional Shire and Railway development, the Colac Freemasons, and his local church, somehow he also found time to be the Treasurer for the Colac District Hospital.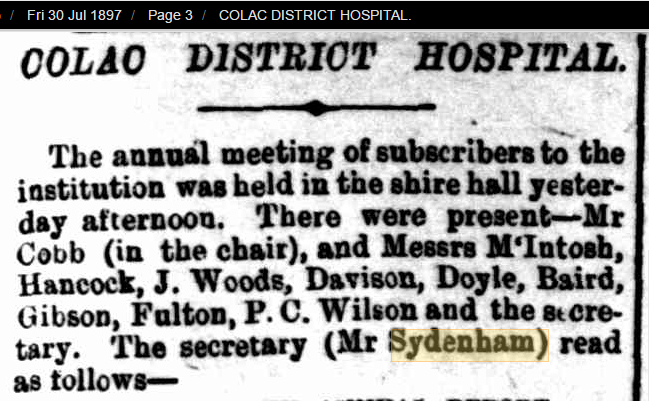 Mr Sydenham shown as Secretary of the Colac District Hospital, a position he held for 9 years.
CHILDREN OF GEORGE FRANCIS SYDENHAM AND ZOE LILLIAS HILLS FROM COLAC VICTORIA
As George and Zoe Sydenhams son Alwyn Francis is extensively covered on this page, a basic summary of known facts for each of his four sisters lives, are outlined as follows.
A great photo of the four Sydenham sisters, at left, Muriel ( Moo ), Jessie ( rear ), Edna, and Zoe ( Girlie ).
SOME INFO REGARDING ZOE IRENE ( AUNTY GIRLIE ) SYDENHAM - BORN 1886 COLAC VICTORIA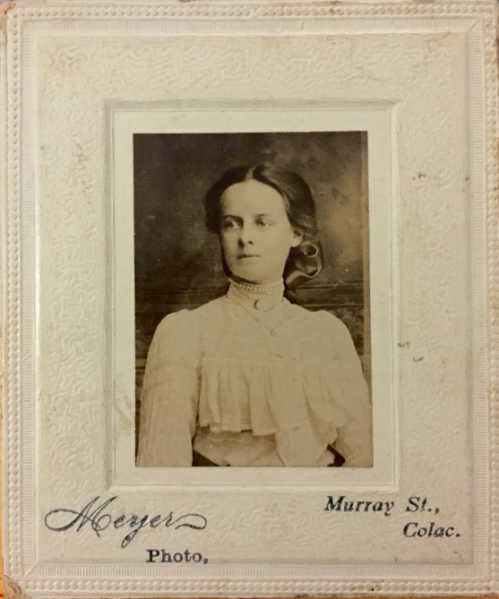 An great early photo of Zoe Irene Sydenham of around the early 1910s. Courtesy Vicki Callanan of Ancestry.com
We assume great aunty Zoe acquired her nickname of "Girlie" as she appears to be named after her mother Zoe Lillias Hills, and this deliberate option to refer to her as "Girlie", would have probably saved a lot of confusion in the day to day running of their household. Girlie Sydenham was Alwyns eldest sister, and it appears she had a calling to become a nurse at quite a young age. Girlie left home at Colac and relocated to Warrnambool about 80 miles west of Colac to conduct her nurses studies at Warrnambool Hospital.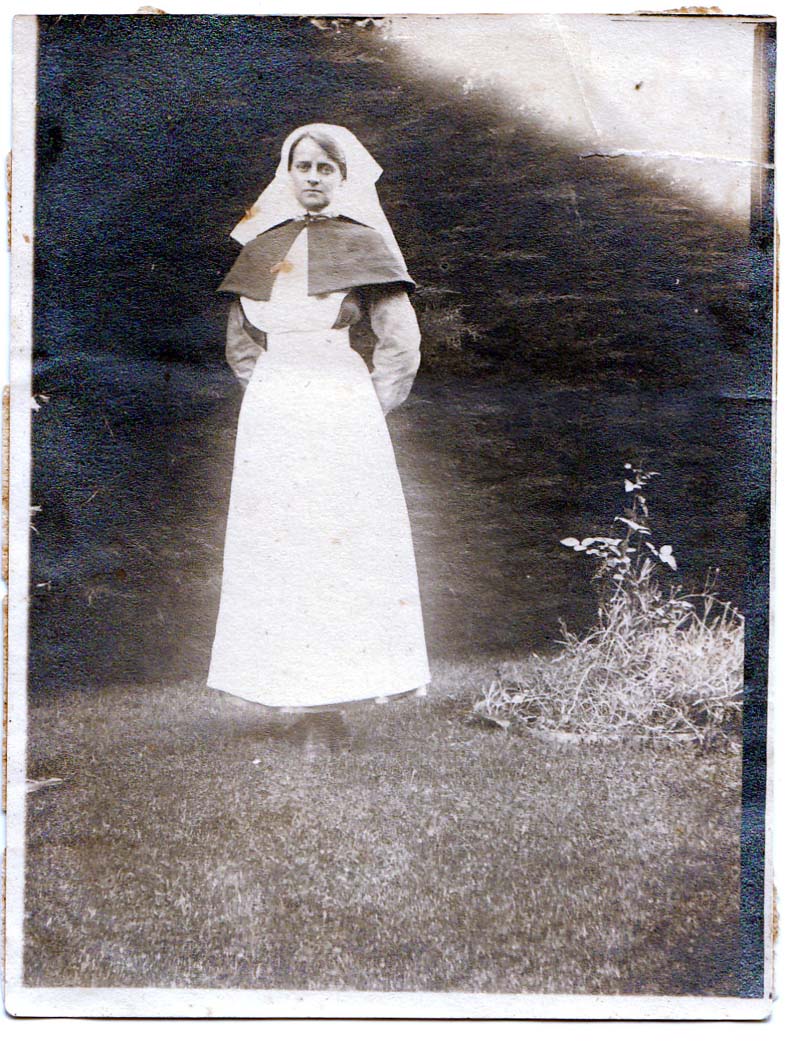 A rare family photo of Zoe Irene Sydenham in her nurses uniform, circa early 1900s.

1912 Census showing Zoe Irene Sydenham, aged 26, working at Warrnambool Hospital as a nurse.
Official War records for our Zoe Irene Sydenham, state she enlisted as a qualified nurse in 1917, at the age of 30 years, having had 3 years of qualified nursing experience, at Warrnambool Hospital in the Western District of Victoria.

Zoe Irene Sydenham's service record in Egypt and Greece from 1917 - 1919.
Her World War One Service record states she was primarily stationed at Salonika in Greece via Port Said, until she embarked to return to Australia via the S.S. Valencia in July of 1919.
Well, according to our research, after Zoe's return to Australia in 1919, having concluded her World War One service of duty in Greece as a nurse, she married Herbert Llewellyn Longden at Kew in 1921, a Distinguished Service Order War Hero, and a Railway Engineer. According to UK Census & Ancestry records, Herberts father was Thomas Longden, a stonemason born in 1849 in Macclesfield near Sutton in Cheshire, U.K., son of Solomon Longden and Ann Allport, and his mother appears to be Elizabeth Williams, born in 1852 to Thomas Williams, also of Macclesfied.

1891 Census for the Longden family at 10 Hampton St in Newington.
Herbert had a brother Frank Longden also born at 77 Byrons Lane in Sutton, Macclesfield, a clerk for a local timber merchant, and also a step brother Owen William, born to his step mother Elizabeth Donahue in 1891 at Newington.
Marriage Notice of Zoe Irene Sydenham and Herbert Llewellyn Longden at Kew Victoria in 1921. Courtesy Trove.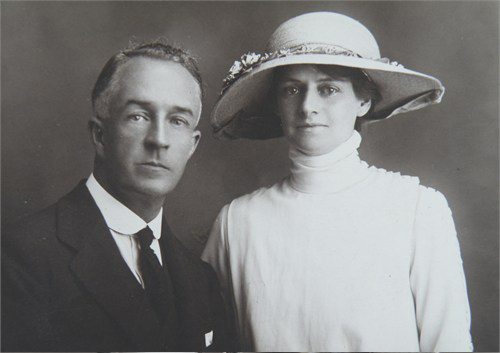 Family photo of Herbert Llewellyn Longden and his wife Zoe Irene Sydenham taken circa early 1920s, probably taken on their wedding day.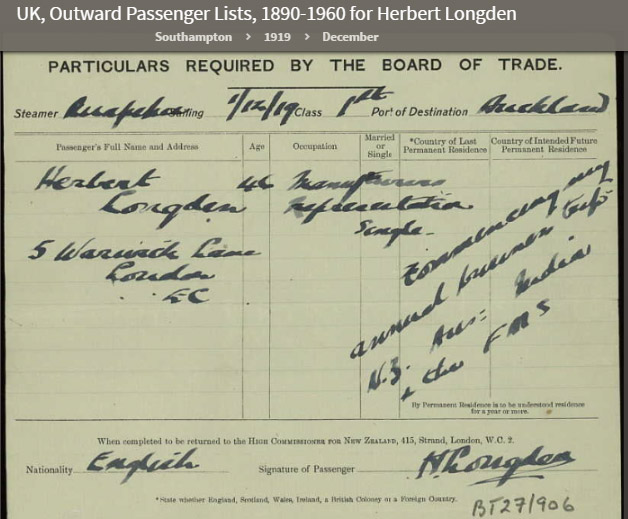 Record of business trip by Herbert Longden to Auckland, New Zealand in Dec 1919.
The above record indicates the New Zealand Board of Trade, required such a signed statement, for all international business people, prior to entry to the country. This record states Herbert was single and 46 years old, he resided at 5 Warwick Lane in London, and he was commening his usual annual business trip for his N.Z. ( and Indian ) accounts, as a "Manufacturers Representative."
Reviews of numerous U.K. Passenger Lists and Shipping Records, indicate Herbert Longden was regularly recorded as travelling First Class on many different passenger ships, to France, India, Australia, and New Zealand, usually being noted as employed as a "Commercial Traveller".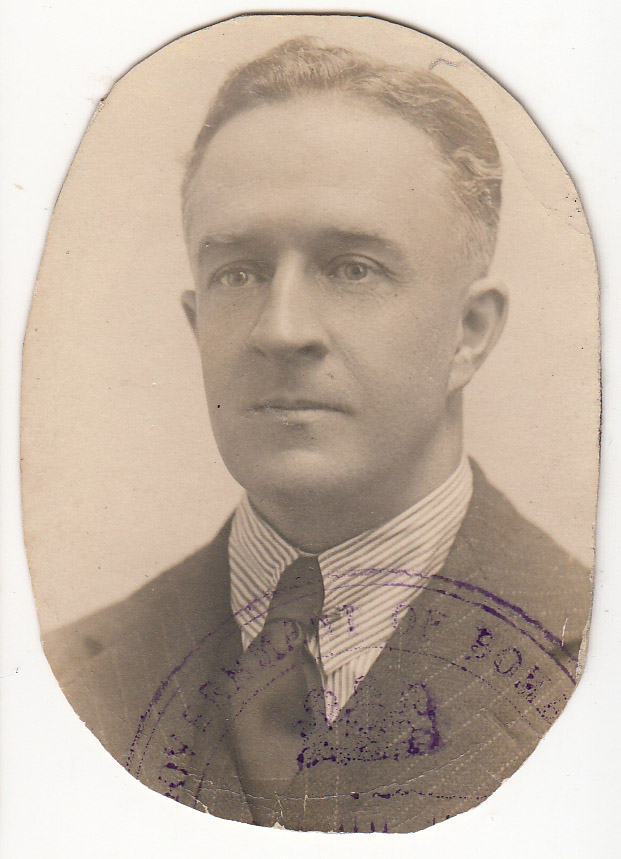 An official photo record of Herbert Longden being in Bombay, estimated to have been taken around 1920.
The above image is believed to be an old Passport or Visa photo of Herbert Longden, which appears to have been stamped "Government of Bombay", an acknowledgement he did spend some time in India.
The reasons surrounding why newly weds Herbert Llewellyn Longden and his wife Zoe Irene Sydenham travelled to India are unsure, however it appears both the Skinner and Sydenham families were generally very supportive of other family members when a family birth was imminent, as per this particular instance when Ruby had given birth to her second child John Sydenham in late Jan of 1922, at Bombay India. Chances are, as we know Ruby was a keen photographer, and she often had her camera with her, the following photo may have actually been taken by Herbert Longden, as Alwyn was still serving with the Bengal Lancers at this time, and Herberts newly married wife Zoe Irene, is also included in the photograph below.
Ruby Sydenham and children at Matheram in India, including her sister Zoe Irene Longden, and her O'Brien friends in early 1922.
The above photo is labelled by Ruby Sydenham as "Taken at Matheram. Patsy ( O'Brien ) in pram. Mrs O'Brien behind, Mrs Longden ( Ruby's sister-in-law Zoe Irene Sydenham ), Mr O'Brien, self with John ( her son aged about 3 months ), Betty in deck chair ( aged about 2 years ). Research is still being done regarding the O'Brien family shown here in Matheram in India, as there was an O'Brien family, who turned out to be neighbours of Alwyn and Ruby Sydenham, when they lived in Manners Sutton Street in Colac West, in the 1930s.
Although the following travel document is hard to read, it does confirm a return trip by Herbert Longden and his wife Zoe, from Bombay via France, on board the SS Macedonia to Melbourne in 1922, after the birth of Rubys son John.

Shipping record of Herbert Llewellan and Zoe Irene Longden ( nee Sydenham ) returning to Melbourne on the S.S. Macedonian in 1922.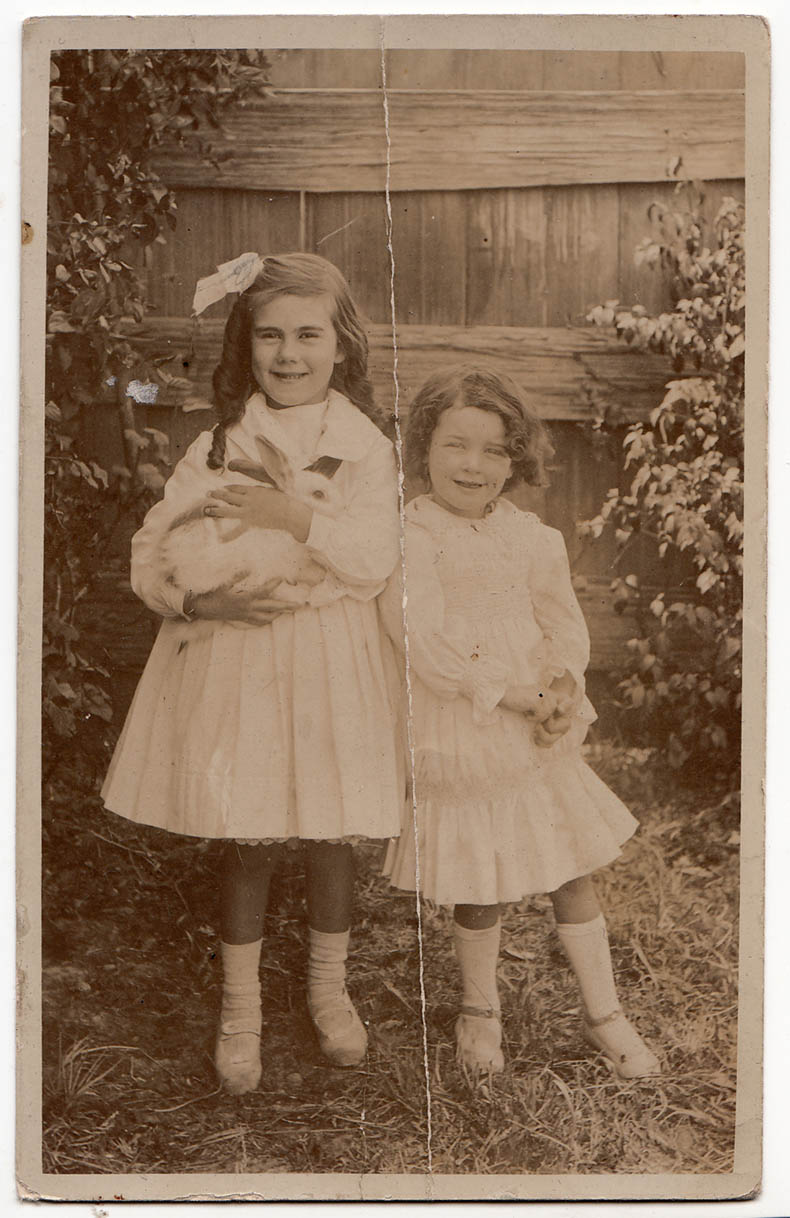 Photo circa 1930 in Colac, labelled "Could be Molly left & Shirley O'Brien at Colac" by Ruby and Syds son, John Francis Sydenham, in later life. It appears Alwyn Sydenham and family were neighbours in Manners Sutton Street in Colac West.
A newspaper cutting of the Colac Herald from 1934, regarding a competition young Molly O'Brien participated in.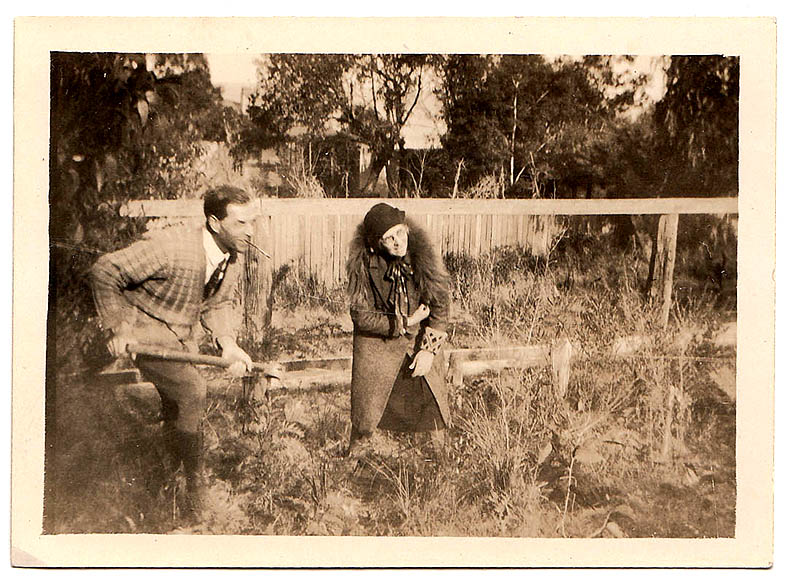 Photo labelled "AFS and Mrs Meredith" being Alwyn Sydenham and a friend / neighbour being Mrs Meredith, near Colac around 1930.
After a fair amount of research into the region of Colac West where Alwyn and Ruby Sydenham lived in the 1920s - 1930s, and the family of Charles William Meredith and his wife Charlotte Prime from the adjacent locality of Largent, it has lead to the assumption, Mrs Meredith in the above photo with Alwyn was most likely a church organist and the President of the Red Cross at Colac around 1917, the wife of Charles William Meredith, Colac Shire Councillor and President in the early 1900s. There was another "Mrs Meredith" living nearby at Yeo in the early 1900s, being a Beatrice Whitaker, the wife of Joseph George Meredith, however Beatrice passed away in 1922, when Alwyn and Ruby Sydenham were still in India.
For our site visitors whom have a personal interest in family history, it appears quite obvious Zoe may well be regarded as a modern day equivalent of a "Family Historian" of her generation. A review of her hand-written records of the Hills and Sydenham families confirms her interests in family tree records as shown here, have proven to be quite accurate. A letter held by family from the Colac and District Historical Society confirms Zoe also in the 1960s donated a rare copy, of the "Sydenham Family History" printed in 1920.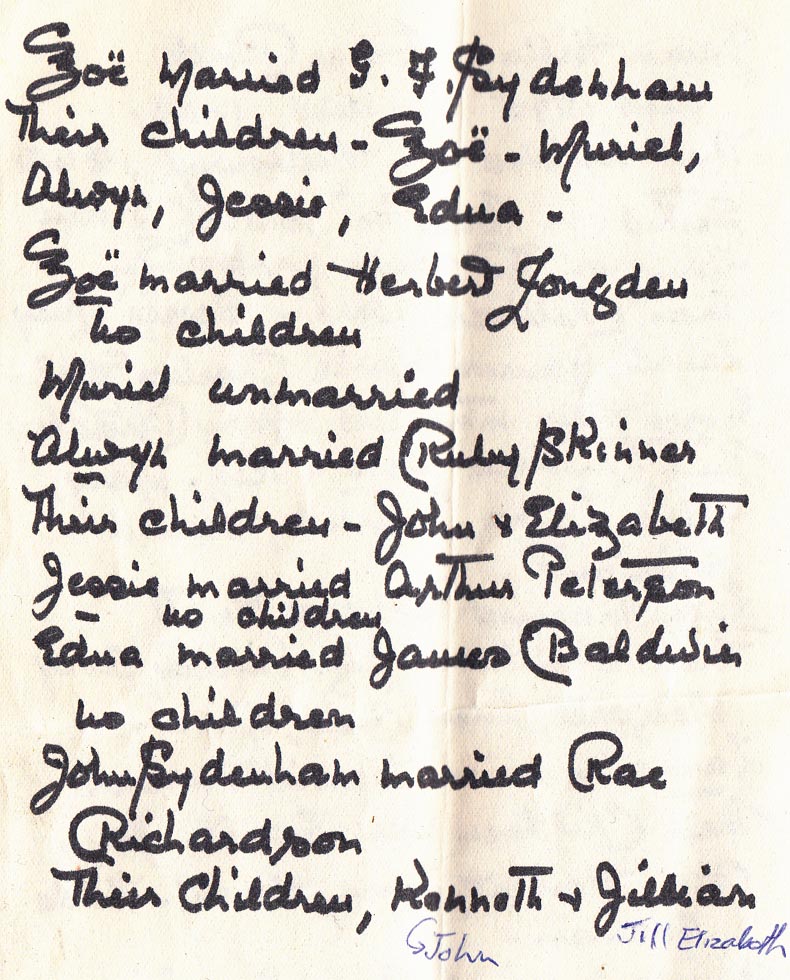 Zoe Sydenhams hand written Family connections with the Sydenham family of Colac.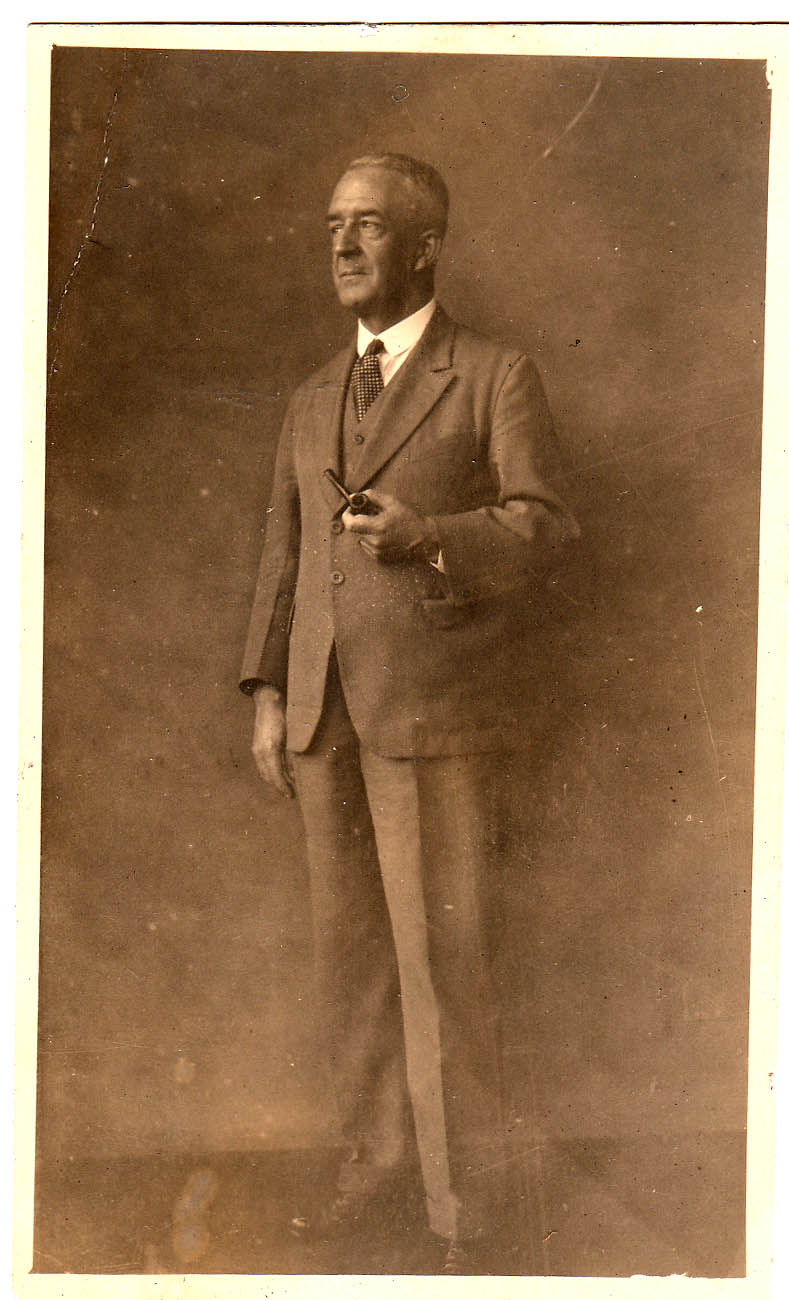 A rare photo of Herbert Longden, with pipe in hand, believed to have been taken circa 1930.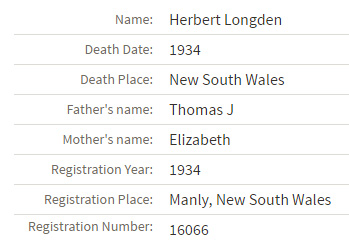 Death records of Zoe and Herbert Longden.

After Herbert died, Zoe Longden lived by herself at Manly on the coast, very near Sydney city, until around the mid 1940s, when she returned to Colac probably to be with her mother, after her father passed away, and continued her career as a nurse. Family recollections from a Hills cousin, state Zoe was the last Sydenham sibling to reside in the family home at 64 Queen St in Colac. There was a hurried clearance auction of many antiques, due to fear of thieves robbing the empty house. A number of prints by renowned artist Norman Lindsay that George Sydenham purchased, plus family diaries and many other personal items were either sold cheaply at the auction, or disappeared.
SOME INFO REGARDING MURIEL LOUISE ( AUNTY MOO ) SYDENHAM - BORN 1889 COLAC VICTORIA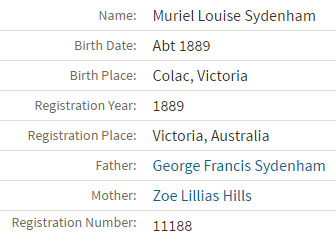 Birth Record of Muriel Louise Sydenham at Colac Victoria in 1889.
Born and bred in Colac in rural Victoria, research indicates great Aunty Muriel Sydenham ( nicknamed Moo ) was a typical young country girl, who went to church regularly, and was interested in farm animals, in particular horses and chooks. The earliest two records found about Muriel Sydenham are about her bible class results at St Johns church at Colac in 1902, and a prize she won for decorating a pony at the Colac Floral fete in the following year of 1903, as follows.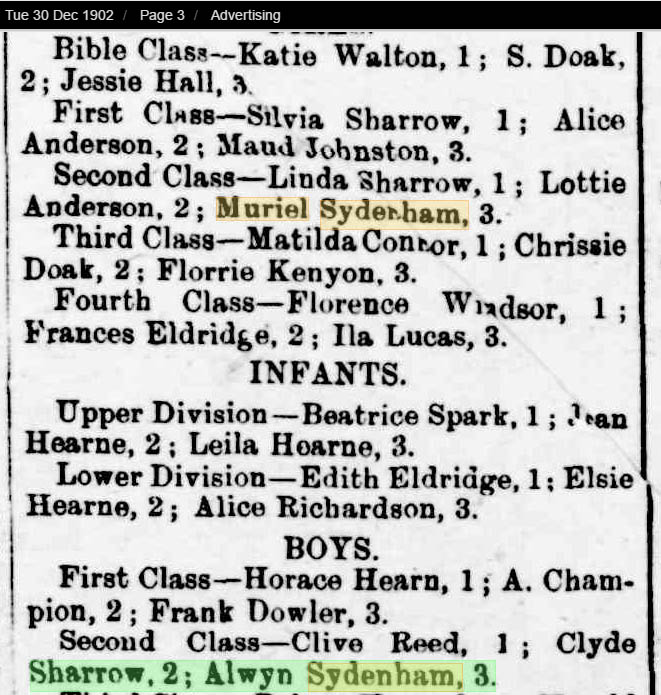 Record of Muriel and her brother Alwyn winning bible class prizes at St Johns Church in 1902.

Colac Floral fete Easter Monday 1903 - Muriel decorated her pony and won a prize.
At the Colac Agricultural and Pastoral Society in 1904, Muriel aged about 14, won "Under 15 Best lady Rider", according to the Colac Herald. From this time frame of Muriel's teenage years and onwards, there appears to be very few available records, yet we have located some details of her adult life via the Victorian Census records, she lived at home at 64 Queen St Colac with her parents most of her adult life.
Family photo of Muriel Louise Sydenham at Colac ( dated as taken in 1914 ), aged 25.
Some four years after the above photo was taken, it was reported in the Colac Herald newspaper, Muriel Sydenham passed her home nursing examination under a Dr Kirkpatrick ( based in nearby Birregurra ) in 1918, however no records have been found to date of Muriel working as a nurse.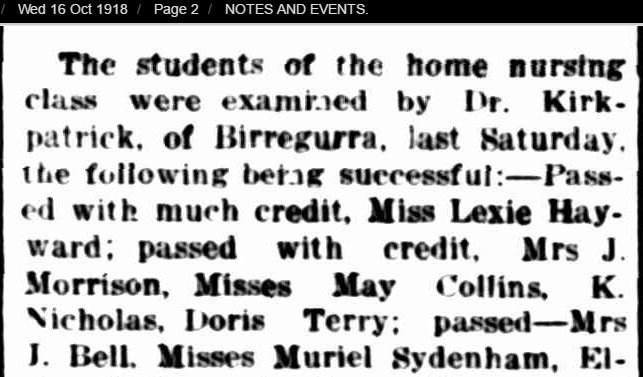 Colac Herald report of Muriel Sydenham passing her Home Nursing exams in 1918.
Ongoing Census records indicate her vocation was listed as "home duties" in her parent's home at 64 Queen St Colac, until she is recorded as being employed as a clerk in the early 1930s. Quite a number of Colac newspaper cuttings indicate Muriel regularly entered local egg laying competitions around the 1920s.
One of numerous references regarding egg laying competitions Muriel Sydenham entered at Colac.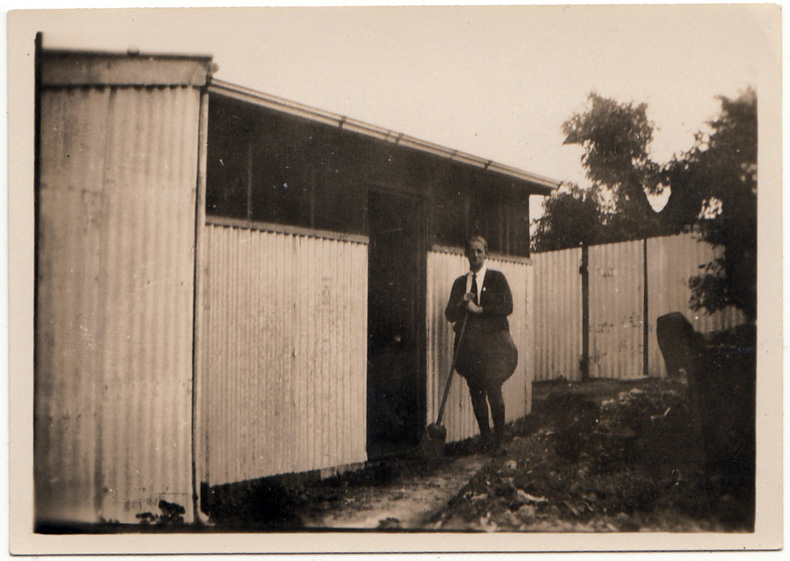 Muriel Sydenham in riding jodhpurs with a tie, date unknown, probably at Colac, possibly cleaning out the chook shed.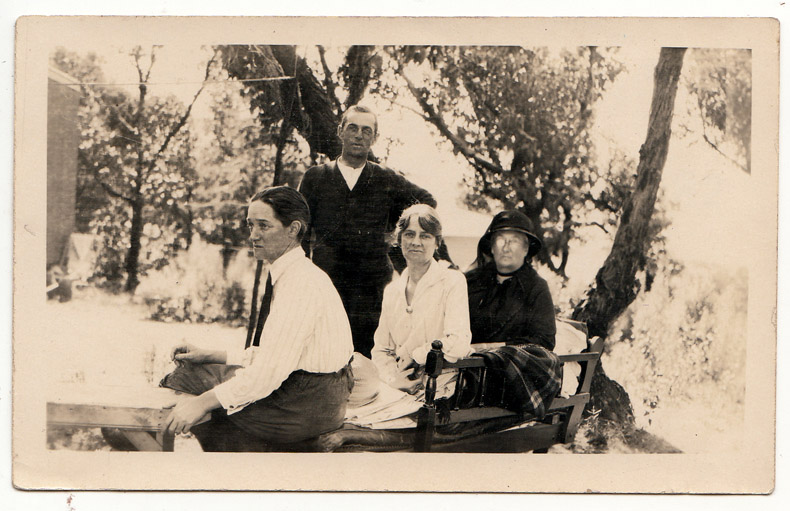 From left, Muriel Louise Sydenham, an unknown gent, & Muriels sister Zoe Irene, on a picnic with their mother Zoe Lillias Sydenham.
Family recollections from 1 or 2 occasions the surviving Sydenham generations met her at Edna's house, can be summed up, " I remember aunty Moo dressed like a man, in long pants with a shirt and tie, and she smoked a lot of cigarettes." A good digital zoom in Photoshop shows Muriel in the above photo holding a cigarette in her right hand, which may partially explain the expression on her face, and apparent dis-interest in her surroundings.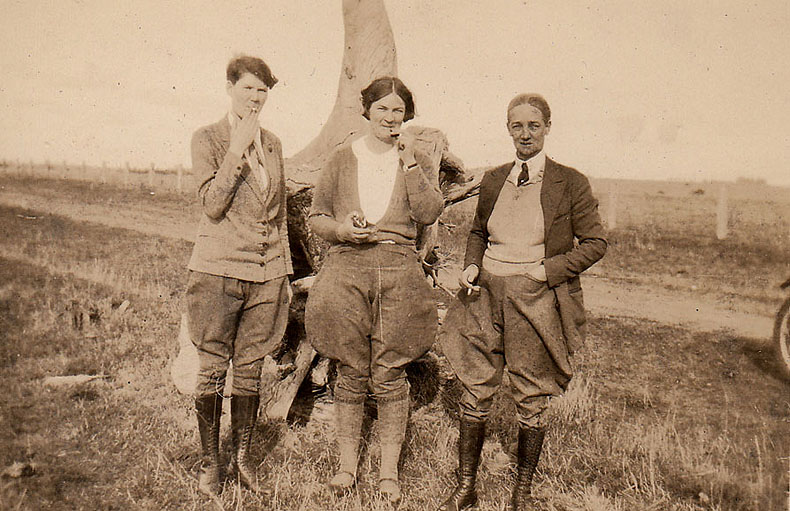 Muriel Sydenham out for a drive, taking a "smoko break" on the side of the road with a couple of her lady friends. By the looks of the wooden spoked wheel of the car here, it is estimated the photo was taken around the 1930s.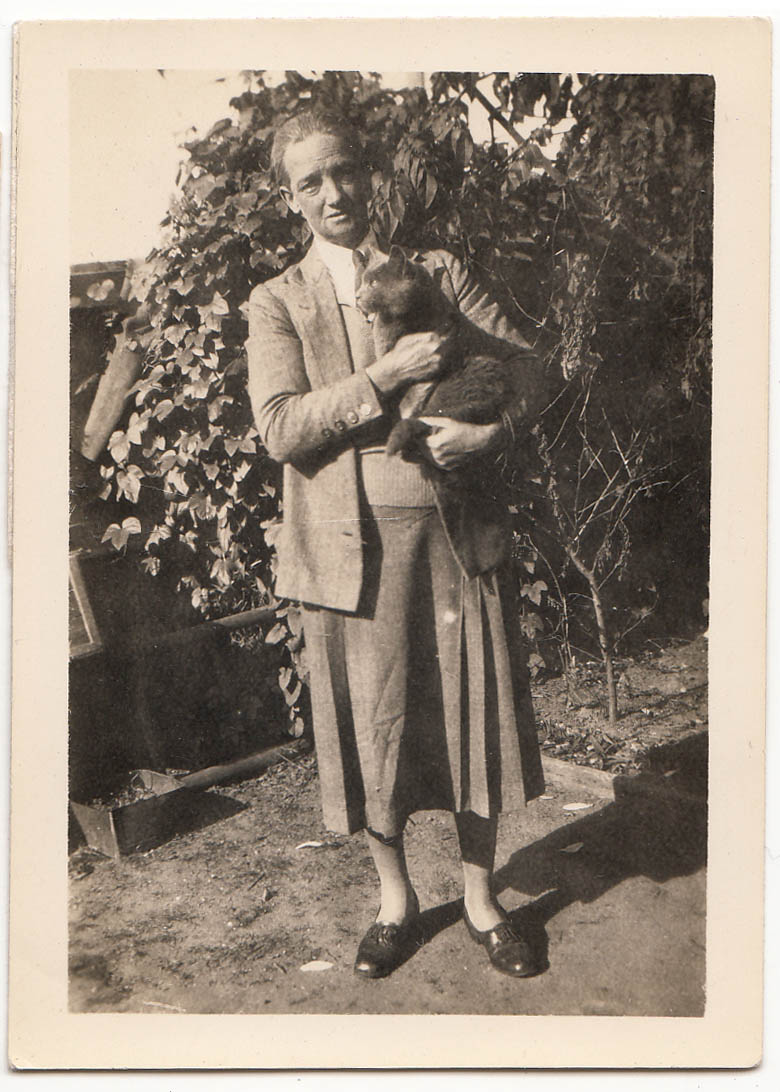 Great Aunty Moo with a good Tomcat friend, circa 1930-1940s.
Aunty Moo, believed to be at the Sydenham holiday shack near Lorne / Apollo Bay, circa 1940s.
Going by family recollections, great aunty Moo moved to Geelong sometime in the early 1970s, to live with her sister Edna Baldwin nee Sydenham, ( after Edna's husband passed away ), at 5 Neilly St Newtown on the edge of Geelong. Muriel never married, nor had any children, and she died at Geelong aged 88 in 1978.

Census of 1977 indicating Muriel lived with her sister Edna in the 1970s at Newtown, west of Geelong in Victoria.
Death record of Muriel Louise Sydenham at Geelong Victoria in 1978. Courtesy Ancestry.com
SOME INFO REGARDING JESSIE NAOMI SYDENHAM - BORN 1899 COLAC VICTORIA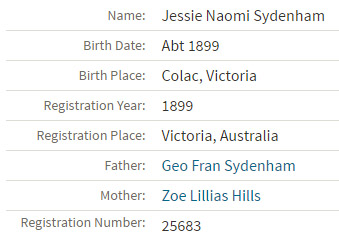 Birth Record of Jessie Naomi Sydenham at Colac Victoria in 1899.
Australian Census records show Jessie Naomi Sydenham was raised in Colac Victoria, where she lived till around at least her mid 20s, and was working as a nurse in Colac in 1924. The next Census record for Jessie shows she had moved interstate to NSW, was residing at 54 Addison Street in Manly on the coast near Sydney, and was still employed as a nurse. In 1935 she married Arthur James Peterson at Manly in NSW, who was also originally from Victoria.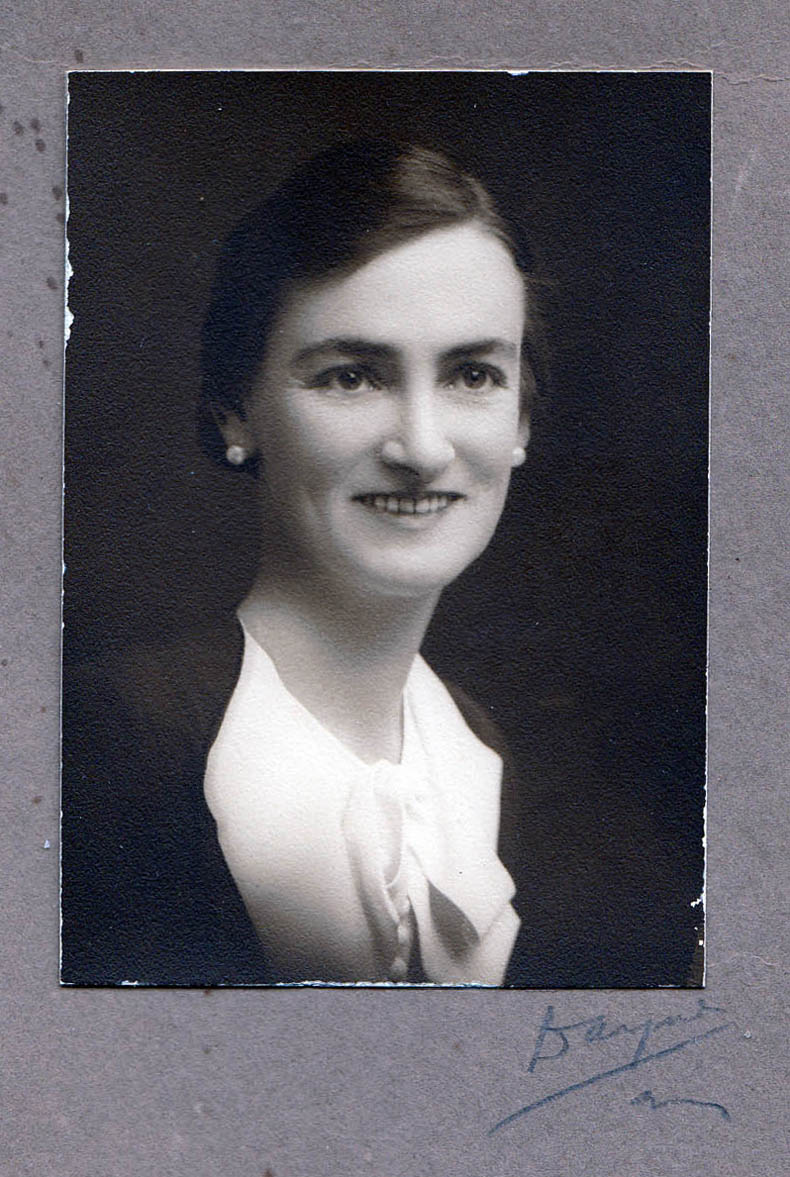 A lovely family portrait of Jessie Naomi Peterson nee Sydenham, born 1899 at Colac Victoria.
Major Arthur James Peterson, Engineer, and winner of the Distinguished Service Order in 1916.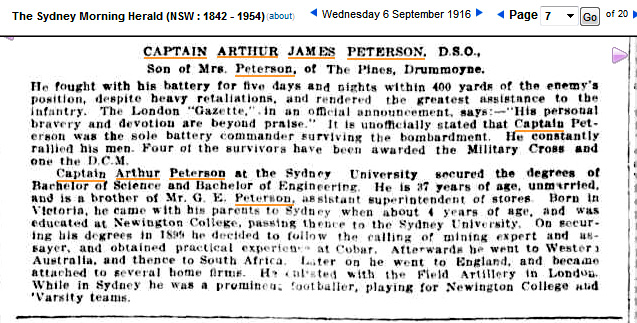 Overview of Arthur James Peterson, Sydney Morning Herald, 1916.
Arthur James Peterson was an engineer, a Major in World War One, and won the Distinguished Service Order in 1916. Arthur was the second son of Peter Peterson born 1854 his wife Zelia Emma Ford, born at Sandhurst near Bendigo in 1855. Our Jessie Naomi Sydenham was living near Sydney and working as a nurse, as listed in the 1930 Census.

1936 Census showing Jessie and Arthur James Peterson living at Edgecliff near Sydney NSW.
After Jessie and Arthur married in 1935, they lived in NSW for about 3 - 5 years, before returning to reside in Skipton in Victoria, about 60 miles north of Jessie's hometown of Colac. Jessie and Arthur had no children, and they became graziers / farmers, sometime before the Census of 1943.

1943 Census confirming Jessie and Arthur Peterson, a grazier, living at Skipton, about 100 klms north of Colac Victoria.
Death record of Jessie Naomi Peterson nee Sydenham, at Colac Victoria in 1950.
Jessie passed away in 1950 at Colac, aged 51. For reasons unknown, her husband Arthur James Peterson returned to live near Sydney in NSW, until he passed away in 1961 at Chatswood NSW, at the age of 60.

Death record of Arthur James Peterson at Chatswood NSW in 1961.
SOME INFO REGARDING EDNA ALEXANDRA SYDENHAM - BORN 1902 COLAC VICTORIA
Unfortunately not a lot of info or images are held regarding great aunty Edna Alexandra Sydenham, who was born on 1902 in Colac Victoria.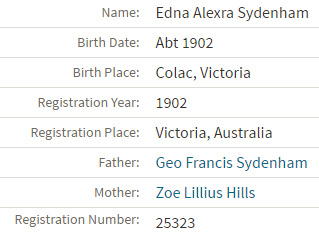 1902 Birth Record for Edna Alexandra Sydenham. Courtesy Ancestry.com
A rare early record for Edna was located in the Colac Reformer newspaper about the Australia Day Celebrations in Aug 1915, and Collections for soldiers and their families whom had fought earlier that year at Gallipoli. Edna supplied cut flowers, and her uncle William Collyns Sydenham was the organiser of the street decorations for the parade.
Edna helping fund raising for ANZAC soldiers who fought at Gallipoli in World War One.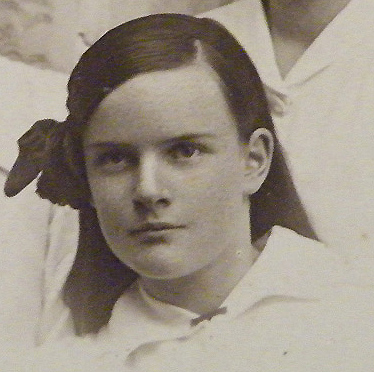 Inset of Edna Sydenham believed to be taken in the 1920s.
It appears Edna followed the family tradition of nursing, as by 1928 she was employed as a nurse, according to the official Census return.

1928 Census for Edna Sydenham at home with her parents in Queen St Colac.
No records of Edna's training or working as a nurse have yet been located, and references to Edna from this time frame onwards are quite sketchy, apart from Census details.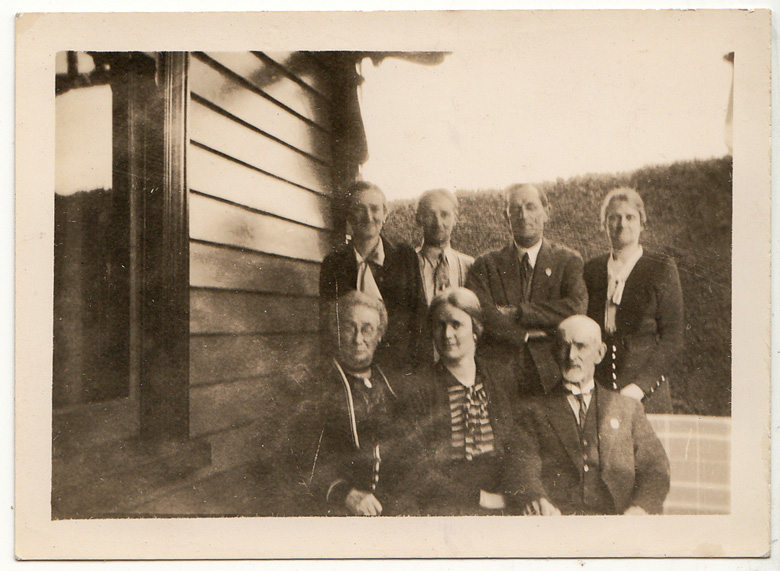 Classic family photo of Edna Sydenham, sitting front and centre, in between her parents, with sisters Jessica and Muriel standing at left, next to an unconfirmed gent, and Zoe Irene at the rear right, circa 1930s, location unknown.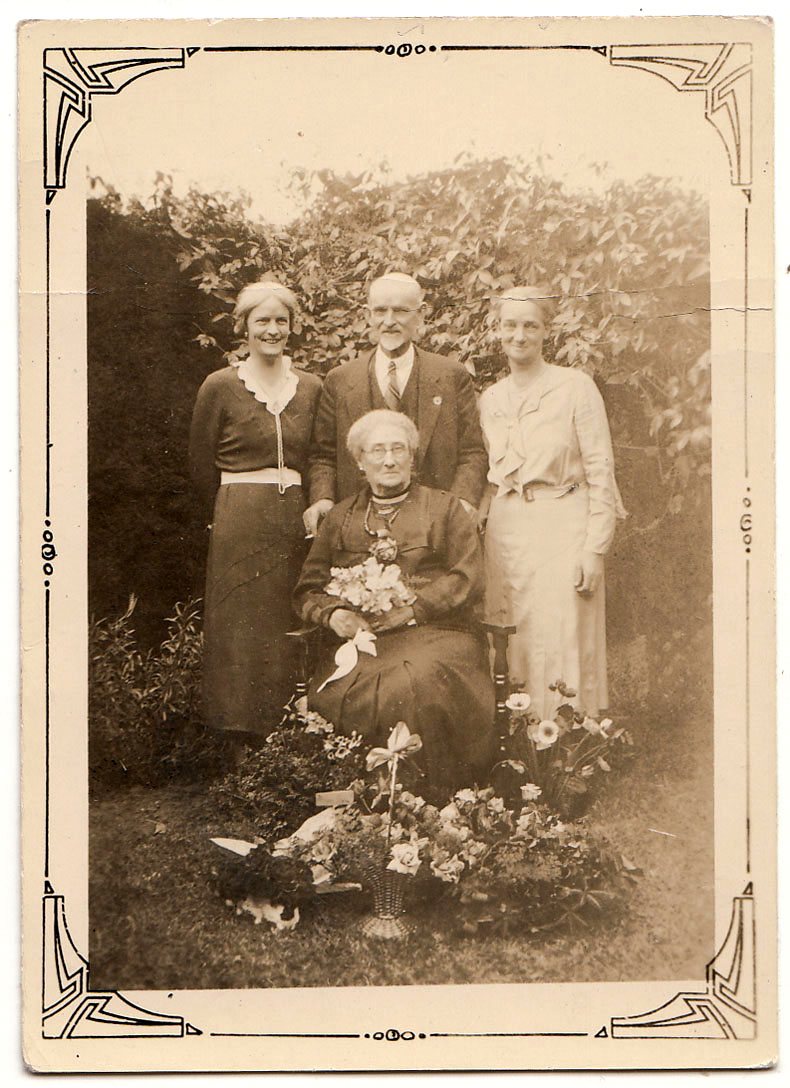 Photo taken at 64 Queen St Colac in 1935 on the Golden Wedding of George F. Sydenham and Zoe L Hills.
At the rear are their daughters, Edna Alexandra Sydenham at the left, and at far right is Zoe Irene Longden nee Sydenham.
According to her sister Zoe Irene's family tree notes, Edna married an Alfred James Baldwin, born at Gre Gre near St Arnaud in 1893 and a widower, ie. Edna Sydenham became Alfred's second wife. No official record of this marriage event have been found on Ancestry.com nor in Victorian or New South Wales BDM records. The Census of 1963 shows the Baldwins, aged in their 60s, living at Newtown near Geelong in 1963.

1963 Census of Edna and Alfred Baldwin at Newtown Victoria.
Alfred Baldwin passed away in 1970 at Geelong, and was buried at St Arnaud near his home town, in a family plot with his first wife Marion Ethel Fithall.
Grave at St Arnaud of Alfred James Baldwin, 1st wife Marion, and son Earnest William Baldwin, a WW2 ANZAC airman.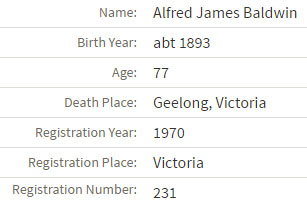 Death record of Alfred James Baldwin at Geelong in 1970.
Another rather questionable marriage or possible defacto relationship of Edna Baldwin nee Sydenham, has arisen after reviewing the Probate notice of her sister Jessie in 1950, indicating an Edna Alexandra Thwaites, which again has resulted in no confirmed records.
Probate notice of Jessie Louise Sydenham in 1950.
Two of our three surviving Skinner / Sydenham descendants recall twice visiting Edna in the early to mid 1970s at Neilly St in Newtown, and only once while Muriel was still alive and living with Edna. Edna passed away at Geelong in 1978, aged 76.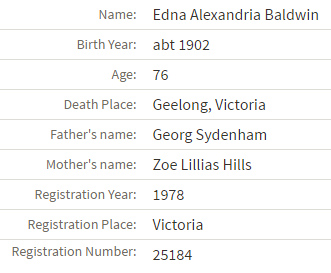 Death record of Edna Alexandra Baldwin nee Sydenham of 1978. Courtesy Ancestry.com
ADDITIONAL SYDENHAM RESEARCH.
As a matter of interest to other family historians, our Sydenham family connections originate from Devon, and according to our family pedigree of William De Sydenham born 1060, the Sydenham family expansion dates back to around the year of 1080 when the Normans invaded the Hamlet on the river Syde at Somerset in Devon. Succeeding members our Sydenham family became renowned as Knights, Barons, Lords, and Philosophers, prior to the downfall of the Sydenham Manor in the 1820s, over a saddening legal heirdom dispute.
A separate page on our Sydenham family connections, has been allocated for future inclusion within this web site. In the mean time, an extensive Sydenham Family Tree is available for Ancestry.com members, via
George Francis Sydenham going back many many generations.
AFTER THE MARRIAGE OF RUBY WINIFRED SKINNER & ALWYN FRANCIS SYDENHAM
Ruby and Alwyn had special leave from their war service in India in early 1920, and they returned to the Western District of Victoria, for their marriage at Alvie.
• Marriage 12 Jan 1920 • Victoria to Alwyn Francis Sydenham of Colac Victoria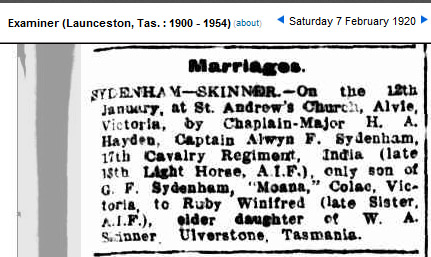 Marriage notice of Ruby Skinner to Alwyn Sydenham on 12 Jan 1920 at Alvie near Colac, Victoria.
Later in the same year, Ruby returned to be with her parents at Ulverstone in Tasmania, as she was pregnant with her first child. • Birth of Daughter Elizabeth Saint Barbe Sydenham 1 Oct 1920 • Ulverstone, Tasmania
Birth notice of Elizabeth Sydenham ( Betty ) in Ulverstone in 1920.
Cover of home made string tied family album of 10 Sydenham photos from Simla India in 1921.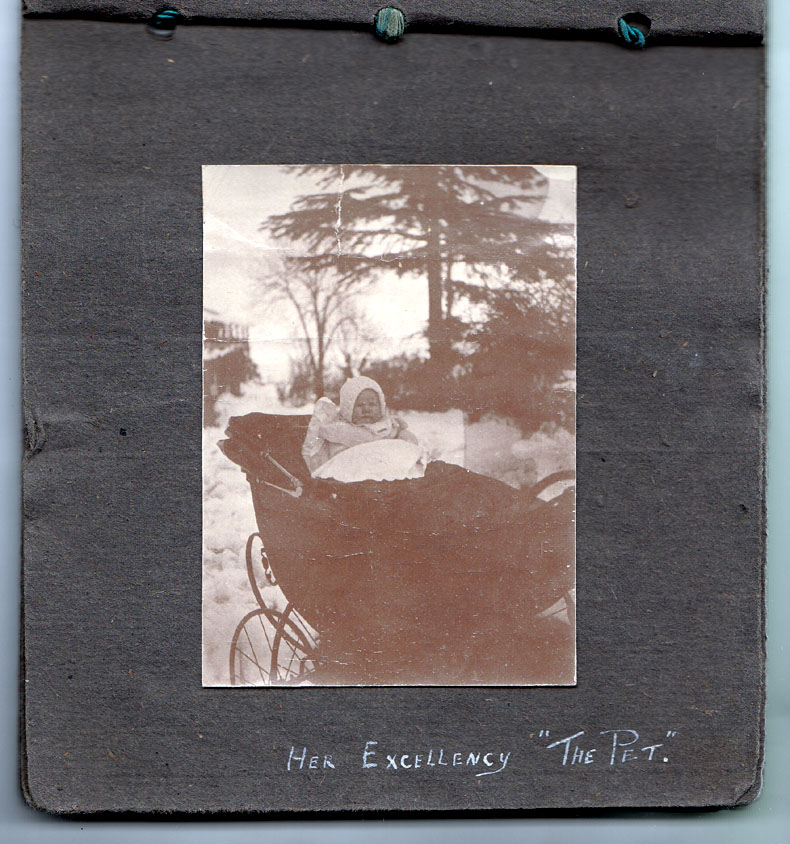 Betty Sydenham "Her Excellency - The Pet." only a few months old at Simla in India in early 1921.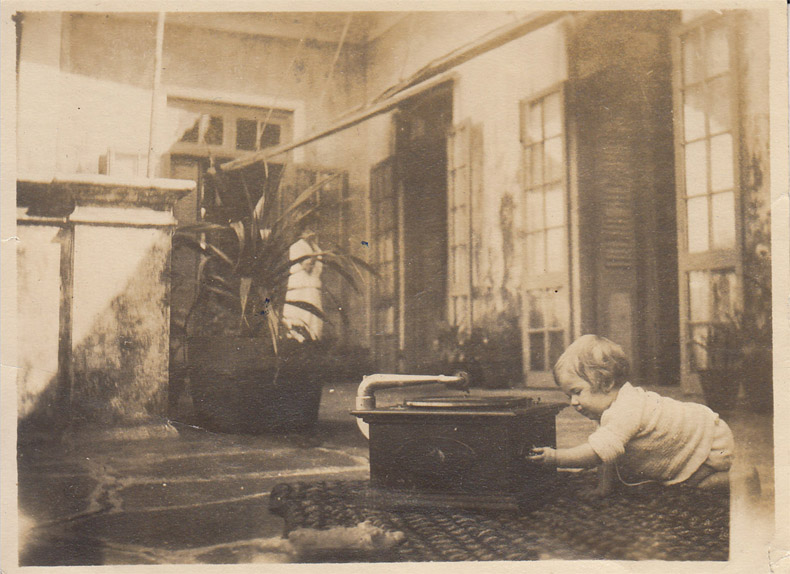 A classic photo of Betty Sydenham at home at Simla India, about 1921.
• Birth of Son John Francis Saint Barbe Sydenham 31 Jan 1922 • Bombay India

Birth notice of John Francis Sydenham in 1922 at Bombay India.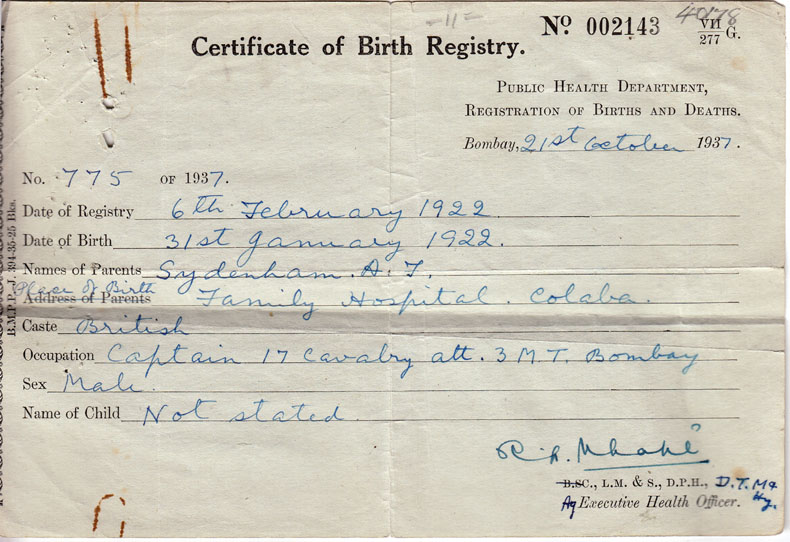 Official birth record of John Francis St Barbe Sydenham at Colaba Hospital Bombay, India, in 1922.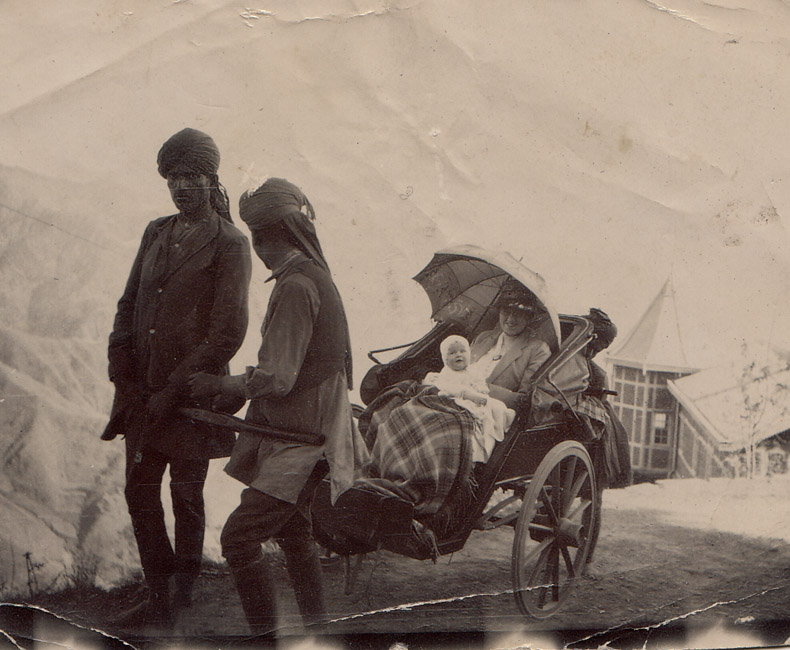 Photo of Ruby Sydenham with her 3 months old son John, at Simla, India, around May 1922.
Photo of Ruby Sydenham at her Simla residence in 1922, with baby son John ( about 3 months ) on her knee, and daughter Betty playing with her doll.
• Departure Jun 1922 • Bombay India from Bombay India on board SS Naldera with family - husband Captain Alwyn F Sydenham (AIF) Daughter Elizabeth, and son John Francis.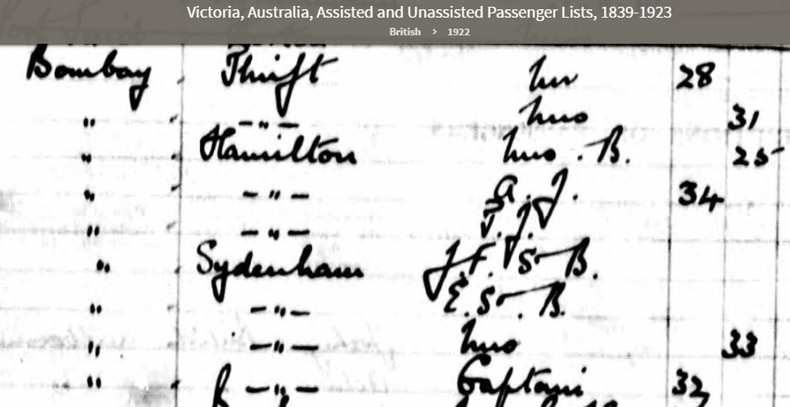 Shipping record from 1922 of the Sydenham family return to Sydney Australia.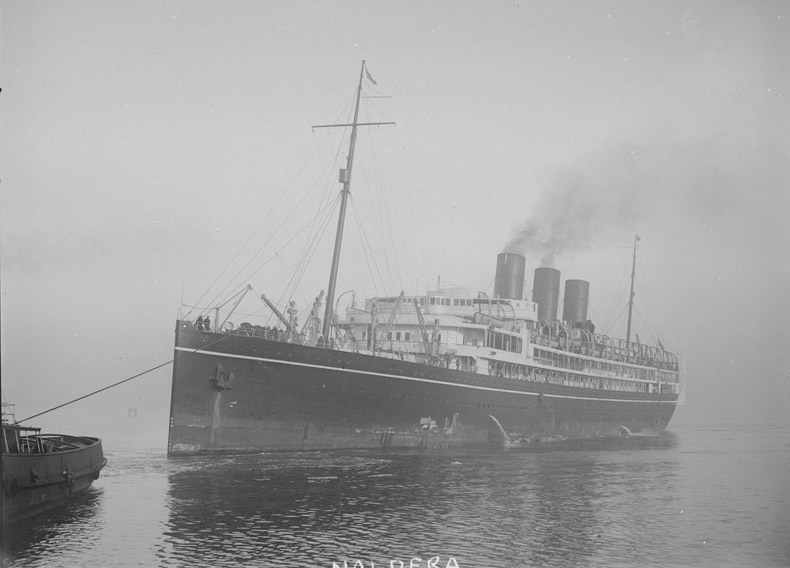 The SS Naldera on which the Sydenham family returned from India to Australia in 1922.
• Arrival 16 Aug 1922 on board SS Naldera with family • Sydney, Australia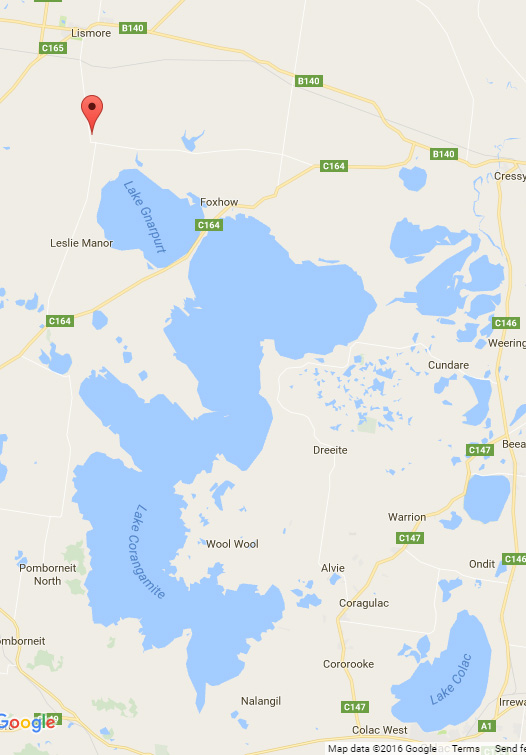 Map showing location of Sydenham farm Moana, Lismore, Struan School ( red dot ) and Alvie, where Ruby and Syd married. Courtesy Google Maps.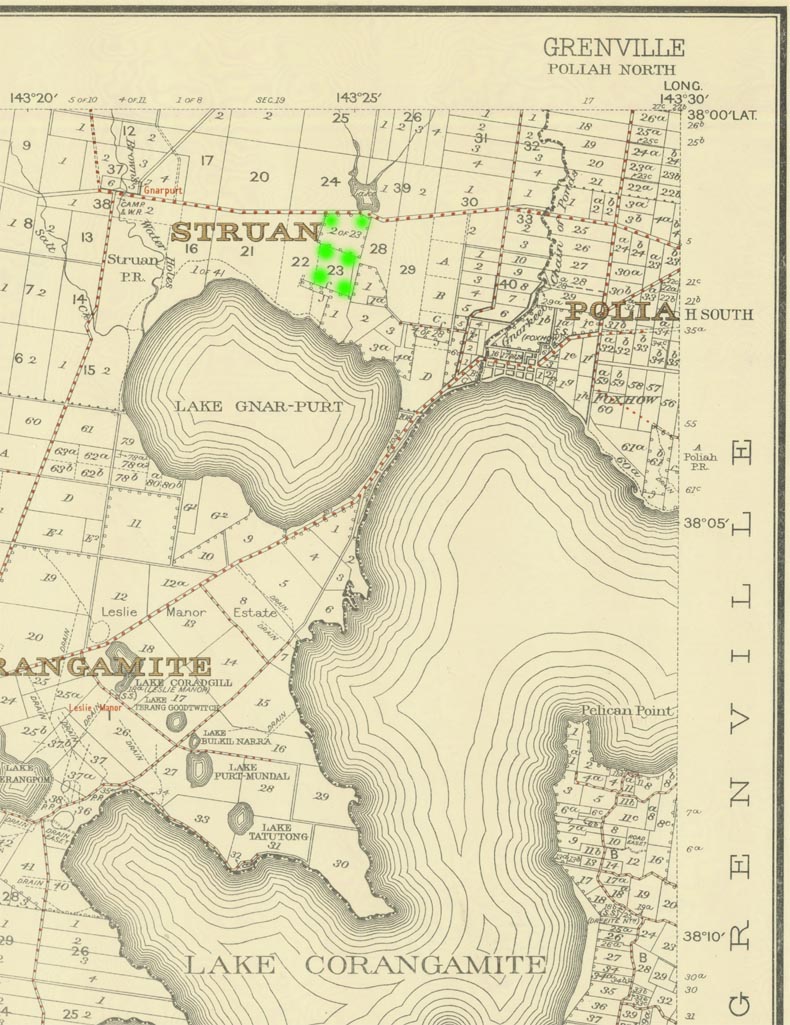 Prior grazing Run owner was Adam Swanston Robertson, one may regard as pioneering family of the area around Lake Gnarpurt. Alwyn and Ruby Sydenham also took advantage of the same returned soldier Closer Settlement Scheme, which Rubys brother Archer leased 920 acres of grazing land at Balmoral in 1924.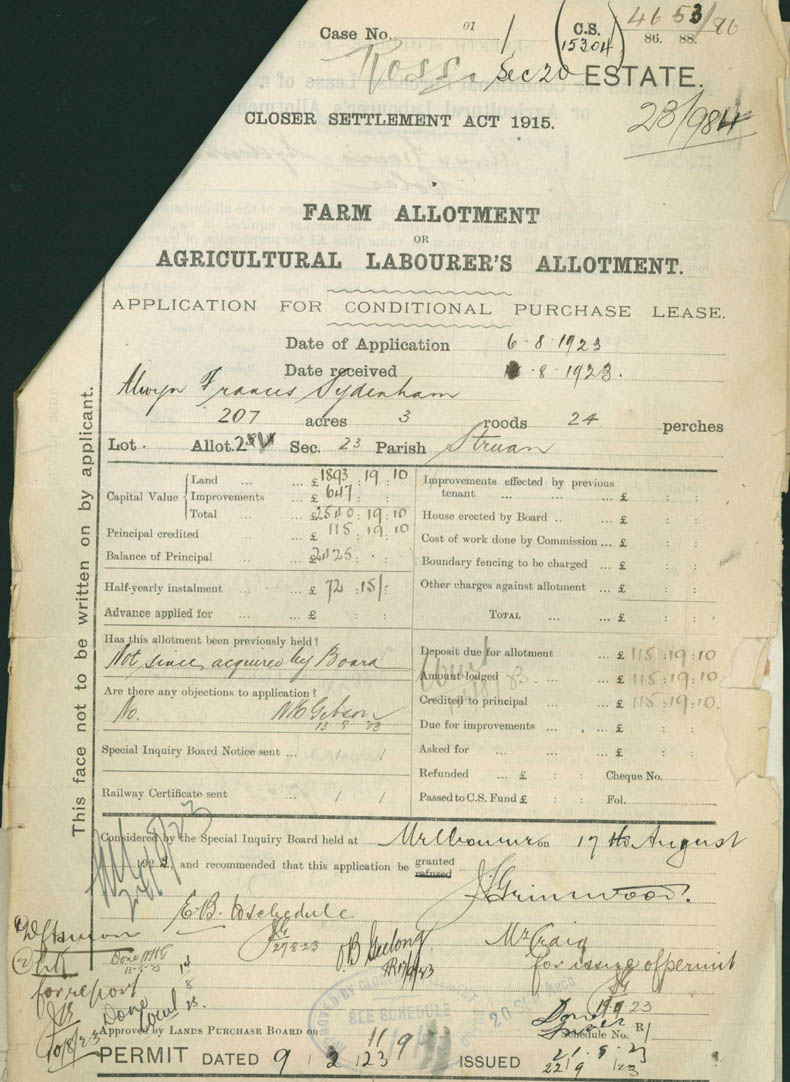 Lease application for 207 acres at Struan Victoria, just south of Lismore, and north west of Colac.
The following summarises some noteworthy points from the original 11 pages in the Struan lease file.
#1 207 acres were under a Conditional Purchase Lease agreement to Ruby and Syd in 1923.
#2 The land assessment sheet describes the farm as undulating, situated in an agricultural and pastoral district, and there were good outside employment opportunities in the neighbourhood, and had 30 acres under oats. It states "This is a very good farm consisting of soil that will stand any amount of cropping", and had 3 paddocks supporting 100 lambs, 10 horses, and 29 cattle prior to this lease.
#3 The valuation section rates the Freehold value of the property as £2288 at £11 an acre, had 30 acres for cropping valued at 50/- (shillings) an acre, and 30 acres of cleared fallow land valued at 15/- an acre.
#4 Alwyn had passed a Diploma of Agriculture at Deakin University prior to the application date
$5 On the lease termination form, Alwyn noted his reason for finishing the agreement as "Domestic - change of employment desired."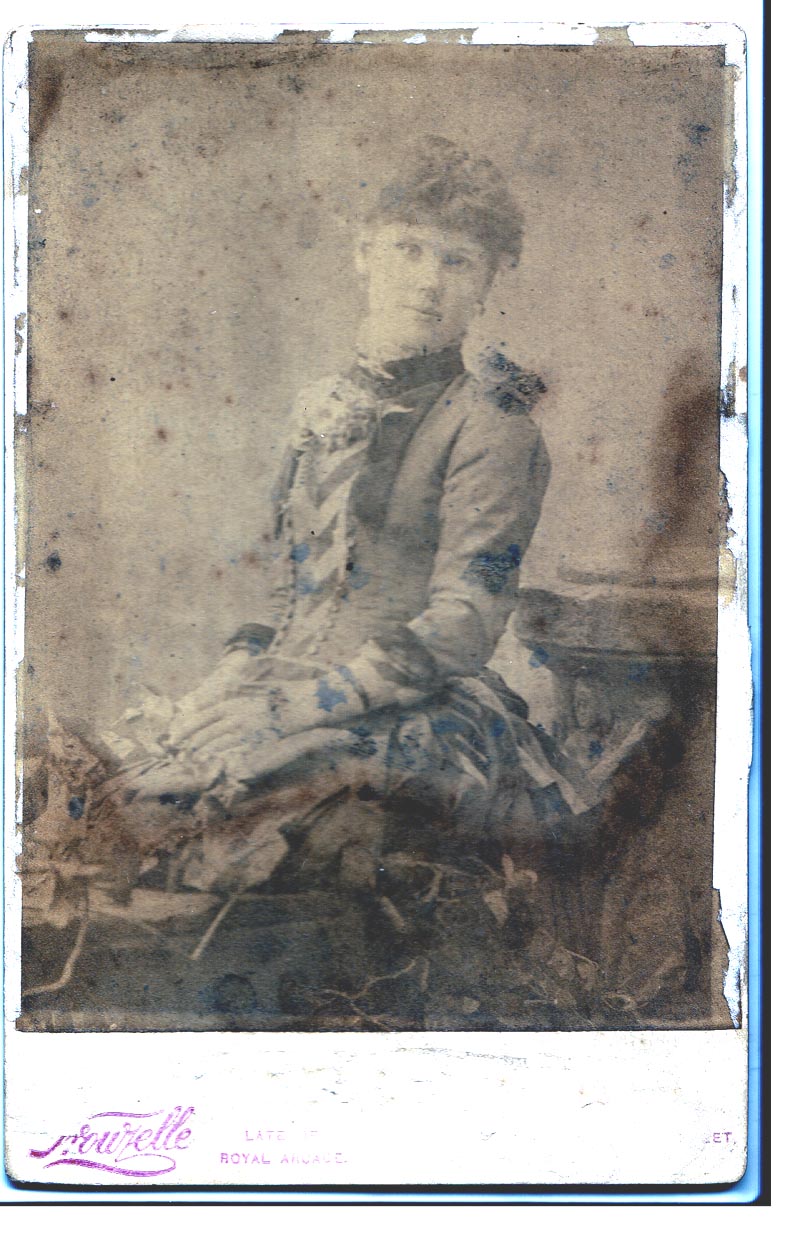 A photo of Ruby labelled "Mrs Sydenham" - a rare shot of her with no hat or glasses. Circa mid 1920s.
An interesting story from the past, about the Sydenham farm named "Moana", from the words of Ruby and Syds son, the late John Francis Sydenham.
""In Colac I used to go to the state school and friends of the Sydenham family, Billy Searle was a lass, her nickname was Billy. She had a horse and after school I'd chuck my schoolbag over the back fence and she'd have it saddled and bridled and I'd tear back to school to show off. Big thing too. Don't remember if it had a name. One of the kids had a swipe with his schoolbag at the horses head. So I reared the horse up and the kid had hooves near his head. Must have got back to Billy and she wouldn't let me ride her horse any more.
Another time one of the kids gave the horse a wack and the horse took off and ran towards the gate, with Betty on it. The horse stopped at the gate and Betty kept going. Mum, being a nurse, stuck her in bed for a few days. School was over the road from the house. The house was built or re-built by my dad. It was burnt down on Christmas eve or Christmas day a bit after 1922. He had a team of Irish workers built it out of cement building blocks, big things. Struan was the name of the school over the road, north of Lake Corangamite, not far from Colac really."
Teacher and students of Struan Primary School ( 1914 ). Courtesy DLCA History Group at Lismore.
The Victorian Education Department actually named the school "Struan Dam State School" and classified it as Victorian State School number 3730.
• Residence 1925 • Struan via Lismore / Colac, Victoria, Australia

1925 Census listing Ruby as a Farmers wife, at the farm at Struan.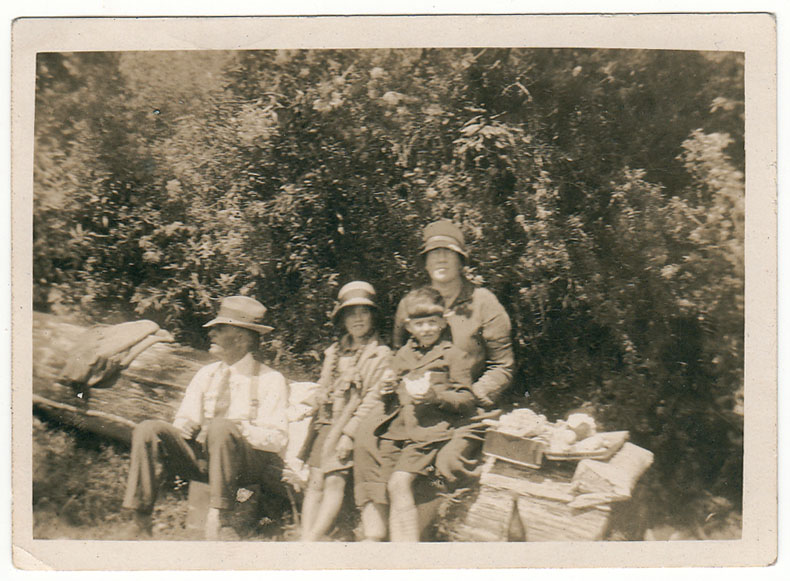 A Sydenham family picnic of about 1927.
• Residence 1927 • Struan via Lismore / Colac, Victoria, Australia - Farmers wife
Three generations of Sydenhams around 1927, from left Alwyn Francis Sydenham, his son John Francis with tennis racket, and Alwyns father George Francis at the farm property named "Moana", at Struan south of Lismore, Victoria.
Syd and Rubys children John and Betty, c1929 at Colac Victoria.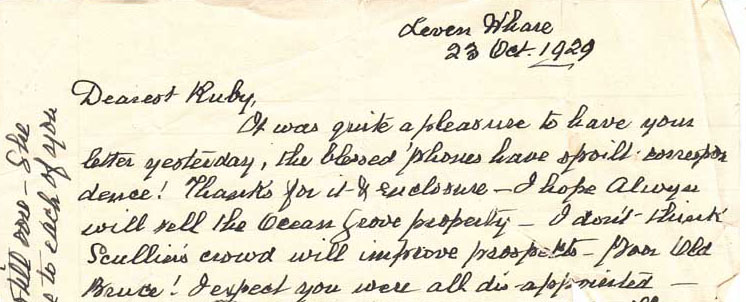 Start of letter to Ruby Sydenham from her father William Archer Skinner, in 1929.
The beginning of this letter to Ruby Sydenham at Colac, from her father Will Skinner at Leven Whare in Carnegie near Melbourne, has been included, as from family recollections, Ruby and Alwyn owned a "bush block near Lorne on the coast", which was probably the "Ocean Grove property" which Rubys father Will, was referring to in this letter. "Scullins crowd" that Will Skinner refers to here, was most likely that of James Scullin, who was the Member of Parliament for Corangamite from 1910 - 1913, and became the Australian Prime Minister from 1929 - 1932.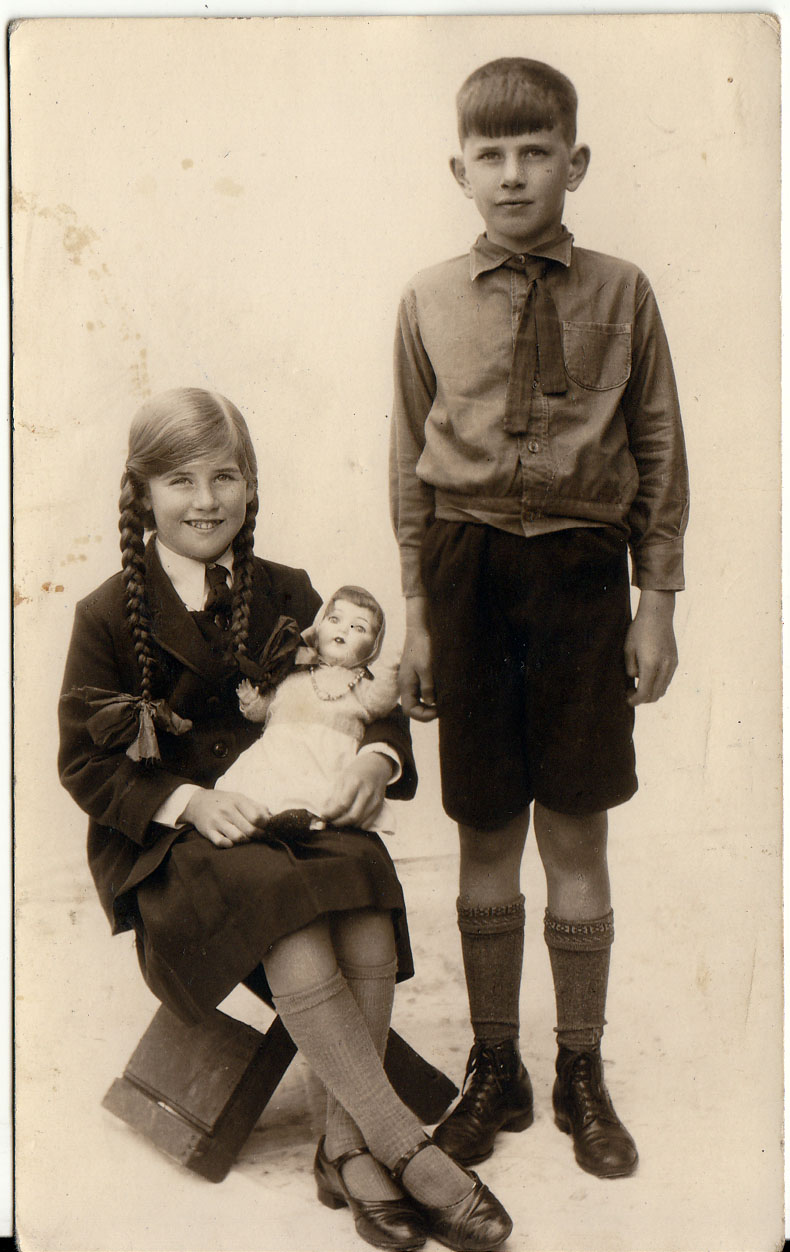 Betty Sydenham again with her beloved doll, alongside brother John. Circa 1930.
• Residence 1931 • Manners Sutton St, Colac, Victoria, Australia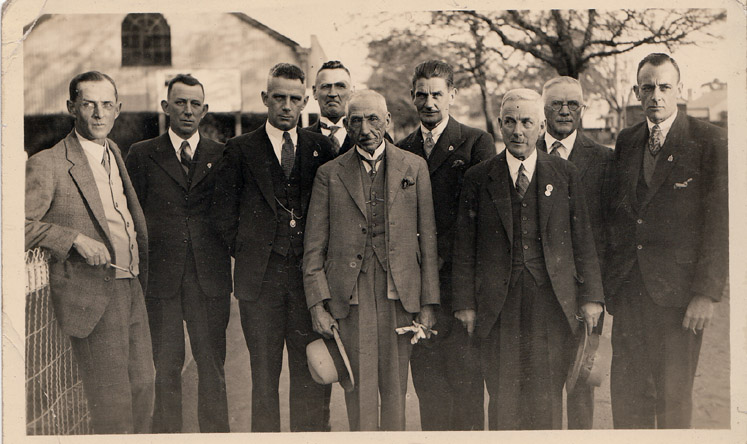 Alwyn Sydenham at left, pencil in hand, with what appears to be very serious looking local businessmen or maybe Shire representatives. It is estimated this photo was taken about 1930, when Alwyn and Ruby Sydenham were living at Manners Sutton St in Colac, and Alwyn was working as a land and estate agent.
Camping at Apollo Bay, showing Betty with her doll and John in the tent doorway.
The reverse of this photo is labelled "Please return to B Sydenham, Manners Sutton St. Colac West", which suggests Betty Sydenham lent this photo to someone, sometime before she and mother Ruby and brother John left Colac to live with Rubys sister Bertha, in the late 1930s. A couple of the Sydenham descendants have also been given a fondness of picnics and camping in, and travelling around the great Australian bush, to this day.
• Residence 1933 • Manners Sutton St, Colac, Victoria, Australia - Alwyn Estate Agent
Census of the Sydenham families at Colac in 1933. Courtesy Ancestry.com
As shown, Alwyn worked as a travelling salesman for Dalgetys, selling real Estate, while residing at Manners Sutton St in Colac West. His parents and 2 sisters Edna and Muriel were living at 64 Queen St in Colac, and his uncle William Collyns Sydenham and aunt Margaret Sydenham nee Robertson, were at Koorong House also in Colac.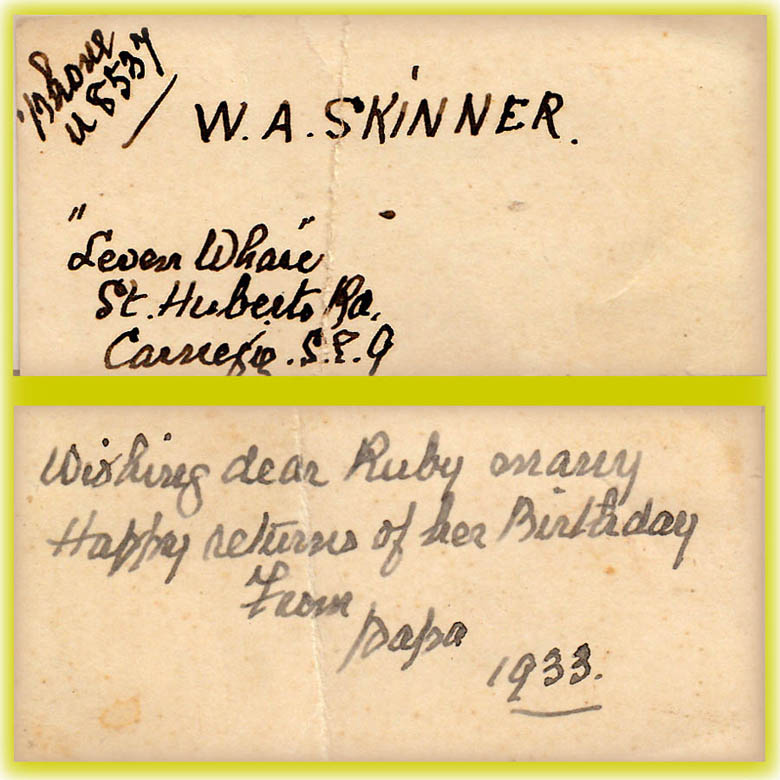 A home made gift card from her father Will signed "Papa" at Leven Whare Carnegie, for Rubys 45th birthday.
• Residence 1936 • Manners Sutton St, Colac, Victoria, Australia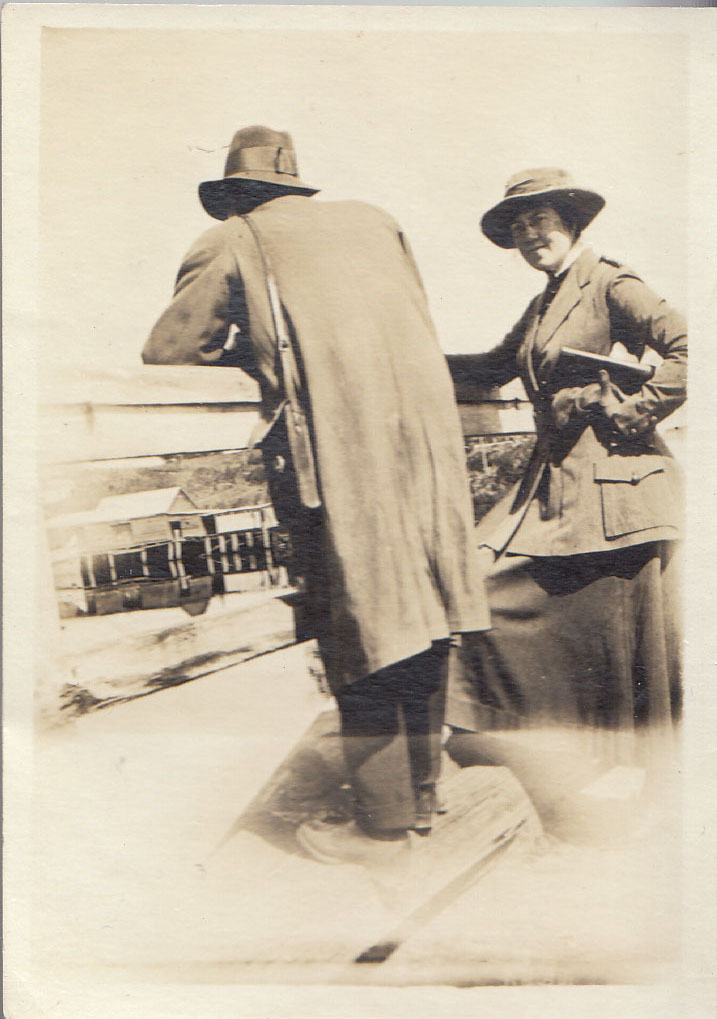 An interesting photo of Ruby and Alwyn Sydenham, taken in the later 1930s, probably at the Colac Gardens or Lake Corangamite, of Ruby with what appears to be a Bible in her hands, and Alwyn with what looks like the same leather pouch Ruby had with her, at Alexandria in Egypt in 1916, as shown above.
• Death of Rubys father William Archer Skinner 2 Dec 1937 • "Leven Whare" Carnegie, Victoria, Australia.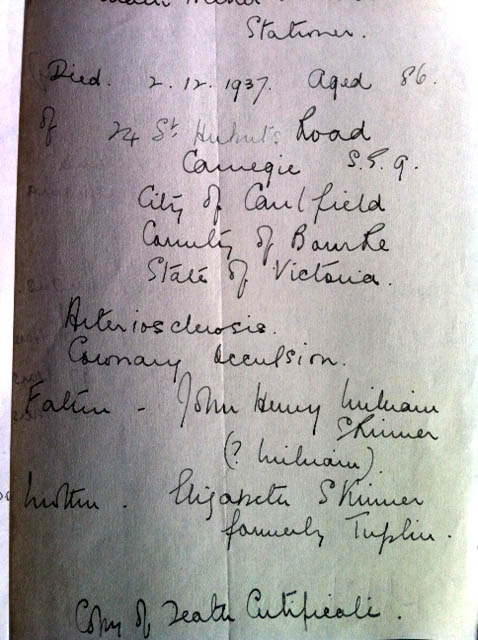 Handwritten family record of Will Skinners death - page 1.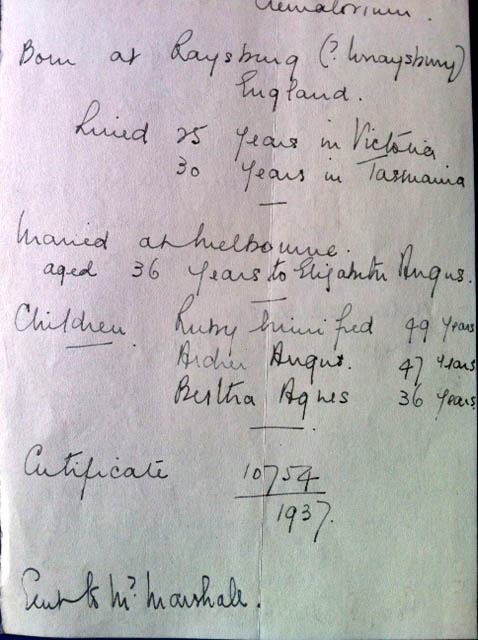 Handwritten family record of Will Skinners death - page 2.
Going by family recollections, Ruby and Alwyns only son John, stated he was in his early teens, ie. somewhere around the 1935 - 1937, when his father Alwyn, basically deserted his family to fend for themselves in Colac. Alwyn was also known to be quite a sociable beer drinker, spent a lot of time at the local Returned Soldiers League ( RSL ) club in Colac, and he sometimes did not come home of an evening.
Ruby Sydenham honoured and farewelled from Colac in Sep 1937. Courtesy Colac Herald newspaper.
Records indicate both Alwyn and Ruby Sydenham were Committee members of the RSL sub branch at Colac. It is quite obvious that this newspaper report appears to be quite tactfully and thoughtfully written, as there is no mention of Alwyn in this article, and his whereabouts is not known until the 1943 Census, showing his residence as Wyong near the New South Wales Central Coast about 100 klms north of Sydney. Although it is not mentioned in this article, Ruby and daughter Betty and son John, moved to Caulfield, an inner eastern suburb of Melbourne, to live with her sister Bertha Skinner.
The late John Sydenham also mentioned that he lived for a short period of time with his mother Ruby, aunts Edna and Muriel Sydenham, in the home of his grandparents George Francis Sydenham and Zoe Lillias Hills, at 64 Queen St., in Colac, after his parents separation. These circumstances appear to be confirmed by the following 1937 Census, which clearly omits Alwyn Sydenham from being with his wife Ruby, in this time frame.
• Residence 1937 • Manners Sutton St, Colac, Victoria, Australia.

1937 Census for the Sydenhams at Colac. Alwyn had left Ruby and the children, eventually living in New South Wales.
Alwyn & Rubys daughter Betty Sydenham, at the Colac Gardens photographed about 1936 - 1937, just prior to moving to Caulfield in Melbourne.
As it turned out, Betty Sydenham enlisted for Service when World War 2 broke out, as shown below here. Although her full Service record is not yet readily available from the National Australian Archives, family recollection recalls that Betty enlisted about the age of 19, her next of kin noted was her father Alwyn, and she was initially involved with Administration duties with secretarial tasks.
Reference to Betty Sydenham enlisting to serve in WW2. Courtesy National Australian Archives.
Shortly after the end of the second World War, Betty ended up working for the Australian Embassy in Bonn, Germany, the late 1940s, where according to her son Michael Bowen, she apparently worked decoding and deciphering secret messages.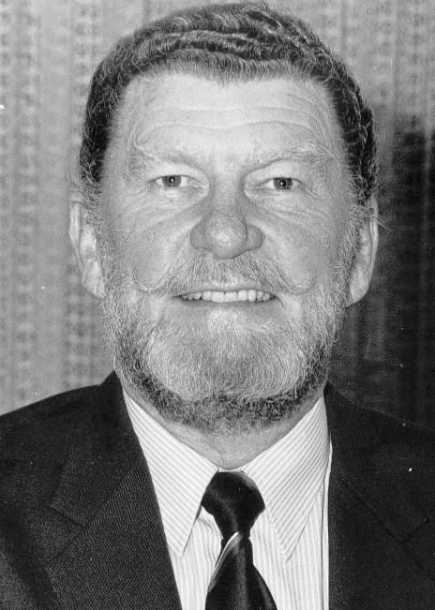 A later photo of Desmond Walter Bowen. Courtesy Ancestry.com
Sadly Betty Bowen died of Cancer in 1978 aged 57 in Caulfield, and Des remarried and had 2 more children, before he passed away in 2003, near Sydney, NSW.
• Death of Rubys mother, Elizabeth Jane Angus 1940 • Caulfield, Victoria, Australia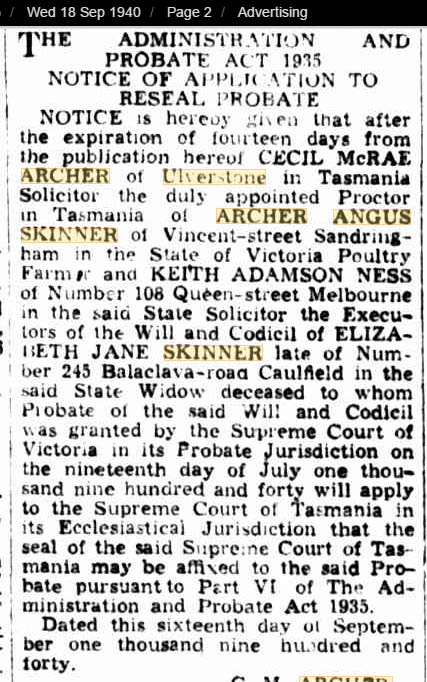 Probate for Elizabeth Jane Skinner nee Angus of 1940, as legally processed by Ruby's cousin Keith Ness.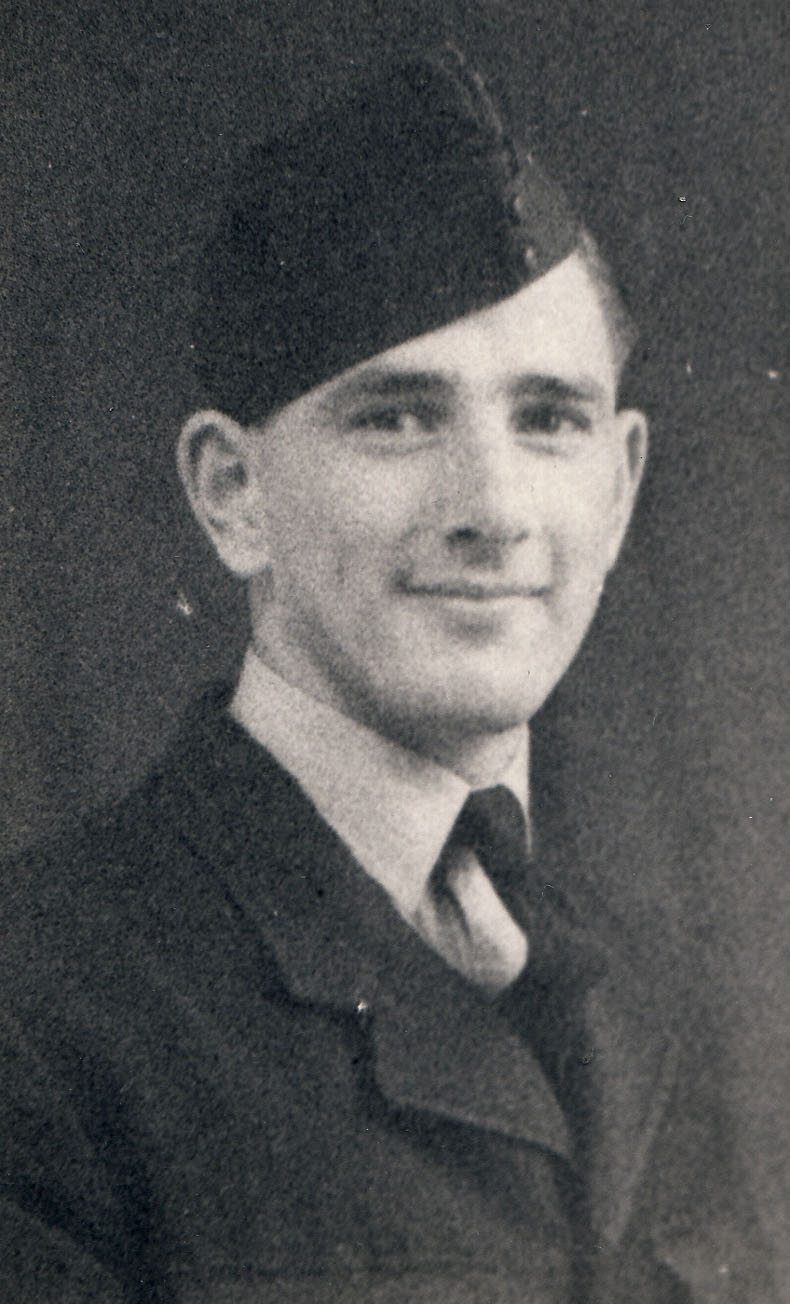 Photo of John Francis Sydenham about 1941 after his second enlistment to the RAAF was accepted.
John Sydenham ended up serving in World War 2 as a wireless operator in the Royal Australian Air Force, and spend about 3 years on duty in Far North Queensland, mainly at Thursday Island and Groot Island. A lot of his time was actually spent on the water, in a surveillance crash launch.
• Residence 1942 • 245 Balaclava Rd Caulfield, Victoria, Australia

Census of 1942 showing Ruby living with her sister Bertha at 245 Balaclava Rd., Caulfield.

Census of 1942 showing Bertha Skinner supporting her sister Ruby Sydenham & her children, at 245 Balaclava Rd., Caulfield.
Ruby and Archers younger sister Bertha, turned out to be a major supporter and contributor to Red Cross fund raising at her home town of Ulverstone in Tasmania, where she supplied the old family shop rent free for a year or two, as an ongoing Red Cross Shop & stall venue.
The family newsagency supplied free by Bertha Skinner for Red Cross fund raising in 1942, Ulverstone.
There appears to be an obvious and noticeable lack of Electoral Records regarding Alwyn Francis Sydenham from the time of his separation with his wife Ruby, from around 1935-7, however he is known to have moved to, and resided in New South Wales in the Parish of Robertson near Wyong, by 1943. Alwyn did re-marry later on in 1956, very shortly after his first wife Ruby passed away. He wed Betsy Maud Burton, of a well known Burton family from Colac - an overview of Alwyn and Betsy's times together is outlined towards the bottom of this page.
Census of 1943 showing Rubys husband Alwyn Sydenham, confirming he had left his wife and children, and relocated to New South Wales.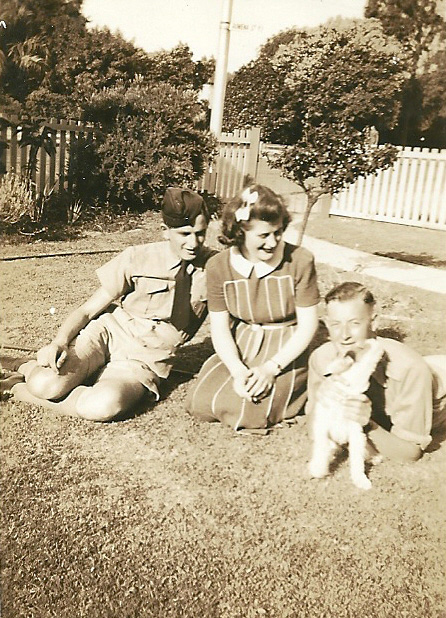 Siblings John and Betty Sydenham, in the yard of their aunty Berthas house at Caulfield, with an unknown friend or relative.
• Residence 1949 • 245 Balaclava Rd Caulfield, Victoria, Australia
The early 1950s were important years for Rubys children Betty and John, on the relationship side of life. Both were married in this time frame as indicated here.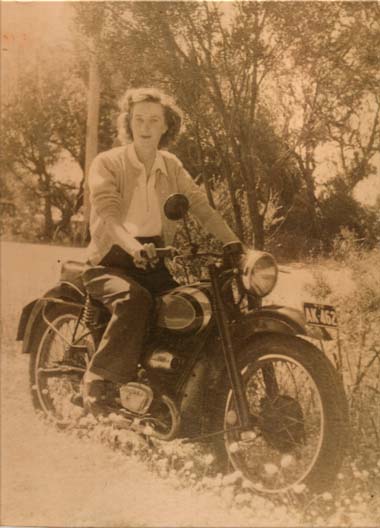 A great photo of John's future bride-to-be, Rae Sydenham, circa early 1950s.
John told numerous stories of riding his Indian motorcycle to work at Phoenix Press in Melbourne, back in the days when your main concern was staying upright when dealing with tram tracks, as the speed limits were apparently not really much of an issue to bikers of the times.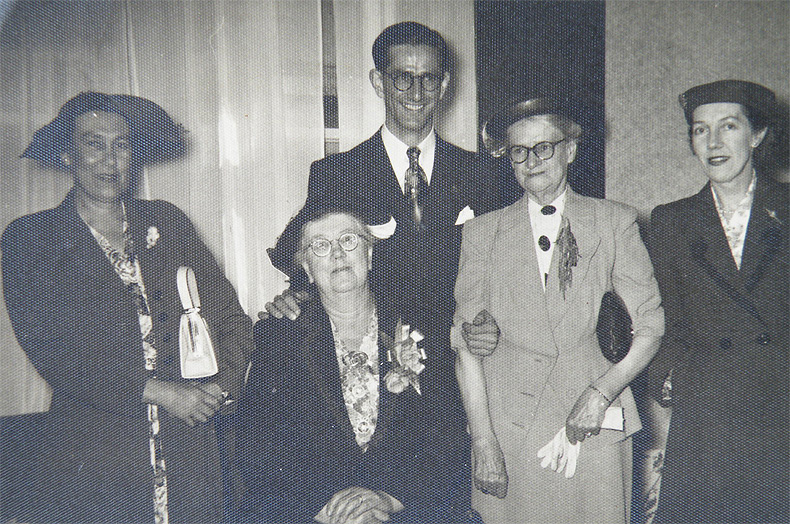 From left Bertha Skinner, Ruby Sydenham, John Sydenham, Zoe Sydenham, and Ruby cousin Marj Campbell.
Another wedding photo at John and Rae's wedding in 1953.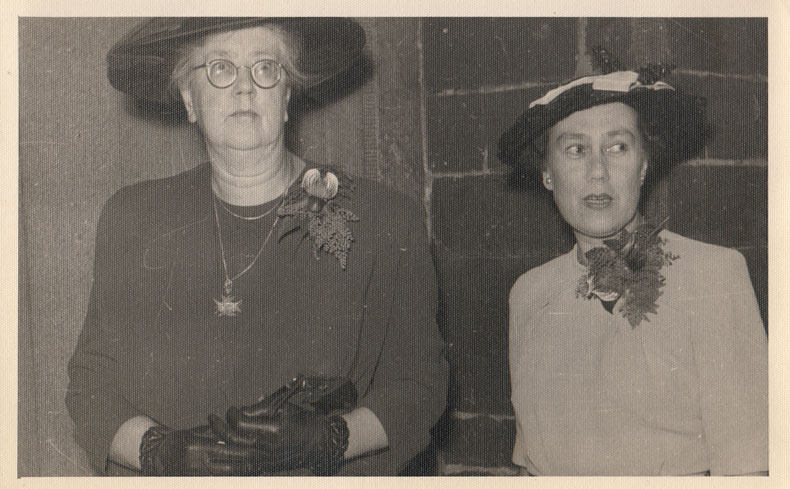 Sisters Ruby Sydenham and Bertha Skinner at the wedding of John Sydenham and Rae Richardson at Malvern in Nov 1953.
This was probably at the wedding in 1954 of Ruby's only daughter Elizabeth ( Betty ) S. B. Sydenham, born 1920 at Ulverstone Tasmania, to Desmond ( Des ) Walter Bowen, born 1926 at Johannesburg, South Africa. That's Betty's brother John Sydenham opening the car door.
• Residence 1954 • 245 Balaclava Rd Caulfield, Victoria, Australia
1954 Census showing Ruby & John Sydenham at her sister's house. This was the year Rubys daughter Betty married Des Bowen.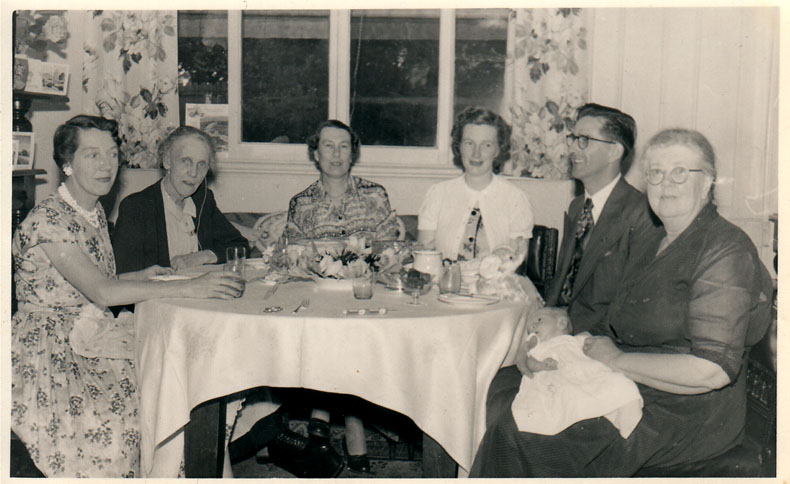 Christmas 1955 at Bertha Skinner's home at 245 Balaclava Rd Caulfield, taken by Rubys son John Francis Sydenham, seated second from right. Rear of photo is labelled "Christmas snacks after dinner. My first flash shot". At the right is Ruby Winifred Sydenham, with your web host on her lap, next to John is his wife Rae Sydenham nee Richardson, then Rubys sister Bertha Skinner, their aunt Anne ( Nance ) Campbell nee Angus, and at the far left is cousin Marj Campbell, the Campbells living only a few blocks away at 199 Balaclava Rd. This is the last known photo of Ruby Winifred before she passed away.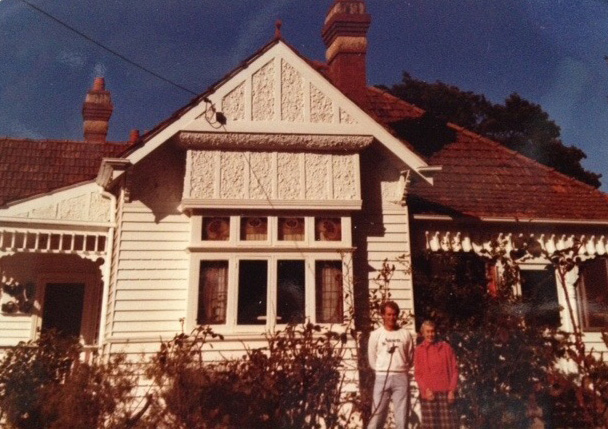 Rubys sisters Bertha's house at 245 Balaclava Rd Caulfield, pictured here with her great nephew Michael Bowen at her side - c1970s.
• Death of Ruby Winifred Skinner in 1956 • Caulfield, Victoria
SECOND MARRIAGE OF ALWYN FRANCIS SYDENHAM, TO BETSY MAUDE BURTON.
Alwyn Sydenham wasted no time in remarrying his second wife Betsy Maud Burton, he knew well from Colac in Victoria. Betsys family, her parents and aunt and uncles, were originally from Marylebone, Edmonton, Tottenham, and Middlesex near London in the U.K..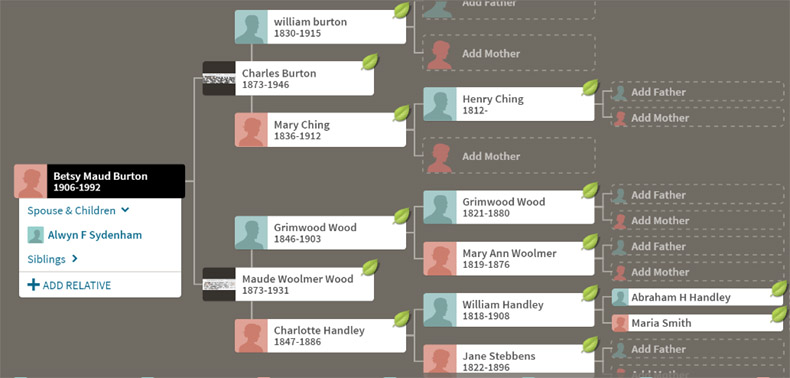 Pedigree view of Betsy Maude Burton's family, originally from Essex and Surrey in England, in the 1830s and 1840s.
Betsys parents were Charles Burton, born July in 1873 at Marlebone U.K. and Maude Woolmer Wood born in Apr 1873 in Langford Essex U.K. whom had 8 children in total, including Betsy. Australian census records show this Burton family were residing at Colac in Victoria from 1921.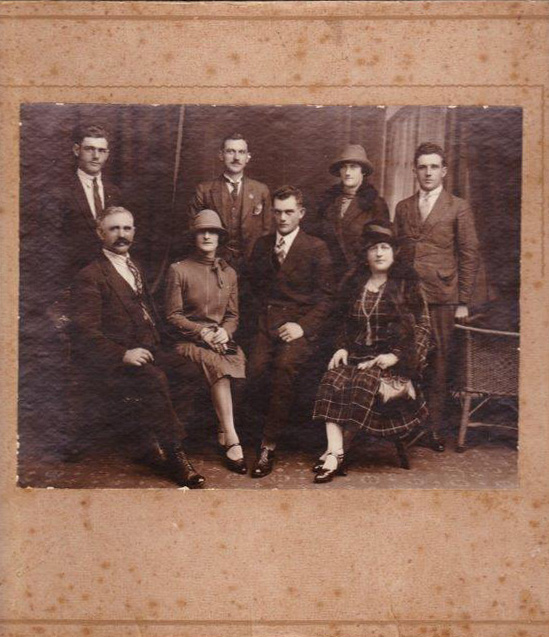 Most of the Burton siblings, from left, Len, Doug, Mary, Harold seated, Charles, Betsy, Victor, and Maud seated. Courtesy Ancestry.com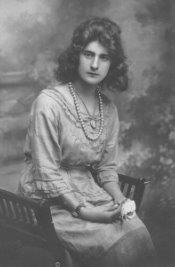 Picture of Betsy Maude Sydenham nee Burton c1930s. Courtesy Ancestry.com
Obviously the history of this particular Sydenham family does not stop with the death of Alwyn Sydenhams first wife, Ruby Winifred Skinner, as it seems for unknown reasons, Alwyn chose to end his relationship with his first wife Ruby in the mid 1930s. According to a wartime postcard from Ruby in 1915 made a new life for himself in Wyong in New South Wales in the 1940s, with his second wife Betsy Maud Burton, originally from Colac in Victoria, in the 1940s. The only known possible reason Betsy and Syd relocated to Newcastle, quite a large city, is Syd had an uncle who lived there. A marriage record of Alwyn Francis Sydenham and Betsy Maud Burton in Newcastle NSW, in 1956 has recently been located, as shown here.

Marriage of Betsy Maude Burton and Alwyn Francis Sydenham in 1956 at Newcastle, New South Wales. Courtesy BDM NSW.
For our site visitors background info, Alwyn and Rubys son, John Francis Sydenham, ended up working as a technician in the Post Master Generals telephone exchange centre, in Little Bourke Street in Melbourne, after the conclusion of his World War 2 Service in the Royal Australian Air Force, in far north Queensland. Naturally, John had access to listings of all Australian phone numbers via his work situation, and according to family recollection, he researched all phone numbers for the surname of "Sydenham", discovered his dad Alwyn was living on the NSW coast, and made contact with his father Alwyn by phone, in the early 1970s, with the intent of procuring some form of relationship reconciliation with his father. As it turned out, Johns son Ken had just obtained a drivers licence in 1973, and Ken drove his father from their home near Melbourne, to Wyong in New South Wales for a reunion over a few weeks duration.
Picture of Betsy Maude Sydenham nee Burton c1960s. Courtesy Burton Family.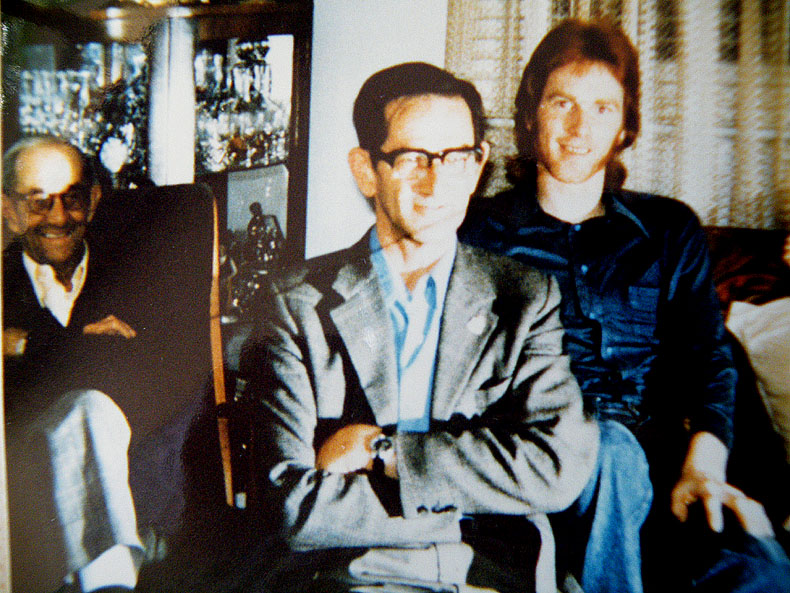 A photo taken at Wyongah by Betsy Sydenham nee Burton in 1973 of another 3 generations of Sydenhams, from left Betsys husband Alwyn Francis Sydenham, his son John Francis Sydenham, and Alwyns grandson Ken John ( Mixo ) Sydenham.
Death record of Alwyn Francis Sydenham at Wyong NSW in Oct 1978.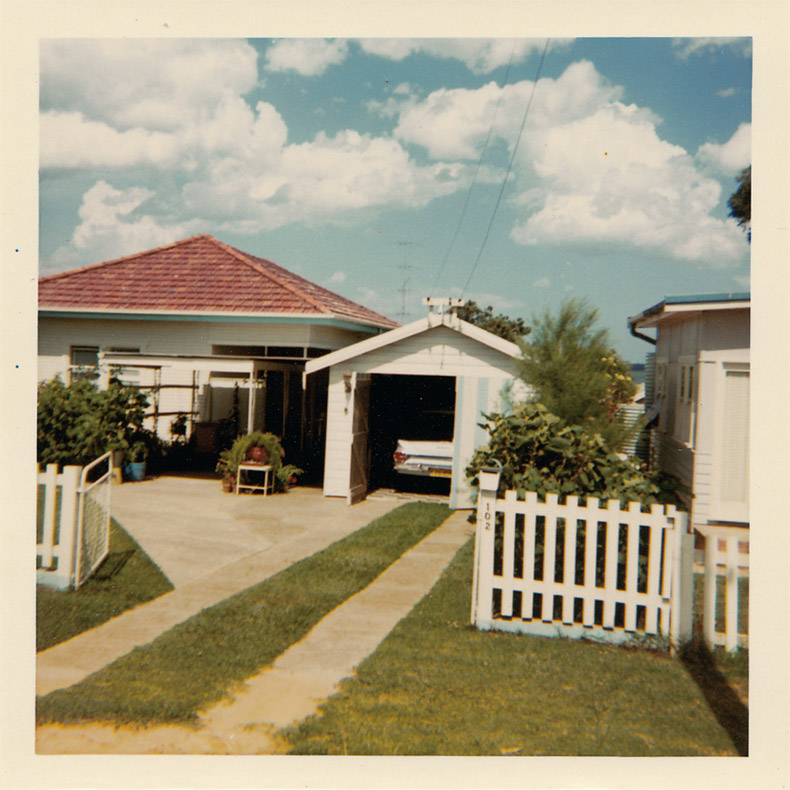 Photo of residence of Alwyn and Betsy Sydenham, labelled as "102 Tuggerawong Rd. Wyongah".
Family recollections indicate a second trip of John Sydenhams family went from Victoria to visit Syd and Betsy at Wyongah, around 1975, when a few row boat lessons were conveyed by Alwyn to his young grandchildren Ken and Jill, via the small jetty located at the rear of Syd and Betsy's property on the edge of Tuggerawong Lake.
A dear Burton cousin has advised that Syd and Betsy ran a fish and chip shop at Wyongah, and has thankfully provided the following old photo.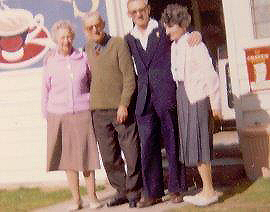 From left, Betsys sister-in-law Gladys Burton ( nee Eddey ), husband Alwyn ( Syd ), brother Vic Burton, and Betsy Sydenham herself.
Alwyn Francis Sydenham passed away in Oct 1978 at Wyongah in NSW after only the second reunion with his son John Sydenham's family, at Wyongah. His second wife Betsy Maude Sydenham, who died in 1992, is also buried at the same local Palmdale Cemetery.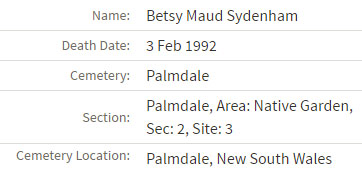 Death Record of Betsy Maude Sydenham in 1992.

Early Skinner families & Tobacco business.


Father of Ruby, Archer, and Bertha.

Brother of Ruby and Bertha.

Youngest sister of Ruby and Archer.

Angus families.
Email here re Enquiries, Corrections, or input to this site