INTRODUCTION TO OUR ANGUS FAMILY CONNECTIONS
Our initial research focus in this project, has been upon the immediate Australian family of Elizabeth Jane Angus, her husband William Archer Skinner, and their 3 children Ruby, Archer, and Bertha Skinner. This page provides a basic overview of our Australian born siblings of Eizabeth Jane Angus, her parents James Angus and Elizabeth Cameron from Aberdeenshire Scotland, and some of thier earlier Scottish ancestors.
An Angus family crest sample.
It appears that a good place to start is the earliest confirmed records of our first known Angus generation, and the relative known details of John Angus, from Forgue near Huntly in Aberdeenshire, Scotland.

JOHN ANGUS AND ISABEL SHAND
As is often the case, tracing official records from anywhere in the 1700s can be difficult and time consuming, however with many thanks to the diligent research of our local Angus descendant Andrea Fitzy from Victoria, we are able to provide some early confirmed records, from Aberdeenshire, near the north east coast of Scotland, and some great Angus family photos too. As research into our Angus family tree is still ongoing, we have estimated John Angus and his wife Isobel Shand were probably born around the 1740s - 1750s, most likely in or near a small village named Forgue in Aberdeenshire where they both lived, and they married nearby at Huntly, in Nov 1770.

Marriage record of John Angus and Isabel Shand at Huntly in Nov 1770. Courtesy Andrea Fitzy.
The following image is intended to clarify our Angus family connections, originating from John and Isabel Angus in the 1770s in Scotland, through to our numerous Angus descendants, per the marriage and emigration to Australia of James Angus, his wife Elizabeth Cameron, and their 10 children born in Australia, as listed in Generation 4 further below here.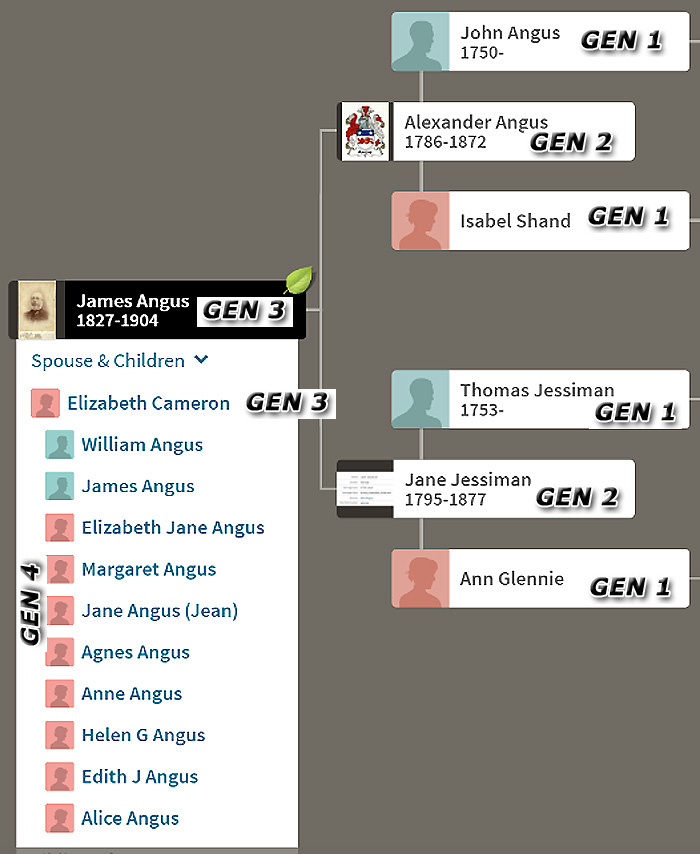 Four generations of our Angus connections. Courtesy Ancestry.com
Little else has been located to date about John and Isabel Angus, however official records indicate they had 5 children, as outlined in Generation 2 listings below here.

CHILDREN OF JOHN ANGUS AND ISABEL SHAND
According to Google maps, Forgue is only about 9 miles from Huntly in Aberdeenshire, so going by the Christening details of the 5 children and 3 known grand children of John Angus and Isabel Shand, it appears they probably resided at Huntly from about 1780.
Details of the children of John Angus and Isabel Shand at Huntly Aberdeen. Courtesy FamilySearch.org
In order of their births registered at Huntly, John and Isabel Angus had a son John Angus, christened on 25 Nov 1781, daughter Anne Angus christened on 7 Sep 1783, daughter Jean Angus christened on 23 Jan 1785, son Alexander Angus christened on 23 Nov 1786, and their youngest son James christened 22 Jan 1791.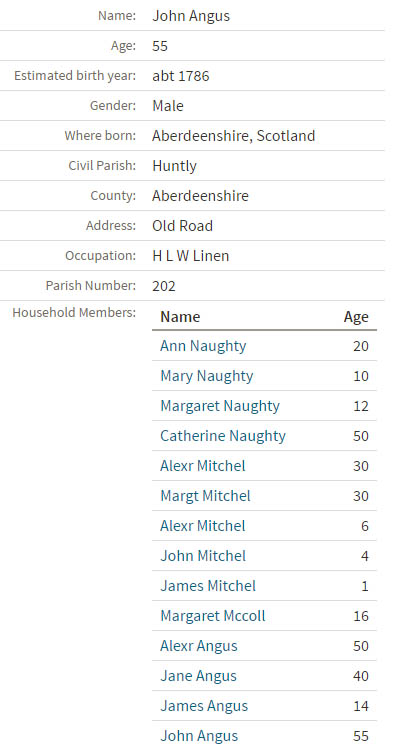 1841 Census from Huntly, noting the Angus men were weavers of linen.
Not a great deal of information has been located to date regarding this particular generation, apart from the 1841 Census record indicated they were well settled in Huntly, and brothers John and Alexander and his wife Jane Jessiman, lived together in their 50s in Old Road, and both worked as hand Loom weavers of linen. In the same household was a young boy James Angus aged 14, noted as an apprentice weaver, most likely a nephew of Alexander Angus.
Our current focus out of these five children, shall continue to be upon Alexander Angus, who married Jane Jessiman, and their 4th child Alexander Angus, whose son James emigrated to Australia in 1855.
ALEXANDER ANGUS AND JANE JESSIMAN.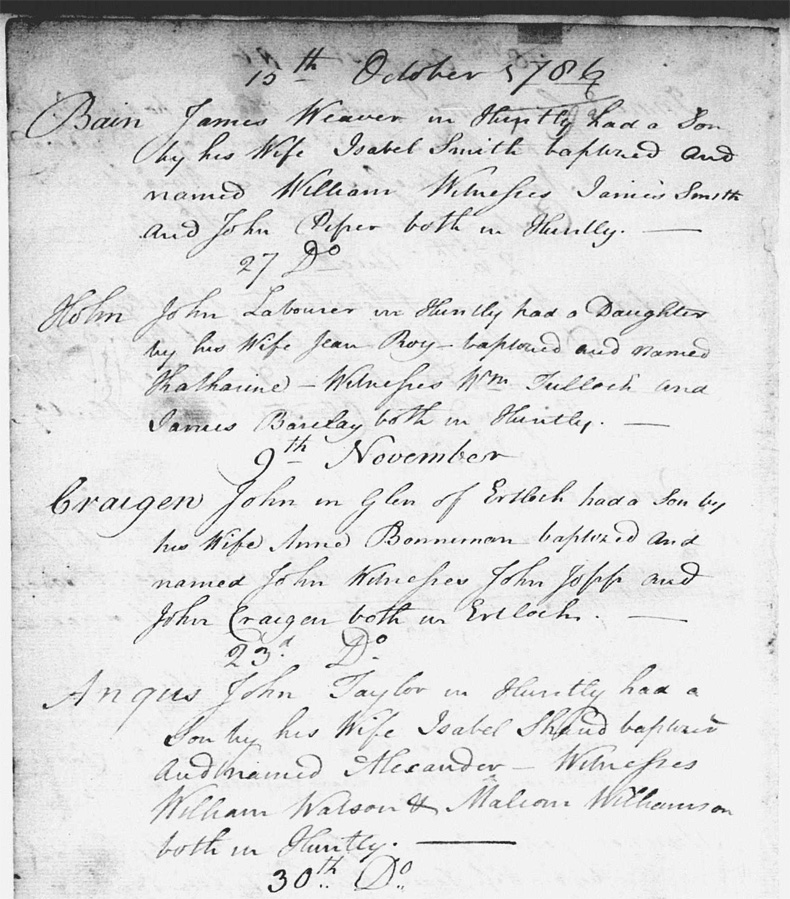 Birth record of Alexander Angus at Huntly in Aberdeenshire in 1786. Courtesy Andrea Fitzy.
It appears from this record, Alexanders father John Angus was a tailor by trade at Huntly in the 1780s.
Scottish records indicate that our Jane Jessamin was a daughter of Thomas Jessamin, born in 1753 at Drumblade, Aberdeenshire, and Ann Glennie, of unknown details. It appears Jane Jessamin married Alexander Angus in 1820 at Huntly, as also shown below here.
Marriage record of Jane Jessimans parents, Thomas Jessiman and Ann Glennie / Glenny.
Courtesy FamilySearch.com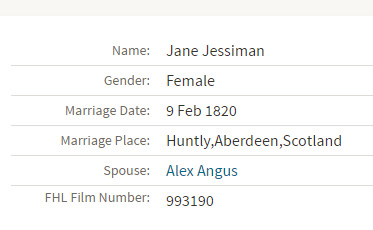 Marriage record of Alexander Angus and Jane Jessiman at Huntly in Scotland in 1820.
Courtesy familysearch.org
Referral to Scottish Census records of this period notes that Alexander Angus worked locally in Huntly as a loom weaver of cotton, which tends to indicate a logical interest in fabrics, following on in his fathers footsteps as a tailor. Records shown below here, confirm Alexander Angus married Jane Jessiman from nearby Carnie, at Huntly in Aberdeenshire on 9 Feb 1820, and proceded to have 3 children, being Isobel Angus in 1820 at Huntly, James Angus in Jun 1827 at Mortlach Banffshire, and their youngest daughter Ann Catharine Angus at Huntly in 1830.
As it turns out James Angus married Elizabeth Cameron from Wick on the north coast of Scotland, daughter of the Camerons of Thurso. His elder sister Isobel Angus, was working in a Huntly household as servant according to the 1841 Census, and no further information regarding Isobel has been confirmed to date. His younger sister Ann Catharine Angus married Maurice Daniel Rayner, and had 4 known children between 1855 and 1865, being Emma, Robert, Jane, and Clara Rayner.
Family of Ann Catharine Rayner nee Angus at Ancestry.com

JAMES ANGUS AND ELIZABETH CAMERON.
Although we are only able to portray a few documented records pertaining to Elizabeth Cameron from Wick in Cathness, and her father William Cameron from Thurso on the far north coast of Scotland, it is considered a rare opportunity and honour, to be able to present an image of our James Angus.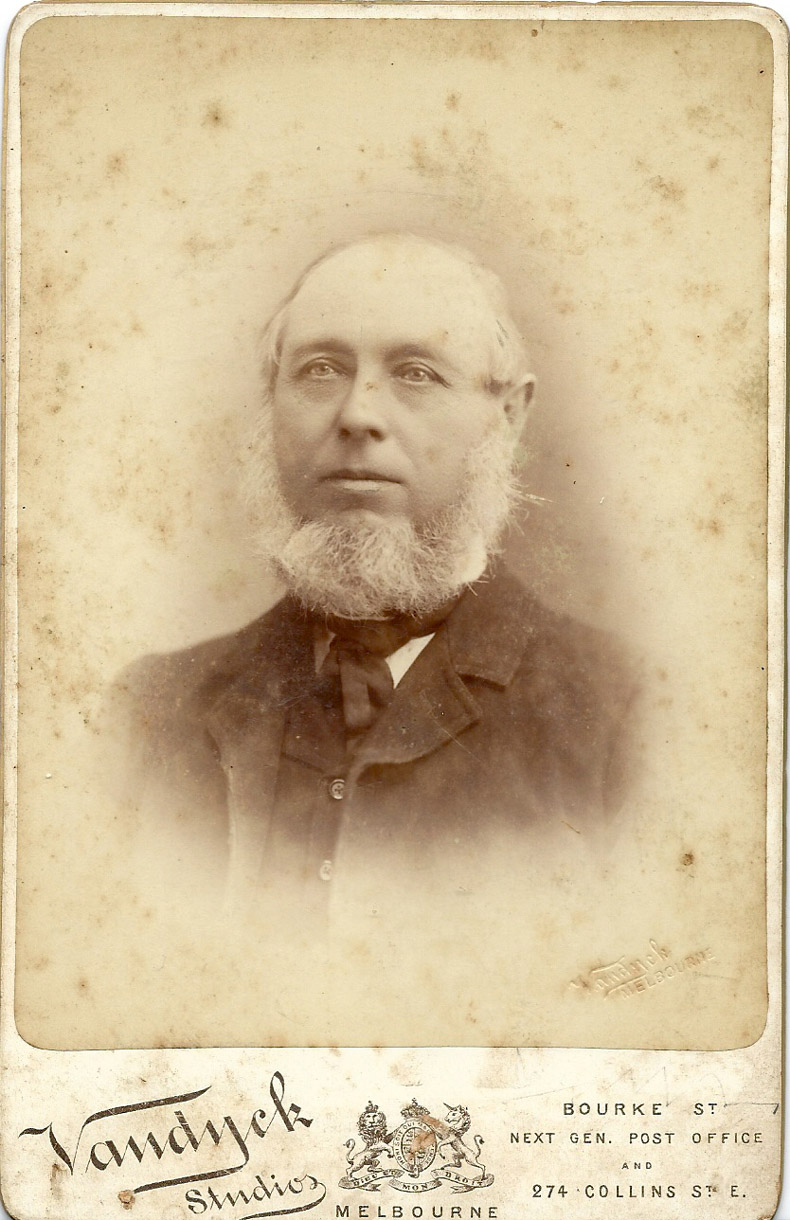 Only confirmed photo of James Angus circa 1890s. Labelled by the late John Francis Sydenham "Grandpa Angus".

Records indicate that Elizabeth Camerons parents, being William Cameron from Glasgow, and Elizabeth Sutherland from Aberdeen, were married on 7 Mar in 1828. Apparently their only two childen, Elizabeth and David Cameron were both born in 1832.
Inset of death record of Elizabeth Camerons mother Elizabeth Sutherland in 1882 at Thurso, Scotland.
EMIGRATION OF JAMES ANGUS AND ELIZABETH CAMERON.
Emigration record of James Angus and Elizabeth Cameron to Australia in 1855, on board the SS Omega. Courtesy Ancestry.com
The emigration records for James and Elizabeth Cameron on the SS Omega in 1855, state that James Angus was originally from Banff, a Presbyterian Carpenter aged 27 who could read and write, and had a family coatact in Collingwood Victoria, and his wife Elizabeth, was 22 years of age, also Presbyterian, and she could read and write too.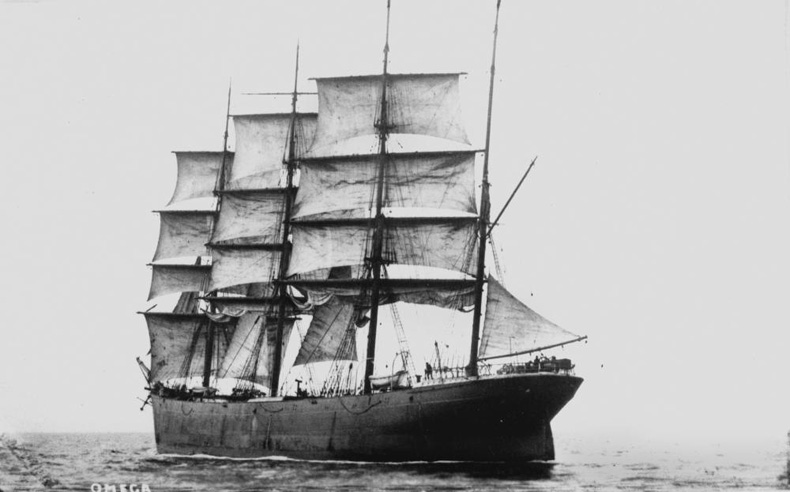 The Barque, S.S. Omega. Courtesy Wikipedia.
Records indicate James and Elizabeth Angus settled in West Melbourne Victoria, and began their family of 10 children, as outlined in the next Generation 4 section.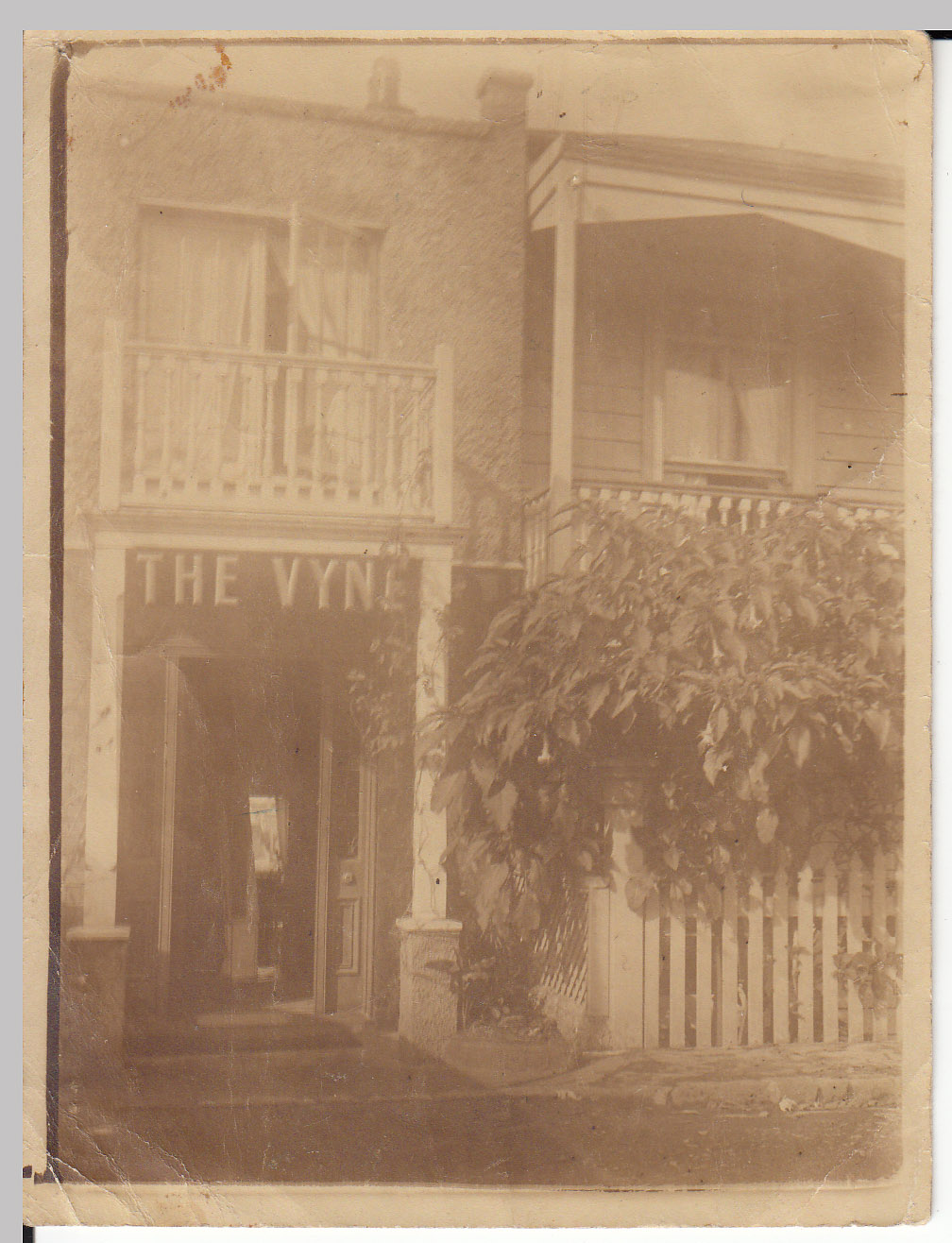 Believed to be the Angus house, where some Skinners often stayed, in West Melbourne - C1930s.
CHILDREN OF JAMES ANGUS AND ELIZABETH CAMERON
As with most large families, with many grand children too, a basic overview these Angus children follows, however additional generational details may be found via -
Family of James and Elizabeth Angus at Ancestry.com
The following is an inset of listing of the 10 Angus children, courtesy Ancestry.com

William Angus born 1856 Collingwood Vic, noted as informant on his father James death record in 1904, resided at 53 Barry St Carlton Victoria, no further info located to date.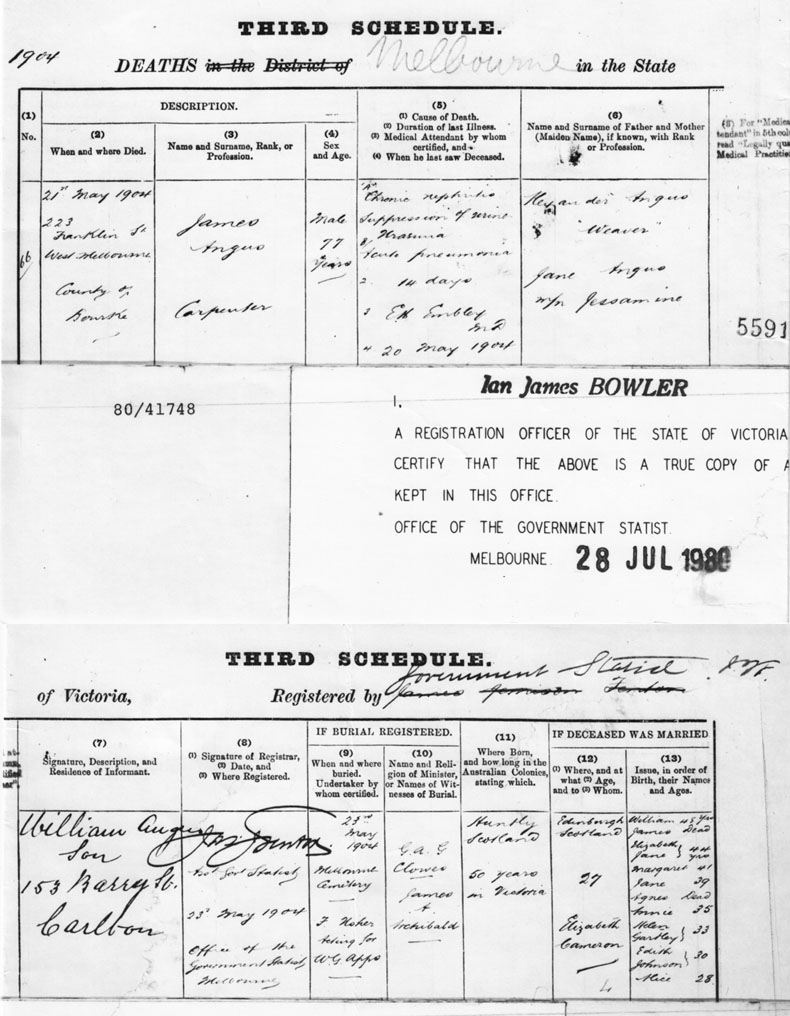 Death record of James Angus in 1904, showing eldest son William Angus residing in Carlton, Victoria.
James Angus born 1858 West Melbourne Vic, married Matha Shand born 1856 Chilwell Vic, and had 4 children Florence Avonia Angus, James Gordon Angus, William Stanley Angus, and Leonard Atchison Shand Angus.
Sadly, Florence Avonia Angus died in West Melbourne in 1886, aged 3 years old.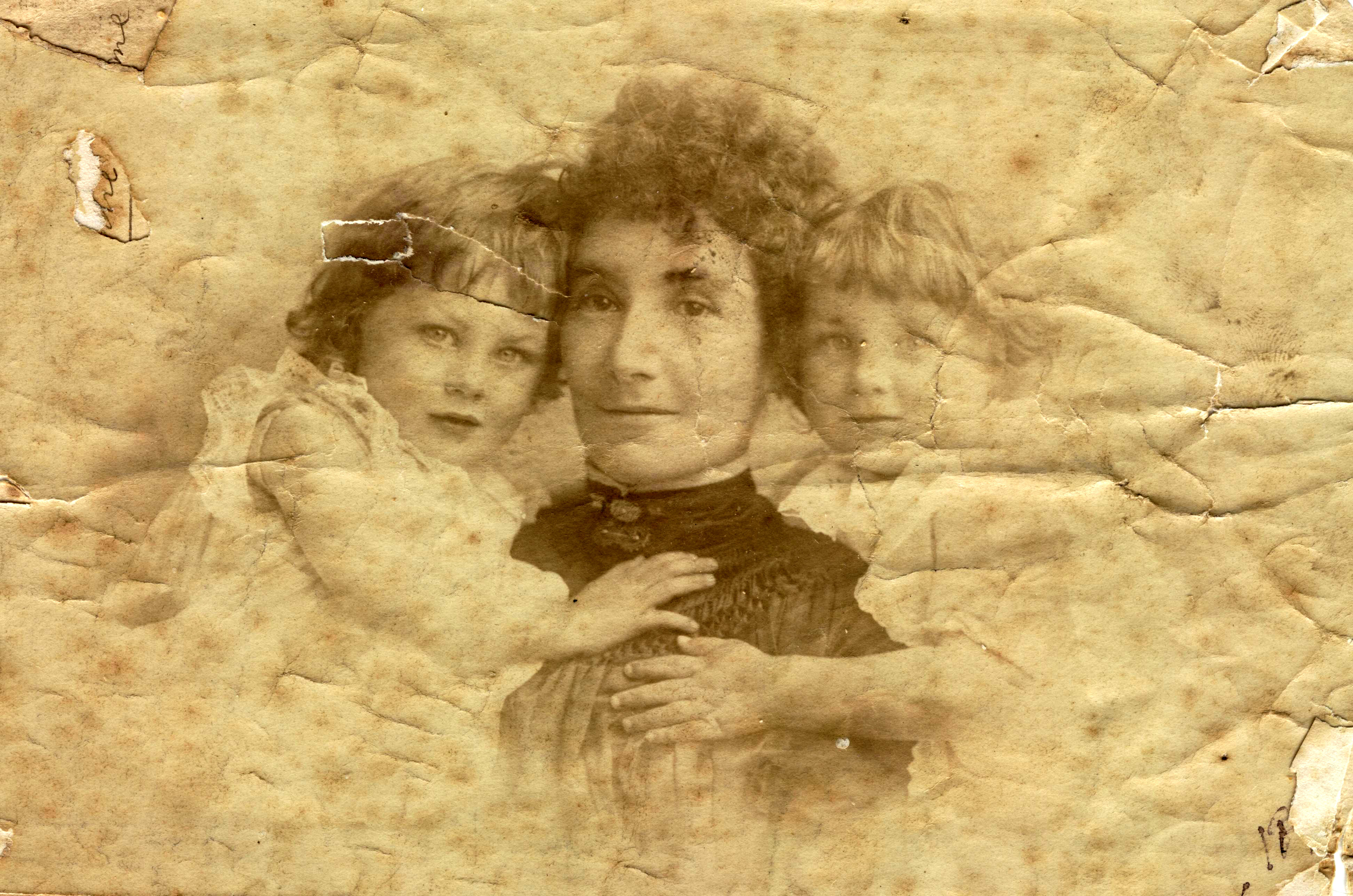 Martha Angus nee Shand, with sons James Gordon and William Angus, c1893.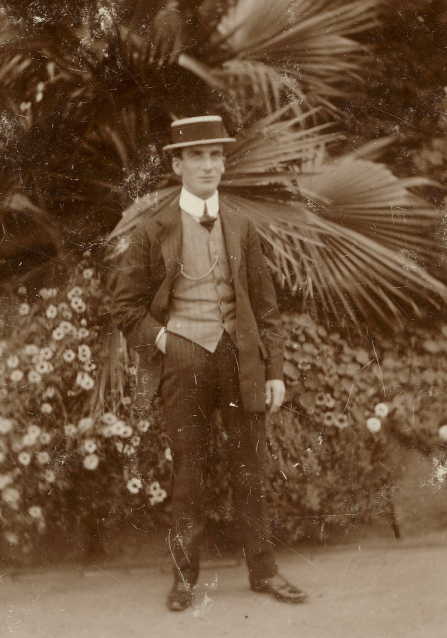 James Gordon Angus. Courtesy Andrea Fitzy.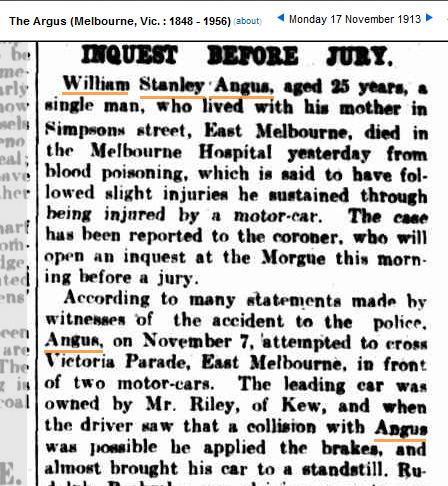 Death notice of William Stanley Angus in 1913.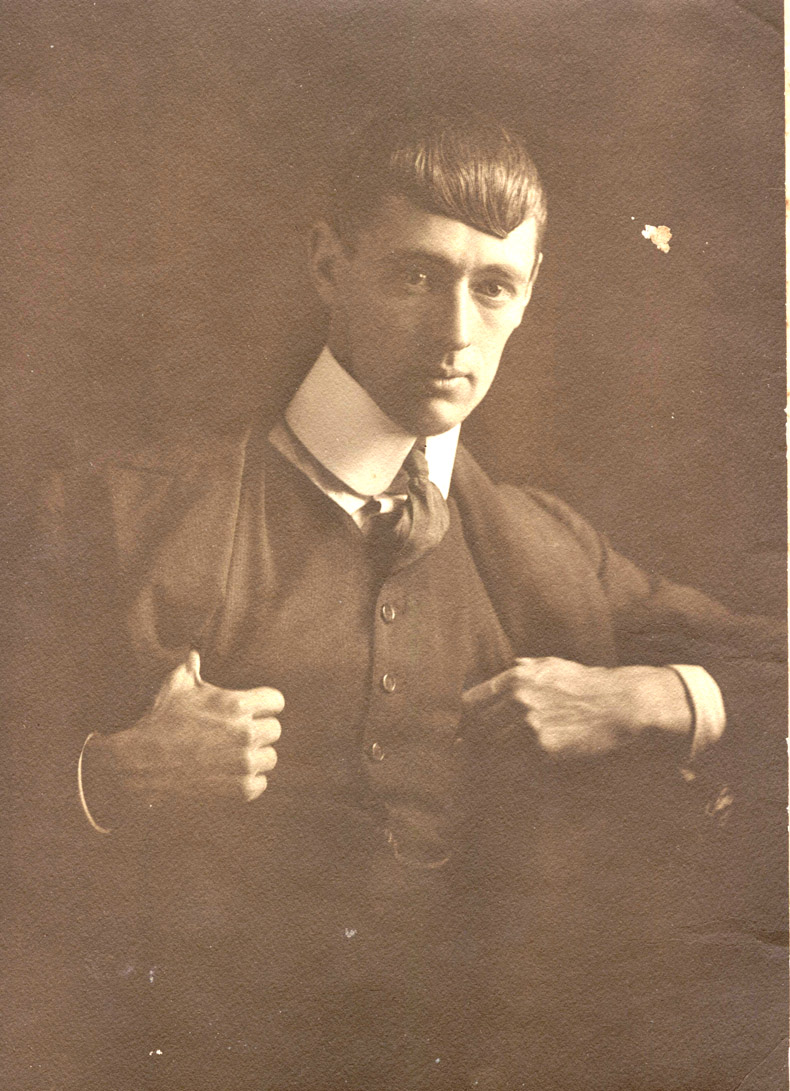 Leonard Aitchison Shand Angus. Courtesy Andrea Fitzy.
Elizabeth Jane Angus married William Archer Skinner, and had 3 children, Ruby Winifred Skinner, Archer Angus Skinner, and Bertha Agnes Skinner, as outlined in this site.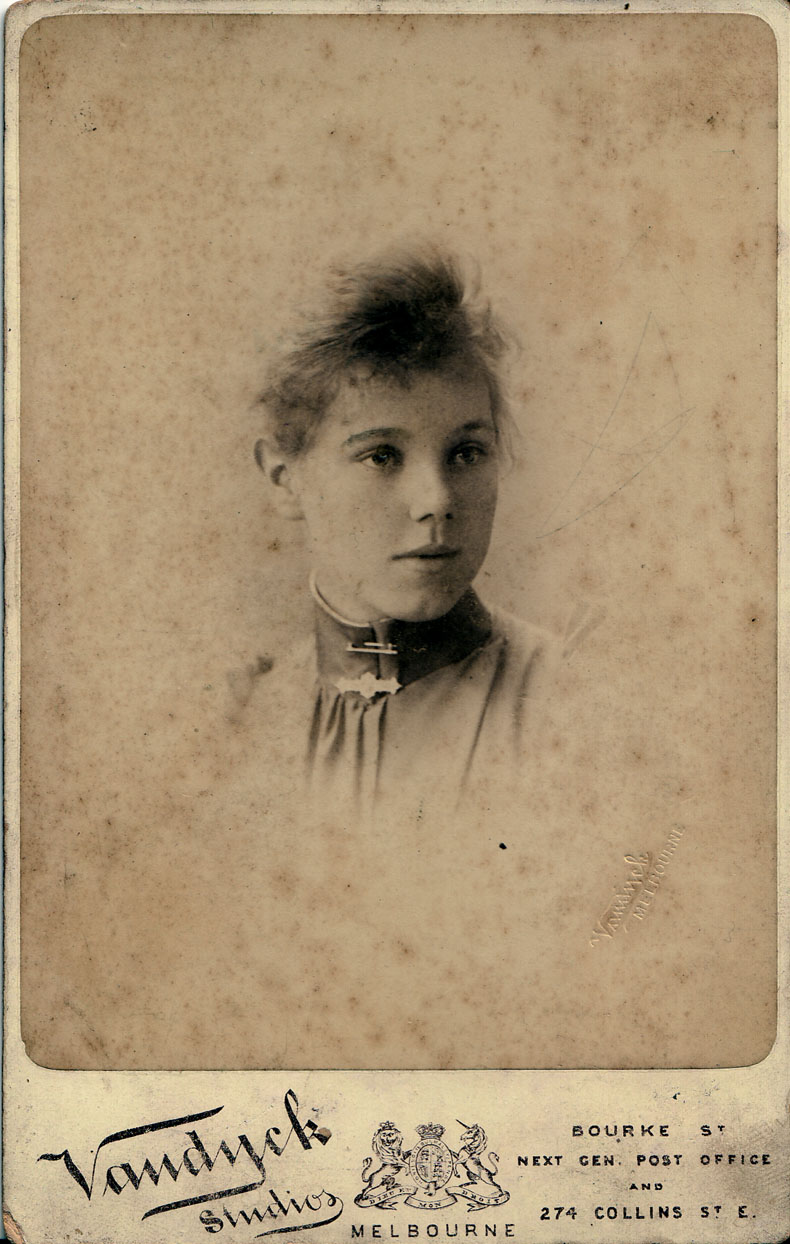 Elizabeth Jane Angus. Photo C1880s taken in Melbourne.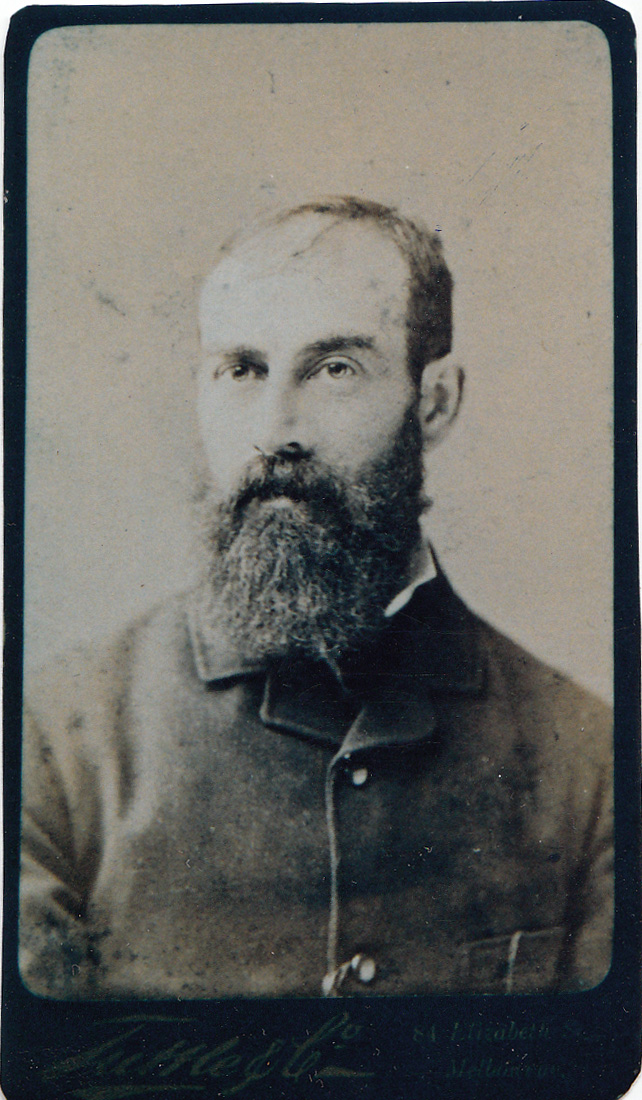 William Archer Skinner - husband of Elizabeth Jane Angus. Photo C1881 taken in Melbourne.


Husband of Elizabeth Jane Angus, and
father of Ruby, Archer, and Bertha Skinner.
Ruby Winifred Skinner, eldest daughter of William Archer and Elizabeth Jane Skinner - Hobart Tasmania c1909.


Sister of Archer and Bertha Skinner.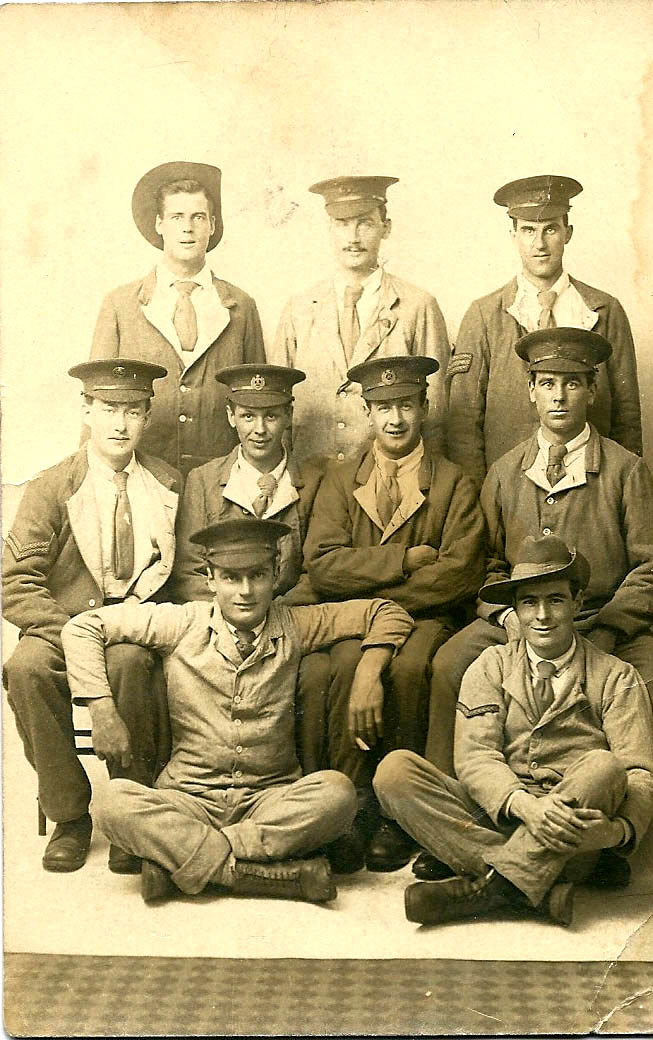 Family photo of Sgt. Archer Angus Skinner at top right, aged about 25, with some of his WW1 unit. Circa 1915.

Brother of Ruby and Bertha Skinner.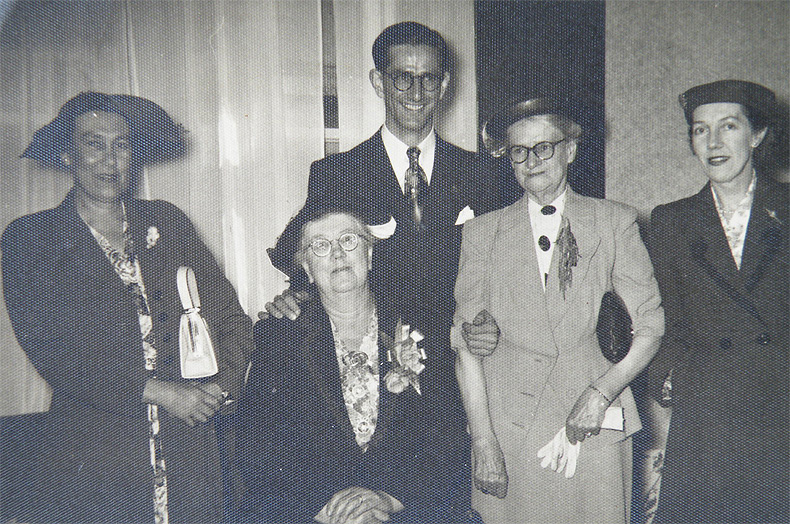 From left Bertha Skinner, Ruby Sydenham, John Sydenham, Zoe Sydenham, and Marj Campbell.
Another wedding photo at John and Raes Sydenham's wedding in 1953.

Youngest sister of Ruby and Archer.
Margaret Angus born 1863 in Melbourne Vic, married Herbert Dane, and had 3 children, Herbert Vernon Dane, Audrey Evelyn Dane, and Clyde Cameron Dane.

Marriage notice of Herbert Dane and Margaret Angus in 1893.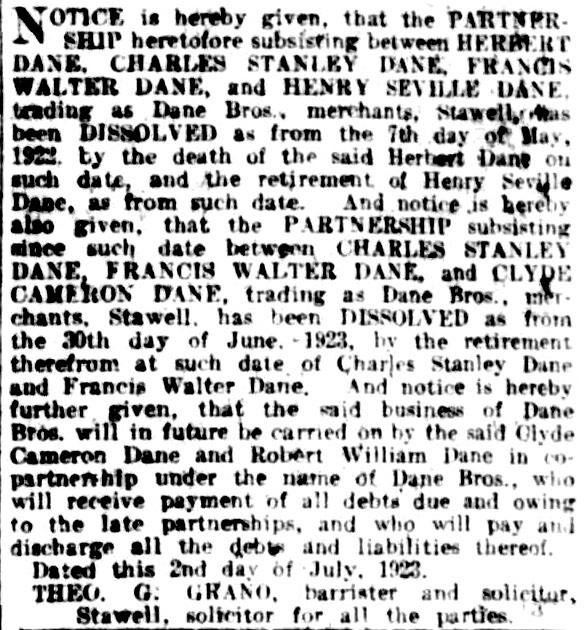 Dane Brothers, Grocers, handing down the family business, Stawell, Victoria in 1923.
1954 Census for Herbert Vernon Dane at Stawell.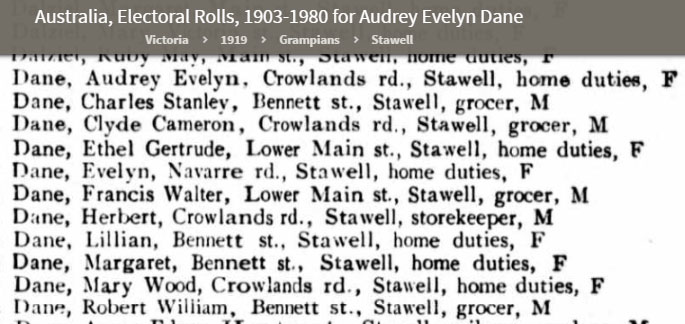 1919 Census for Audrey Evelyn Dane and families in Stawell.
1937 Census for Clyde Cameron Dane also at Stawell.
Herbert Dane remarried Mary Wood Heighway in 1912, about two years after Margaret Dane nee Angus passed away. Herbert and Mary had no children.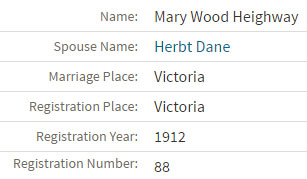 Marriage of Herbert Dane and Mary Wood Heighway in 1912.
Jane Angus ( Jean ) born 1865 in Melbourne, did not marry, died 1954.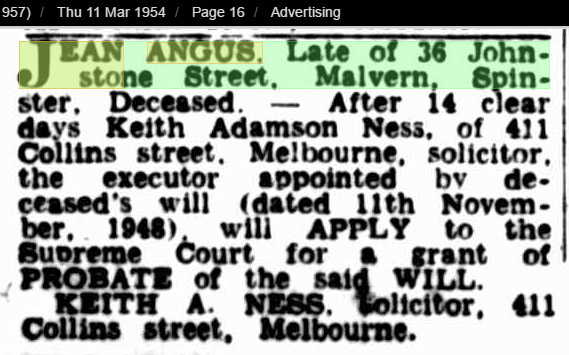 Probate notice of Jane ( Jean ) Angus of 1954.
Agnes Angus born 1867 in Melbourne, did not marry - No records whatsoever located to date.
Anne Angus ( Nance ) born 1869 in Nth Melbourne, married John Guthrie Campbell, and had 1 daughter Marjorie Edna Campbell.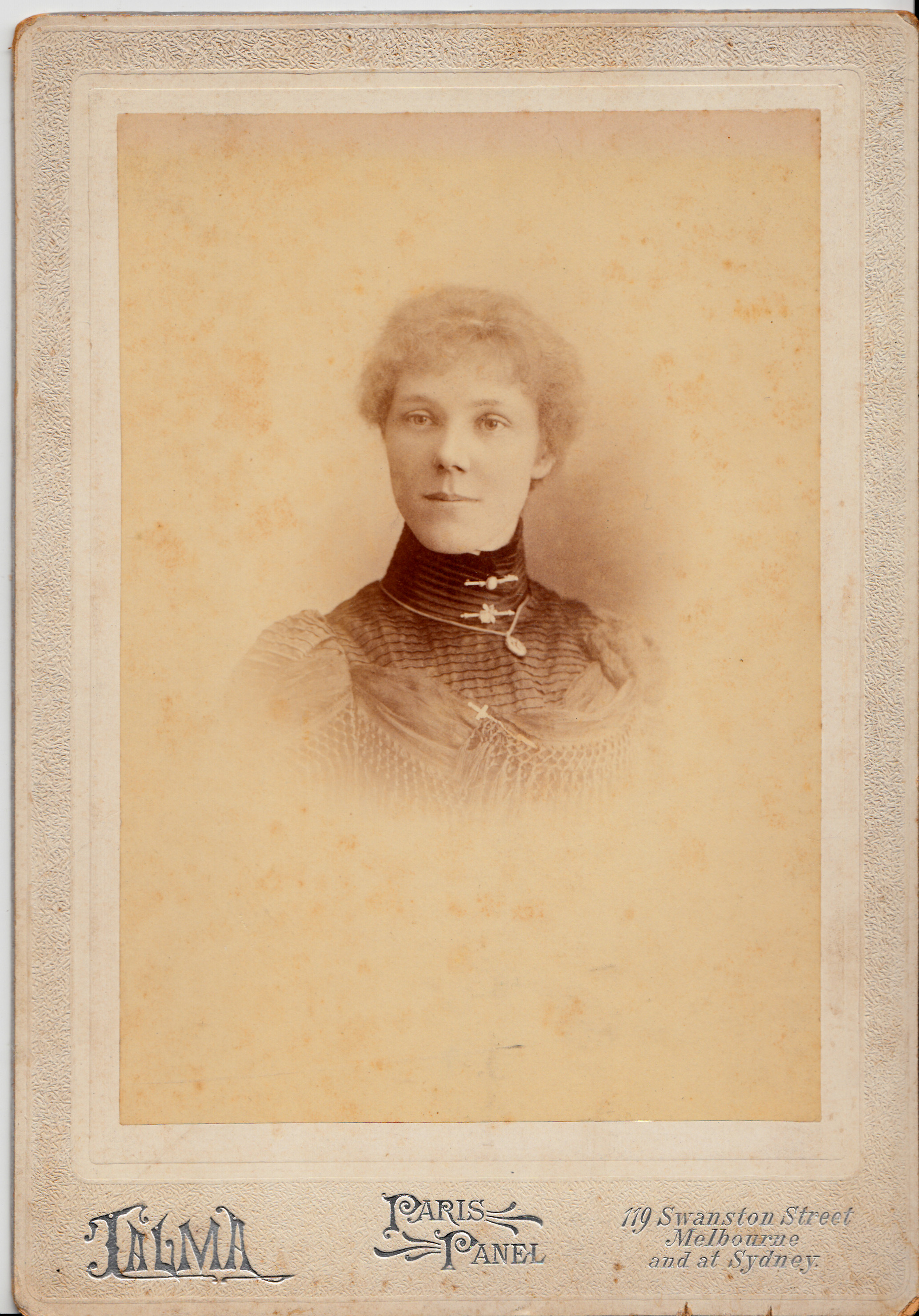 Annie Campbell nee Angus, also known as Nance, in Melbourne, circa 1890s.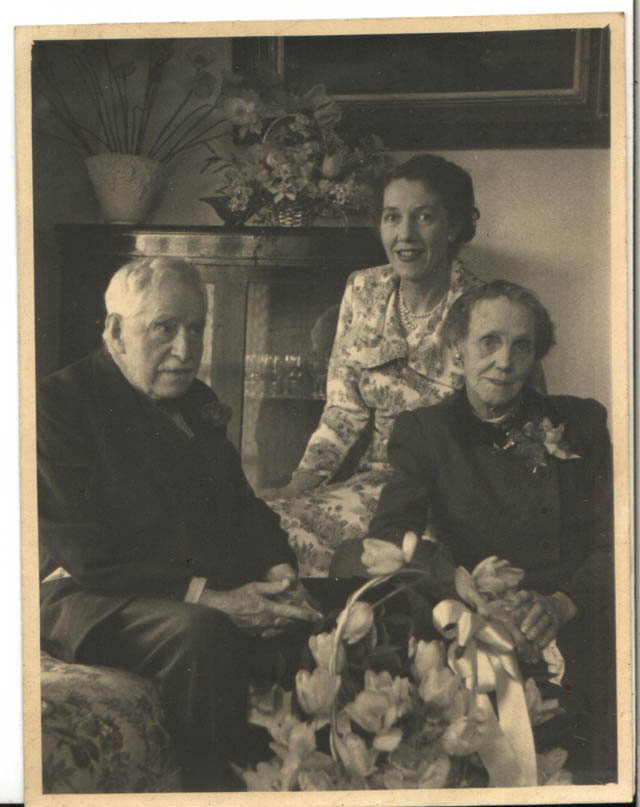 A great photo of John Guthrie Campbell, with wife Nance Angus, and daughter Marj, at Caulfield circa late 1940s.
Ellen Gartly Angus ( Nellie ) born 1871 in Melbourne, did not marry, however Victorian Census records notes she was a midwife / nurse living in Armadale, and also a dress maker.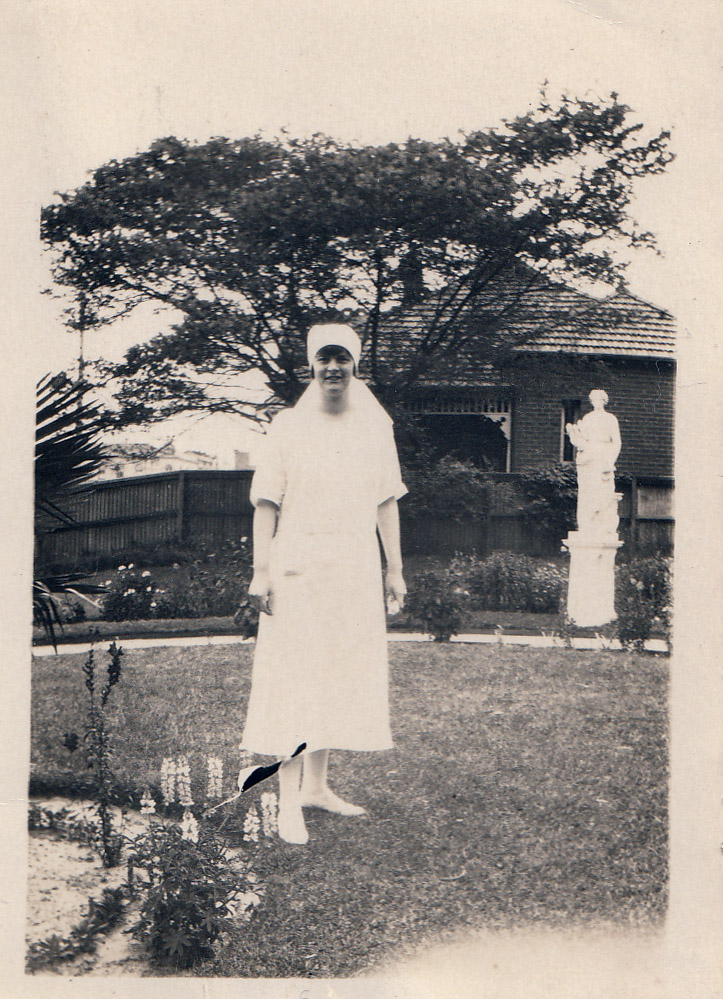 Believed to be Nellie Angus, photo labelled as "Glenlock ( Private Hospital near Armadale ) 1924", just before she passed away.
Edith Johnstone Angus born 1874 in Melbourne, married Andrew William Ness, and had 3 children, William Douglas Ness, Effie Cameron Ness, and Keith Adamson Ness.
An interesting family photo, labelled on the reverse "Mrs Skinner - with Edith's love. 16 / 2 / 04"
The children in the bottom left panel are definitely Ruby Skinner aged 16, and her brother Archer Skinner aged 14. The young girl in bottom right and top left panels is Bertha Agnes Skinner aged 3. One may assume the elderly gent in the top right panel is Berthas grandfather James Angus, only a few months before he passed away, and the lady in the bottom right panel is most likely Edith Johnstone Ness, nee Angus.
WW1 Enlistment for William Douglas Ness.
Effie Cameron Robertson nee Ness.
Keith Adamson Ness - Solicitor.
Alice Angus born 1876 in Melbourne, did not marry. According to the 1903 Census records, Alice lived at home at 223 Franklin St West Melbourne, and worked as a saleswoman, and she moved to 35 Wheatland Rd Malvern during World War One.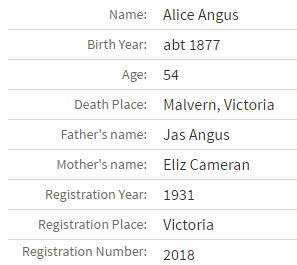 Death record of Alice Angus at Melbourne in 1931.
Angus family details at Ancestry.com

Early Skinner families and Tobacco business.